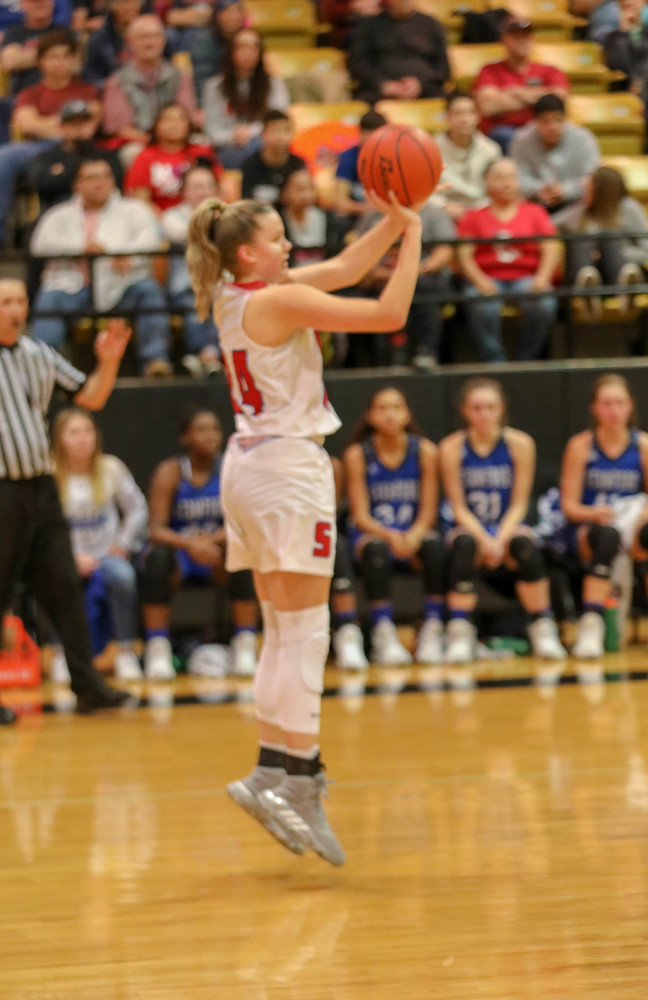 Roughettes Suffer Heart-Breaking Loss to Stamford
Marcos Vargas
Tuesday, February 25, 2020
The Roughettes had an outstanding season; the girls showed lots of heart through the battle that this season had for them and they never put their head down; however, the girls lost a heart-beaking game to Stamford with a score of 49-40 in the Area round of the playoffs. The Roughettes had a lot of difficulties in this game but not once did they stop fighting.
Geneva Cortez, the senior leader of the team, scored 12 points; she also led the team with 2 three pointers. Cortez had 5 rebounds, 2 assists, and 1 steal. Mckenzie Lee helped the team out with 10 points and 4 blocks and 4 free throws. Mckenzie also had 8 total rebounds, 2 assists, and 3 steals. Natalie Urias had 2 blocks, 2 rebounds, 3 assists and 2 steals. Grace Mcadams had 4 points, 6 rebounds, 1 assists, and 1 steal.
The Seniors have had a great run through their high school career with the Roughettes. Geneva Cortez had three great seasons with the varsity Roughettes through those years and improved tremendously. Geneva had amazing stats with totals of 582 points, 164 rebounds, 4 blocks, 97 assists, and 131 steals. Alyzah Mcglasson was with the varsity Roughettes for two years. Alyzah has excelled in all aspects. Alyzah's totals were 115 total points, 89 rebounds, 59 assists, 44 steals. Grace Mcadams took a little break from basketball and she knew she didn't want to be away from the Roughette family any longer. This was Grace's first year with the varsity team. Grace had an amazing year, Grace had 102 total points, 93 rebounds, 2 blocks, 25 assists, and 15 steals. These three seniors have given us amazing memories on and off the court. We will forever be grateful to these seniors and wish them best of luck in their next adventure.