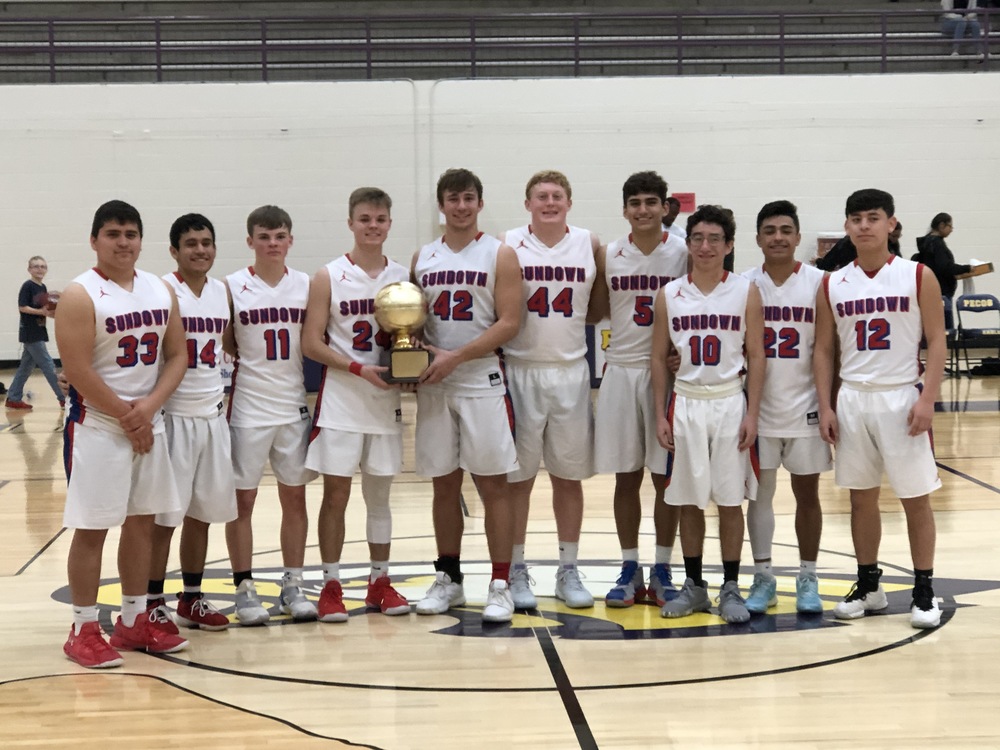 Roughnecks Gallop over the Mustangs in Bi-District Win
Juan Herrera
Wednesday, February 26, 2020
The Sundown Roughnecks are Bi-District champs after coming from behind to win over the Fort Hancock Mustangs 66-52, but the game was close until midway through the last quarter. The boys are now advancing to the Area Round to take on the Stamford Bulldogs in O'Donnell, Texas on Thursday on February 27 at 6:00 pm for a chance to advance to the Regional Quarterfinals.
In the first quarter the Roughnecks and the Mustangs were in a battle. Both teams were going back and forth to put up points for their teams. The Roughnecks were making baskets and took the lead in the first quarter. In the first quarter, the Roughnecks took a one point lead over the Mustangs and the score was 10-9, good guys.
In the second quarter the Roughnecks put up a few points to strengthen up their lead over the Mustangs, but the Mustangs answered back and took the lead in the second quarter. Jesus Martinez had two key rebounds to help the Roughnecks close out the first half. In the first half #14 Omar Lopez had 1 point, #22 Michael Ojeda had a great first half as he put up 9 points. #24 Brice Legan put up 6 points, #42 Gus Davis put up two points, and #44 Carson Holson put up 4 points. But at the end of the first half, the Roughnecks trailed the Mustangs 22-25.
The Roughnecks came out swinging by putting up points on the board at the start of the third quarter. #42 Gus Davis played a great 3rd quarter by driving into the paint and sinking in buckets for the Roughnecks to take the lead over the Mustangs. Brice Legan played an important role by assisting his teammates with great passes leading to buckets. At the end of the third quarter the Roughnecks took back the lead with the score 41-39.
In the final 8 minutes, the Roughnecks started to run away with the game. #22 Michael Ojeda was making baskets left and right by putting up 20 points in the second half! With the team right behind him, the Roughnecks were able to take control of the game and come up with a win over the Mustangs. At the end of the fourth quarter the score was 66-52.
The Roughnecks played an outstanding game. The boys traveled far to play, but came back to Sundown with a GOLD BALL in their hands. Each Roughneck did their job and helped the team come out with a victory. Scoring totals include: Carson Boggs put up 2 points, Omar Lopez put up 3, Carson Holson made 8 points, Brice Legan & Gus Davis scored 12 points each, and Michael Ojeda put up a whopping 29 points. CONGRATULATIONS to the Roughnecks on winning Bi-District. GO ROUGHNECKS!!!!!!!!!! CAGE THE BULLDOGS!!!!