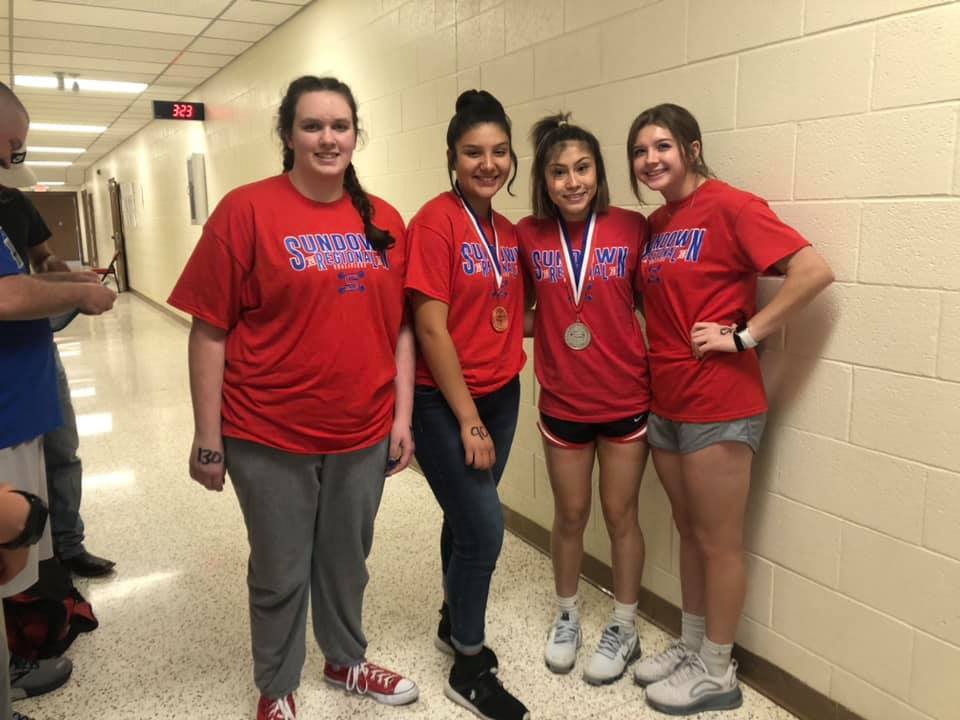 Girls Regional Powerlifting
Micaela Hernandez
Monday, March 09, 2020
The girls Regional Powerlifting Meet weigh-in was Thursday, March 5. SHS lifters Micaela Hernandez, CJ Lopez, Revee Caranza, and Katie Sehon traveled to Seagraves to weigh-in. When it started at 4:30, there were two lines: one for the light lifters and a line for the heavier lifters. The light lifter line was the 97's -148's and the other line was the 165's - SHW's. All of the girls made weight, which resulted in a successful day. After they weighed in they traveled back home to get a good night rest for their meet the following day.
The next morning, Friday March 6, the girls were ready and in the van by 7:45 am. As they drove into Seagraves for their meet, the girls felt nervous, but confident in themselves that they would do a good job.
After the coaches meeting at 9:00am, the meet began. First up was squat, and in the 123 weight class Micaela had a squat of 295 pounds, in the 165 weight class CJ had a squat of 300 pounds, in the 181's Revee had a squat of 330 pounds, and in the 259 weight class Katie Sehon had a squat of 300 pounds. At the start of the meet, the Sundown girls had an advantage already.
Next up was bench, and Micaela put up a bench of 125 pounds, CJ had a bench of 120, Revee had a bench of 145 pounds, and Katie Sehon had a bench of 140 pounds. After bench was completed, the girl's totals were posted and now they could see what place they were sitting in overall. After squat and bench only, Micaela and CJ both had a total of 420 pounds, Revee had a total of 475, and Katie Sehon had a total of 440.
By this time there was a 30 minute break going into the last lift which was deadlift. Once deadlift had started everyone knew what they had to pull to be able to advance to State. In every weight class there's a qualifying total, and if an athlete hits it at the Regional Meet, she automatically qualifies for State; however, it is quite a hard task to do. During this time Katie Sehon had set a goal for herself to beat and set a new Regional record in deadlift. The Regional record was 340 for her weight class, and the most she had ever pulled was 345 in an invitational meet. Although she knew her personal record was only 345 she was determined to pull 360, and SHE DID!!!
After deadlift, Micaela pulled 320, CJ pulled 300, Revee pulled 360, and Katie pulled 360 for a Regional record. When it was all over Micaela had a total of 740 pounds, and placed second at Regionals, qualifying for State. CJ had a total of 720 and placed 8th in the region, Revee had a total of 835 and placed 4th in the region, and Katie Shehon had a total of 800 pounds and placed 9th in the region.
Overall the girls had an outstanding day at the regional meet! Congratulations to all four of them for competing at the Regional meet level; they really did a terrific job. It was CJ's last year to compete because she is a senior, and overall she had an awesome four years as a powerlifter. She was a great leader and the team was grateful to have her. She will definitely be missed. On the other hand, a huge congrats to Katie Sehon for setting a new Regional record.
Micaela Hernandez will compete at the State Powerlifting Meet in Waco on March 19th- March 20th. To look at any Invitational meets, or regional standings on how the girls have done this season, visit http://www.thswpa.com/Default.aspx (Sundown is Region 1, Division 3). GOOD LUCK TO MICAELA!