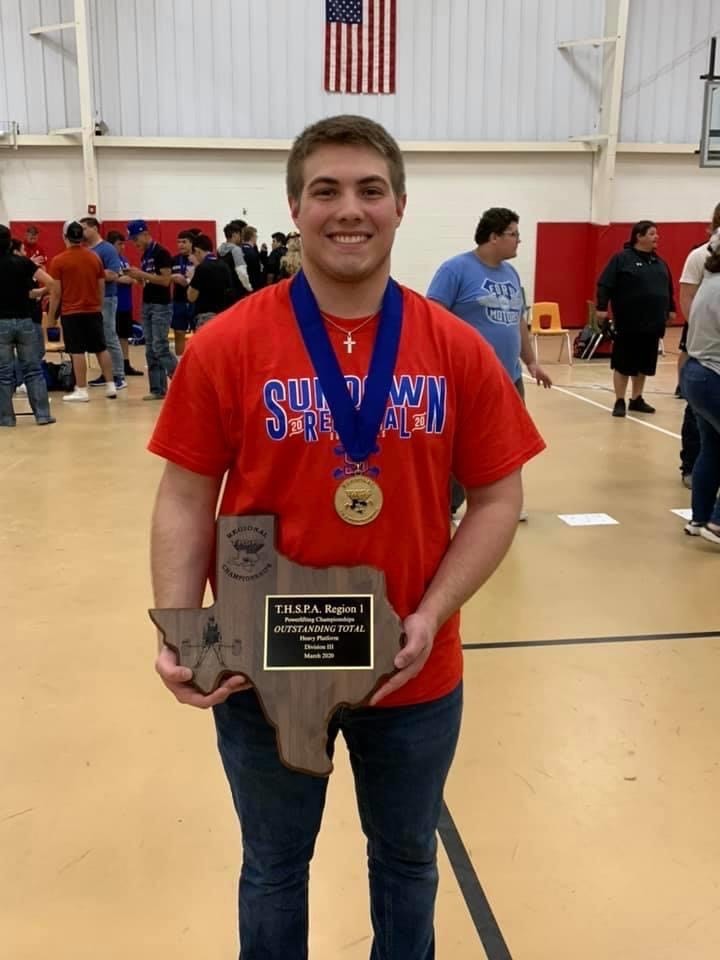 Regional Powerlifting Meet - Blake Hulse Advances
Micaela Hernandez
Thursday, April 02, 2020
On March 13-14, Sundown hosted the Boys Regional Powerlifting Meet at the SHS facility. On Friday, Sundown hosted the bigger schools powerlifting meet which started at 8:00 in the morning. Later that day, the smaller classifications traveled to Sundown to have their lifters weigh in for their powerlifting meet, which would be held on Saturday. After the weigh-in, which started around 5:00 pm, the lifters went home and had a good night's rest for the following day. Sundown had 14 boys QUALIFY for the regional meet, which shows how tough they are, and how awesome their coach is! Awesome job guys!
Adion Olivas, Carlos Perez, and Brayden Sanders all competed against each other at the regional meet in the 132 lb weight class. Adion placed 4th with a total of 1005 lb's, which was only one place away from going to state, but he is a state alternate. Carlos Perez placed 8th, with a total of 890 lb's, and Brayden Sanders placed 12th with a total of 785. In the 148's weight class Pablo Mendoza placed 3rd, which was only one spot away from being a state qualifier, but he is a state alternate. In the 165 lb weight class, Cade Conway had a total of 1155 lb and placed 7th.
In the 181's Blake Hulse, EJ Hernandez, and Kevin Garcia all competed against each other. Blake Hulse did an outstanding job. He placed 1st with a total of 1470 lb's, and won the best overall lifter on the heavy weight platform, which means he was one out of the two strongest lifters at the meet. That is an extremely hard thing to accomplish. Good luck at State, Blake!
EJ Hernandez placed 4th with a total of 1305 lbs, and Kevin Garcia placed 6th with a total of 1240 lbs. In the 198 lb weight class, Jonathon Golightly, Diego Hernandez, and Gavin Richardson all competed against each other. Jonathon placed 5th with a 1270 total, Diego placed 6th with a 1255 lb total, and Gavin placed 9th with a 1230 lb total. In the 220's Zakary Gragson placed 8th with a 1195 pound total. In the 242's Andy Castillo placed 9th with a 1325 lb total. Last in the SHW Nicholas Rodriguez placed 6th with a total of 1375.
All together the Sundown team placed 3rd with a 16 point total. Coach Newton was elated, "What an accomplishment! I am so proud of this group of young men and all they have accomplished all season. To have 14 lifters at the regional meet is outstanding and it's just a testament to the time, effort, dedication and GRIT that these kids have displayed all year. Our three seniors have set a standard and the younger kids are buying in and have some huge shoes to fill. I cannot wait to see what our future holds." Congratulations once again to Coach Newton and all of his lifters!