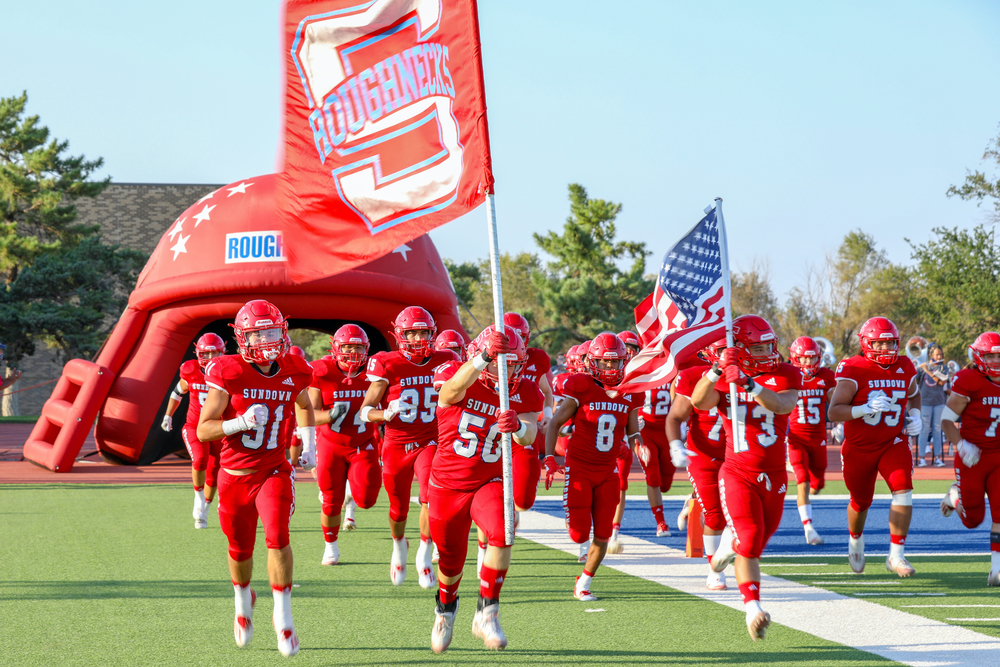 Sundown Shuts Out the Mules
Marcos Vargas
Wednesday, September 02, 2020
The Roughnecks played the Muleshoe Mules Friday, August 28th under the lights at home, beating them 6-0.
The Roughnecks had a great game when it came to the offensive side of the ball. Sundown had a total of 57 total plays and a total of 276 total yards. The Roughnecks held the ball for 29:43 total minutes of the game. Sundown's senior quarterback, #9 Carson Holson, completed 10 of 19 passes which went for 85 total yards. Junior #7 EJ Hernandez had 103 of the Roughnecks 191 rushing yards, scoring the game's lone touchdown in the second quarter. Holson and and Junior #8 Gabriel Guardiola both had 44 rushing yards for the team. Senior #35 Brandon Kenley had six receptions and a total of 47 receiving yards. Senior Logan Boggs had two receptions for 27 yards.
The Roughneck defense was phenomenal, allowing Muleshoe only 41 plays with 18:17 minutes of possession. The defensive player of the game was junior #52 Kevin Garcia with a total of 10 tackles. Next up was sophomore #11 Carson Boggs with a total of six tackles with one of those being the tackle that saved the game. The Roughnecks managed to knock the ball loose from the Mules for two fumbles, one by senior #31 Logan Boggs and junior #42 Jeremiah Peralez. The most impressive series of the game was at the end of the fourth quarter when the defense held off the Mules on the 15 yard line in Roughneck territory. Sundown stifled Muleshoe on four straight plays, resulting in a Roughneck win.
Head Coach Adam Cummings commented about the week one game, "I'm pleased that our kids weren't satisfied with a 6-0 victory; that means they care about playing to a high level." Even though the Roughnecks finished with the win Coach Cummings added, "This week is about us, and we aren't going to put a lot on this week.We are going to continue to get better 1% everyday.''
Your Sundown Roughnecks will play the Sudan Hornets Friday, September 4th at 7:00pm at Slaughter Field. Fans remember to buy tickets ahead of time in the superintendent's office. The parade around the school will start at 3:10pm.
GO ROUGHNECKS!!!!!!!