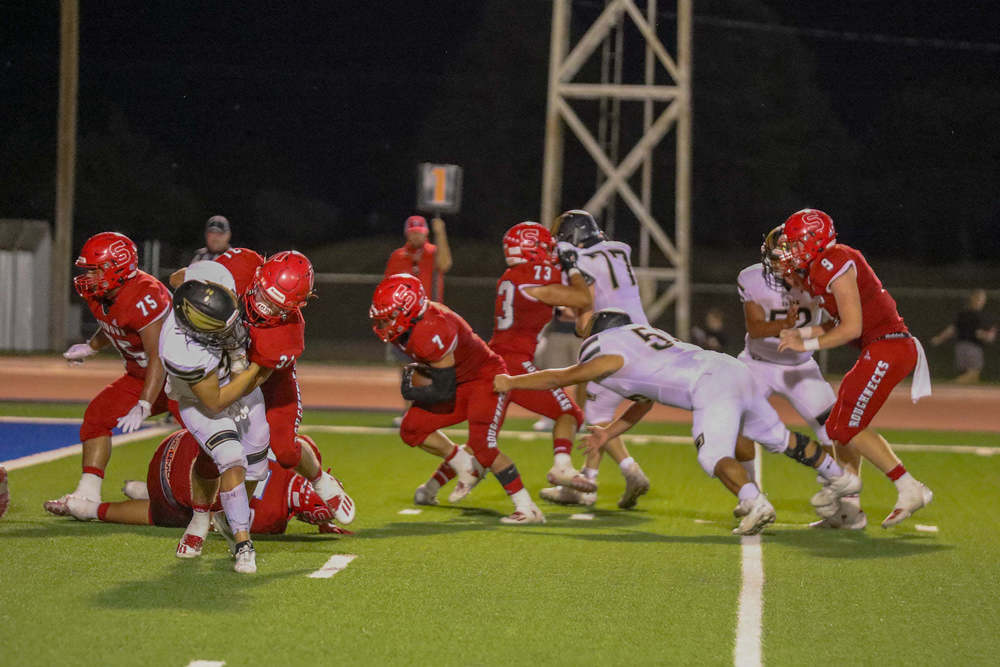 Sundown Smears Sudan 59-15
Carson Holson
Friday, September 11, 2020
Sundown took on the Sudan Hornets at Slaughter Field on Friday, September 4th. The Roughnecks defeated the Hornets in a lopsided victory of 59-15.
Sudan won the toss and differed, so Sundown started the game on offense. Sundown scored three times in the first quarter. Carson Holson led the charge scoring twice on the ground. EJ Hernandez also picks up six in a two yard run to start the game. At the end of the first quarter the score was 21-0, Roughnecks.
The Hornets answered back in the second quarter with a run from #30 Justin Penrod for one yard. #9 Holson then completed two touchdown passes to #35 Brandon Kenley for 52 yards, and to #18 Aidon Olivas to make the score 34-8. The Hornets tried to answer back, but recovered a fumble on a fourth-and-goal to give the Roughnecks the ball with 50 seconds left in the half. #7 EJ Hernandez scored the final touchdown of the half on a 61 yard run with one second left on the clock.
The Roughnecks did not slow down coming out of the half and scored twice more in the third quarter. Hernandez scored his third and final touchdown of the game on a two yard run into the endzone. #2 Carlos Perez found his first touchdown of the year on a one yard run led by the offensive line of left tackle Kevin Garcia, left guard Andy Castillo, center Jeffery Rodriguez, right guard Nicholas Rodriguez, and right tackle Diego Hernandez. The score at the end of the third quarter was 53-8.
Sudan was not down and out, however. #7 Bode Box scored on a six yard run to make the score 53-13. Carlos Perez slipped through the defense of the Hornets for a 72 yard run for the final score of the game.
For week three of the season, Sundown takes on the Abernathy Antelopes in Abernathy. Kickoff is set for 7:30pm on Friday, September 11th.