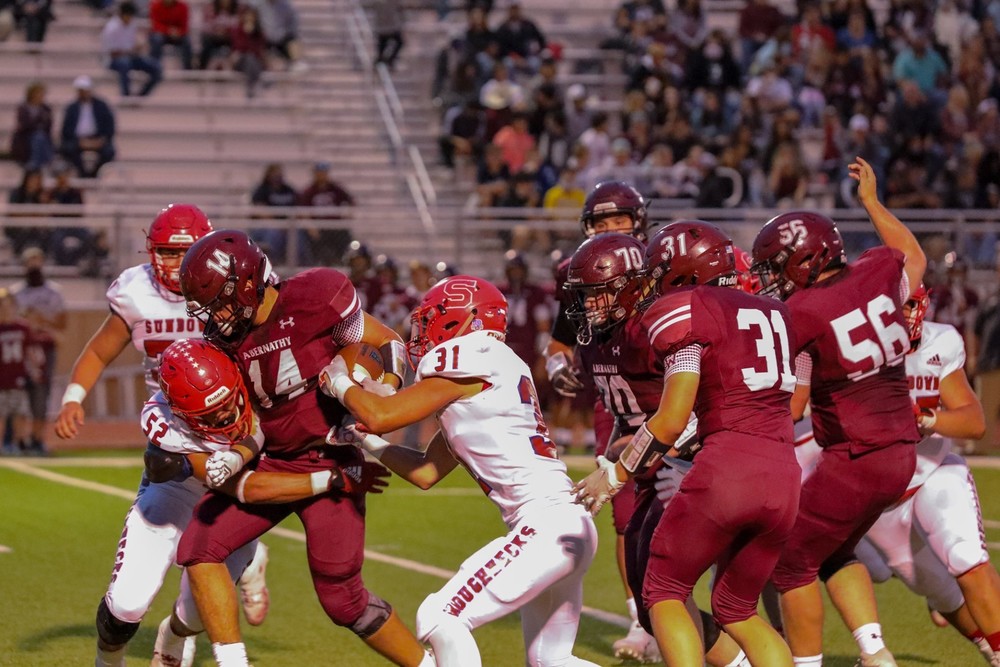 Sundown Suffers Heartbreaking Defeat vs. the Lopes
Marcos Vargas
Thursday, September 17, 2020
Sundown traveled to Abernathy to take on the Antelopes Friday, September 11. The Roughnecks lost their first game of the season with a 21-12 score, making their record 2-1 on the year.
The Roughnecks fought hard and battled to the very end holding the Antelopes to 21 points. The Sundown Roughnecks and the Abernathy Antelopes competed back and forth leaving the first quarter scoreless. Abernathy's Jess Hoel scored the first touchdown for the Lopes, then Sundown's #9 Carson Holson followed up with the Roughneck's first rushing touchdown in the second quarter of the game. The halftime score was 7-6, Antelopes. The third quarter ended with SHS down 14-6. The fourth quarter saw both teams score. With 2:17 left in the game, the Roughnecks had a chance to get within a touchdown of Abernathy, but the two point conversion failed. The final, 21-12, Abernathy.
The Roughnecks had a total of 46 total plays, scoring 12 points. Holson had a 25 yard rushing touchdown that gave him a total of 89 total rushing yards with 12 carries. Holson completed 13 out of 26 passes. Sundown ended the game with a total of 122 receiving yards and 1 receiving touchdown. #4 Robert Soliz had two receptions and 33 receiving yards. Soliz had a tremendous one handed grab over Antelope defender Hoel. The Roughnecks had a total of 94 yards and 20 carries.
Sundown's defense held Abernathy to 56 total yards. #52 Kevin Garcia had a total of 15 tackles, and right behind him was #35 Brandon Kenley with 11 tackles. The Defense held Abernathy to 34 receiving yards. #31 Logan Boggs caused a fumble and recovered it as well. #67 Chris Castillo was the only Roughneck with a sack on Jess Hoel. The Roughnecks played a tremendous game and they do not plan to stop in this week's contest against the Buffaloes. As Coach Cummings says, "We're going to continue to get 1% better everyday."
This weeks Big Hit stick went to #35 Brandon Kenley, and the Big Dog Award went to #9 Carson Holson. #65 Andy Castillo was named Lineman of the week.
Sundown will host the Stanton Buffaloes for Homecoming on Friday, September 18th at 7:00pm. Pregame activities with the Homecoming Court begin at 6:20pm. Remember to buy your tickets from the superintendent's office to attend the game. GO ROUGHNECKS!!!!!