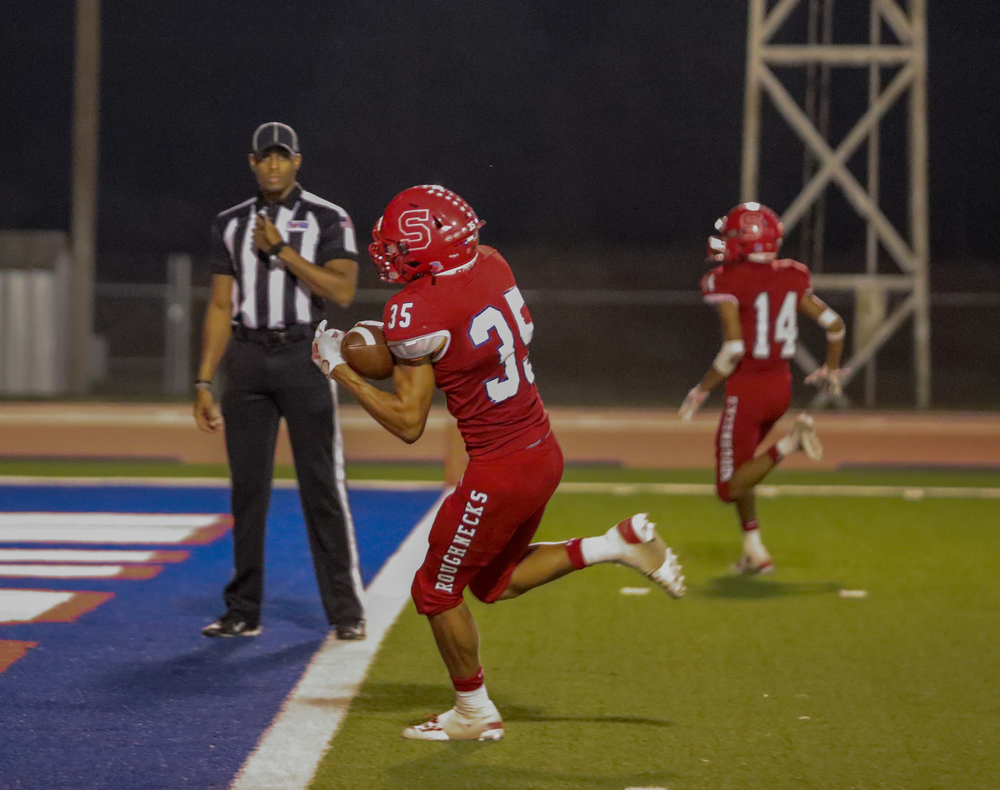 Sundown Slips Past Stanton
Carson Holson
Friday, September 25, 2020
The Sundown Roughnecks faced the Stanton Buffaloes on Friday, September the 18th, in the 2020 Homecoming game at Slaughter field. The Roughnecks come away with a slim fourth quarter victory over the Buffaloes.
Sundown won the toss and Marcos Vargas recovered an onside kick on their own 47 yard line. The Roughnecks drove down the field and #7 E.J. Hernandez scored the first touchdown of the game on a three yard run. Following the score, #9 Carson Holson connected with #35 Brandon Kenley for a two point conversion pass. Sundown scored again in the first quarter on a thirty yard run by E.J. Hernandez, but the two point conversion was not successful. Stanton's #15 Tyler Benedict ran for three yards for the last score of the quarter. At the end of the first twelve minutes, SHS 14 and the visiting Stanton Buffaloes 6.
After a scoreless second quarter, it was much of the same in the third. The Buffaloes scored on a one yard run by Tyler Benedict to tie the game up 12 points a piece . The Roughnecks then had twelve unanswered points until the fourth quarter. Stanton would not quit; however, and scored twice in the fourth quarter to tie the game up at 26 with two minutes left to go. The Roughnecks answered with a touchdown of their own with a pass from Carson Holson to Brandon Kenley for a forty yard gain. EJ Hernandez scored a two point conversion behind a strong offensive line. Stanton would be unable to score again finishing the game with a score of 34-26 and Sundown taking the victory.
The Roughnecks would dominate with 370 total yards on offense compared to the Buffaloes 241 yards. E.J. Hernandez would rush for 178 yards and Carson Holson for sixty-seven. Brandon Kenley came away with seventy-eight yards and five receptions, #15 Brayden Sanders had twenty yards and two receptions, and #10 Marcos Hernandez had one reception for ten yards. The Roughnecks had possession of the ball for twenty-six minutes and the Buffaloes held on to the ball for twenty-one minutes.
The 3-1 Sundown Roughnecks will face the 3-0 Farwell Steers on Friday, September 25th in Farwell at 7:00pm. This will be Sundown's final game before district, which begins October 9th after an open week next Friday.