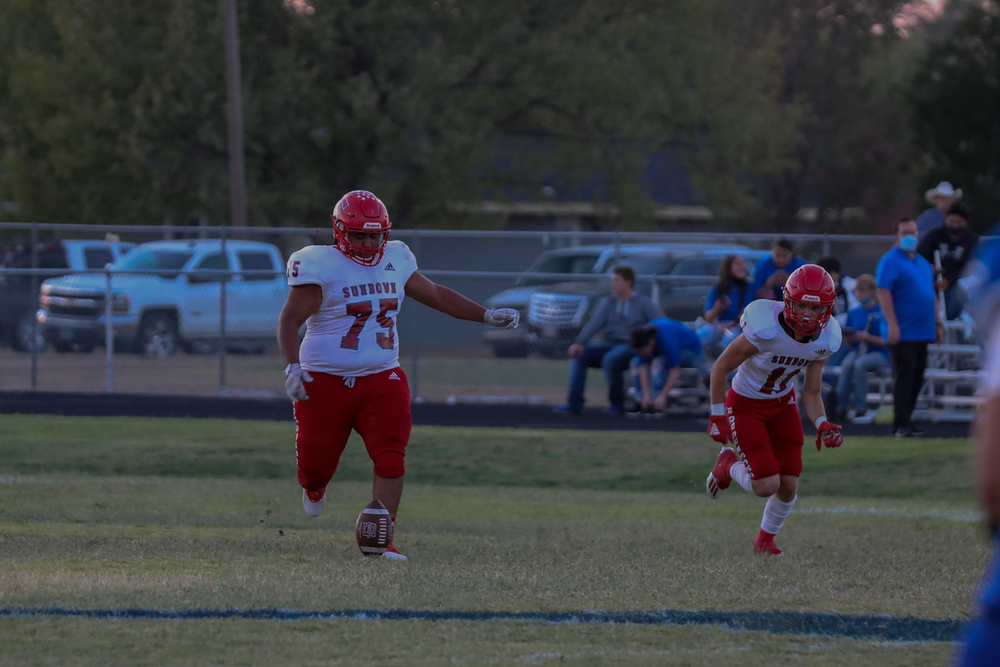 ROUGHNECKS SLAUGHTER THE STEERS
SHS Journalism Class
Thursday, October 01, 2020
The Sundown Roughneck football team improved to 4-1 on the season with a convincing 24-6 road win over the Farwell Steers on September 25th.
Sundown won the toss and elected to receive the ball, but lead to a three and out and punting to Farwell. The Roughnecks defense came and hit the Steers in the mouth for another three and out. But with a bad snap on the punt, Diego Hernandez took a big hit from the Steers. Sundown responded with a five yard touchdown score by #7 E.J Hernandez to end the first quarter 6-0.
At 6:27 left in the second quarter, Hernandez ran the ball in from one yard out; however, the Roughnecks were unable to convert on the two-point conversion. This was the junior running back's second and final touchdown of the game. The Roughnecks held the Steers scoreless for the remainder of the first half leaving the score 12-0 Sundown.
Coming out for the second half, the Sundown Roughnecks kicked the ball to the Farwell Steers. The Roughnecks' # 45 Jonathon Golightly then caused a fumble on the first play of the second half which lead to # 75 Nicholas Rodriguez scooping the ball and running 15 yards for a Roughneck defensive touchdown. Only 15 seconds had lapsed in the third quarter. Both teams went back and forth with the ball up until 1 minute and 33 seconds remaining when Carson Holson pushed the pile into the end-zone for another Roughneck touchdown. When the third quarter ended the score was 24-0 Sundown.
The fourth quarter remained scoreless until the last minute of the game. Farwell saved a shut out by scoring a four yard pass from #8 Adrian Nunez to #10 Jose Rodriguez. The Roughnecks had 221 yards of offense compared to Farwell with 156 yards. Carson Holson finished the game 10-16 in passing completions. Adrian Nunez finished the game 6-14 for the Steers. Sundown had control of the ball for 27 minutes. Farwell had possession for 20 minutes. Roughneck Senior running back Carlos Perez finished the game with 70 yards on 15 carries, as well as Carson Holson had 14 attempts and 31 yards. Robert Soliz caught two passes for 36 yards, Logan Boggs caught one pass for 31 yards, and Brayden Sanders caught two passes for 18 yards. The Roughnecks finished the game with a victory score of 24-6.
Team awards for this week include the following:
Brandon Kenley - Bad Dog Award
Diego Hernandez - Big Hit Stick Award
Coach Barry Newton - KCBD Assistant Coach of the Week
This week Sundown has an open week and will play the Post Antelopes at Jimmy Redman Stadium on October 9th. Kickoff is set for 7:00pm. Ticket info will be posted soon. GO SHS!