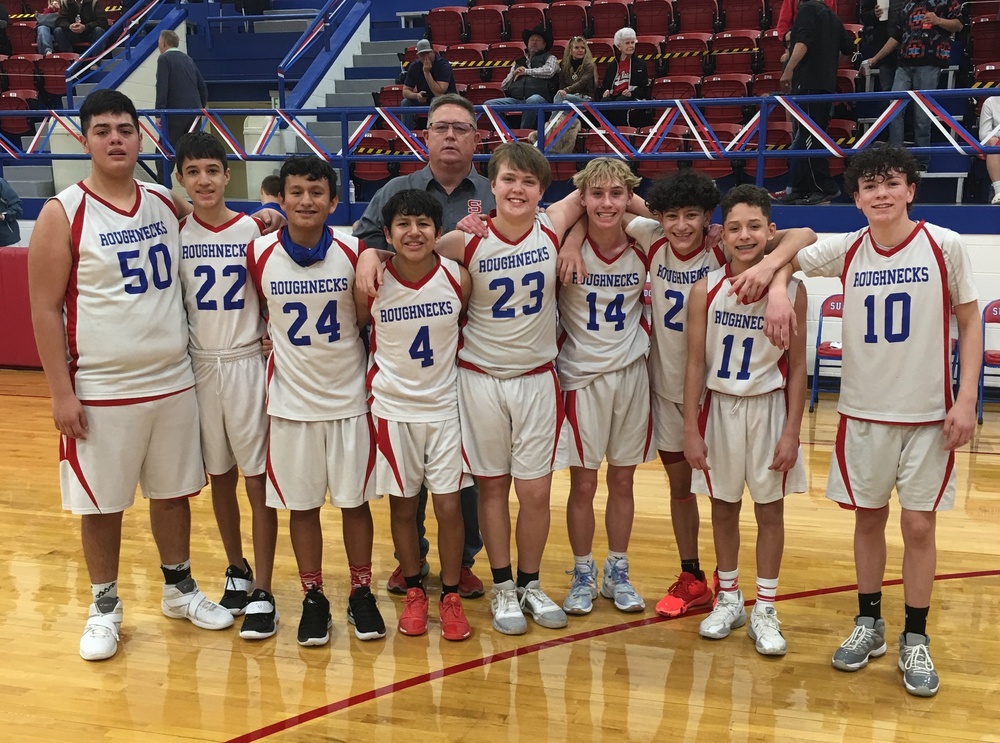 8th Boys Basketball Update
Nicholas Rodriguez
Sunday, February 07, 2021
The 8th grade boys season has come to an end but not before the SMS Roughnecks won quite a few games recently. Against Sudan Adan Escamilla was the leading scorer over the Hornets with fourteen points followed by Jesus Rodriguez with a total of ten. The final score was 40-19 with the Roughnecks on top.
Leading up to the Sudan game the Roughnecks played Seagraves, New Deal, Plains, and New Home. Out of those four games they were 3-1 with the only loss coming against New Home.
The Sundown Roughnecks looked forward to playing Nazareth for the last game of the season on their home court on Saturday. The game was tied 5-5 at the end of the first, with SMS leading 11-7 at half. After the third quarter the guys were up by 3 points, 16-13 over the Swifts. It was a fast-paced, physical game. With 1:00 remaining the Roughnecks were tied with Naz at 24 each. Then with :02 left Adan Escamilla hit a 3-pointer to take the lead 27-24! Sundown hung on for the win!
Overall, the 8th grade team record was 10 wins with only 3 losses, and during their district season the Roughnecks went undefeated bringing their record to 7-0 making them the District Champions. Way to go, Roughnecks!