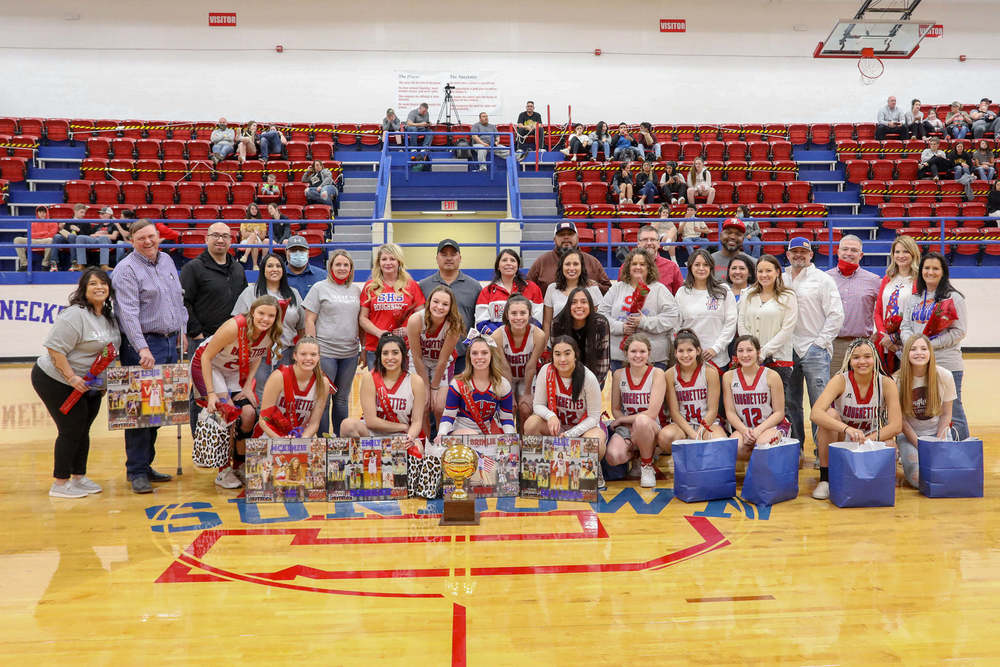 Roughettes Take #1 Seed Into the Playoffs
Brandon Kenley
Tuesday, February 09, 2021
The Sundown Roughettes took on the Sudan 'Nettes in a district title game on Tuesday, February 2nd on their own home court. The Roughettes secured the title with a 60-46 victory. This is the Roughettes sixth district title in a row and they take the #1 seeding into the playoffs that begin Friday, February 12th.
Through a combined effort from the Roughettes and Nettes, Senior #24 Lexie Lee started her final home game. Lexie suffered an ACL tear early in the year, but suited up and took the court one final time. The Roughettes opened the game with a 12-2 run sparked by a three from #30 Emily Rodriguez. Rodriguez and #22 Shay Beadles had a combined total of 10 points in the first quarter, with five points each. The score after the quarter was 14-9 Roughettes. #44 Aria Hogan, #34 Mckenzie Lee, and #20 Jonna Pool each tossed in two points in the second. Going into half the Roughettes led 27-22. The Roughettes, never letting up, out scored Sudan again 12-10 in the third. With an explosive 21 point fourth quarter the Roughettes sealed the game away. The Roughettes led in most every category for the night, including 32 rebounds, 16 on offense, and 13 assists leading the charge to victory.
The Roughettes are now 23-5 on the season. We wish the varsity girls success in the postseason as they take on the Lady Bobcats of Smyer in bi-district play vs. Smyer at 7:30pm in Littlefield. Tickets will be available at the gate.