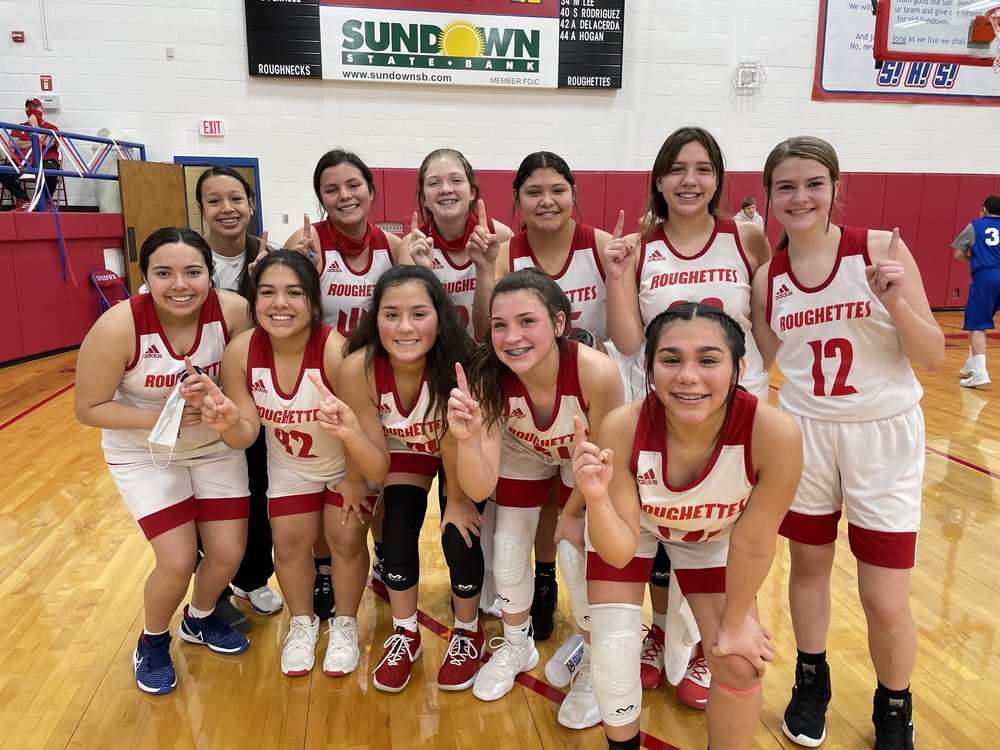 JH Girls Red Team Finish Season Undefeated
Daniella Reyna
Tuesday, February 09, 2021
JH Red Girls Update
The JH red team finished with a score of 33-32 against New Home on January 16. At half-time, the score was 19-15 with New Home in the lead. Down by two points at the end of the game, Maya Martinez hit a 3 pointer with 6 seconds left to win with 33-32!
Up against Seagraves, the JH Red basketball team out scored the Lady Eagles basketball girls team with a score of 37-22. By half time, Sundown scored 28 while Seagraves had 14. Allie McCormick scored 12 points by half-time. Overall the Sundown JH red team did very well.
The Sundown JH Red team played New Deal and had an outstanding game, winning 44-16. The JH red team played the New Deal Lady Lions on the 23rd of January. The Lady Lions did not score on the Roughettes in the first quarter of the game. By half-time, the score came down to 28-2 with Sundown leading by 26. Allie McCormick had a total score of 16 points and Ariana Franco scored ten total.
The JH Sundown Red team beat Plains with another winning score of 32-25. By the time half-time came around, the JH red girls team had a score of 15- 14 barely hanging on. By the end of the game, Sundown played great defense to secure the win.
Saturday, February 6th finished up the season for the JH Red team vs. the Swiftettes. The game was close for four quarters, with each team leading or trailing by just a point or two. The Roughettes led by one point after the first quarter. Nazareth led by four points just before half, but Maya Martinez came through with a steal and 3-pointer at the buzzer, cutting the lead down to just one. After the third quarter, the Red team lead by two points. By the end of the game, the Roughettes made key free-throws to secure the win 37-24. This win locked up an Undefeated season at 14-0 and winning district with a 8-0 record. Congrats, ladies and best of luck in the future!