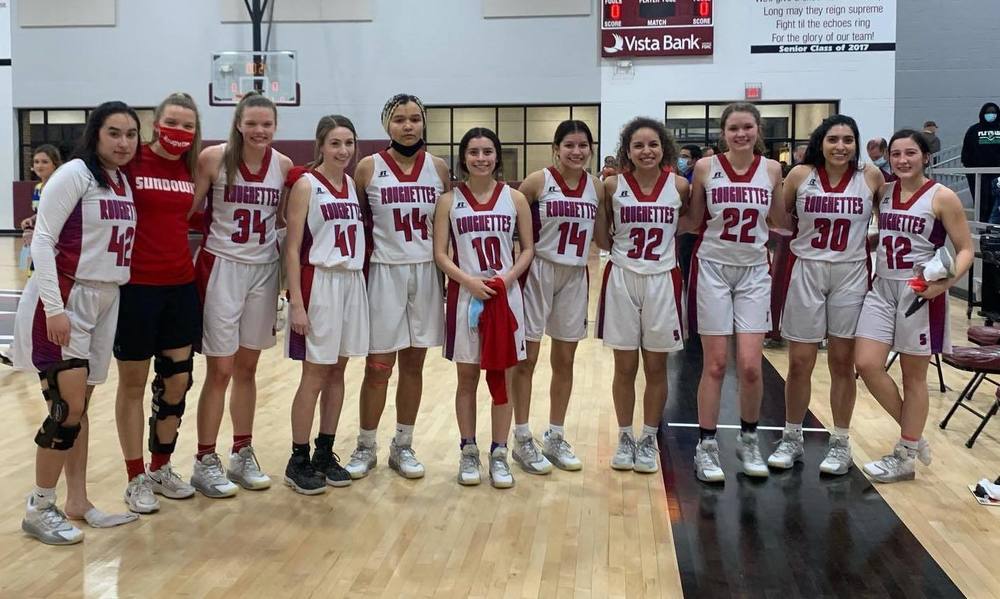 Roughettes Gear Up for Playoffs vs. Smyer
Marcos Vargas
Wednesday, February 10, 2021
Roughettes vs WT Stinnett
The Roughettes have played two practice games after clinching the district title against Sudan last week. The Roughettes beat West Texas-Stinnett by a score of 55-40, heading into the playoffs on fire. Speaking of on fire sophomore #14 Natalie Urias lead the Roughettes with 14 points and following her was freshman # 22 Shea Beadles with 12 points. The team jumped out to an early lead and never looked back as all players saw playing time in the win on Friday, February 5th.
The Roughettes Use Solid Defense to Hold off the Spurettes
The Roughettes beat the Spur Spurettes by a margin of 41-25. The Roughettes came out shooting the rock scoring seven in the first quarter and playing solid defense through out the game. With only a six point lead midway through the fourth quarter, the Roughettes then scored on six straight possessions to build their lead to 16 points before the final buzzer. Leading Sundown in scoring was #22 Shea Beadles with 8 points followed by #34 Mckenzie Lee with 7 points. Everyone on the Roughette roster got some time on the court and they all showed out going into the playoffs as District Champions.
The Roughettes play for a bi-district trophy Friday at 7:30 against Smyer in Littlefield to go onto the area round. (Tickets will be available at the gate.) The team hopes to make a deep run into the playoffs and continue a long standing tradition.
GO ROUGHETTES!!!!!!!