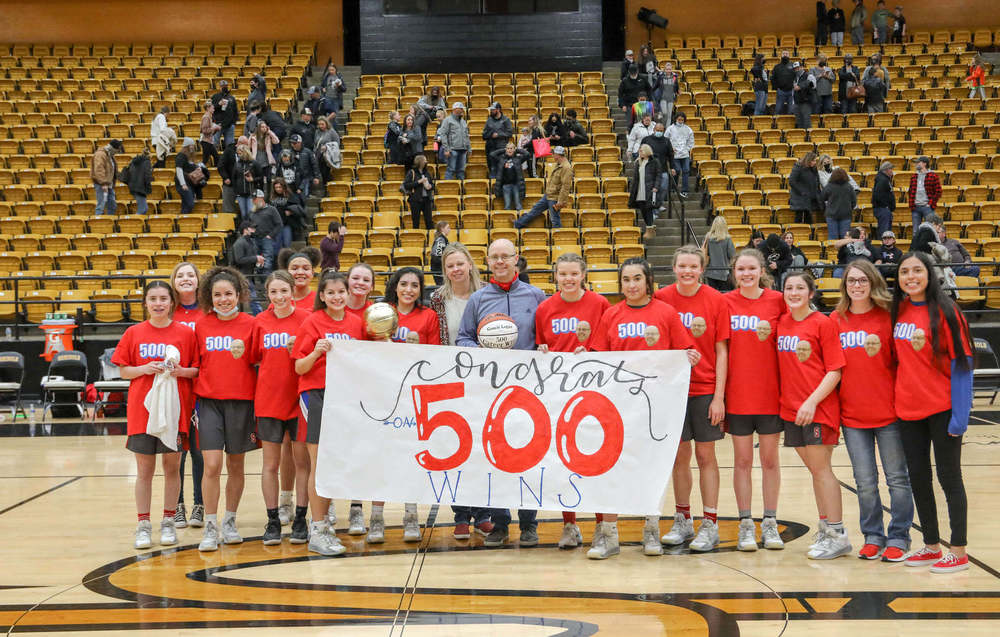 Roughettes Stomp the Lady Buffalos, Legan Captures 500th Career Win
Marcos Vargas & Nicholas Rodriguez
Monday, February 22, 2021
Sundown ripped Forsan in the Area round of the playoffs with a final score of 52-43 last Thursday night at Seminole High School gym.
The Roughettes came out of the first quarter scoring nine points, the same as Forsan, but the Roughettes out scored the Lady Buffalos by 12 in the second quarter, building a 12 point lead. The score going into halftime was 21-16 with the Roughettes on top. Sundown came out a little slow after halftime only scoring 10 and allowing Forsan to have 10 points as well. In the fourth quarter the Roughettes outscored their opponents by one point ending the game with a nine point victory advancing Sundown to the Regional Quarter Final round. The Roughettes led from the tip off, until the last buzzer sounded.
Shea Beadles helped hold the Roughette lead in the fourth quarter by going 7 for 8 on the free throw line. Senior Emily Rodriguez and Sophomore Natalie Urias helped set the Roughettes over the top with both of them scoring in the double digits. Emily finished the game and led the Roughettes with 16 points, while Natalie totaled 11, Mckenzie with 9, and Shea with 9. Kaydence Loftin chipped in five and Aria Hogan put back an offensive rebound for two. Senior Mackenzie Lee, Freshman Aria Hogan, and Natalie helped by crashing the boards. The team finished with 37 rebounds for the game, which was a key to the win. Mckenzie had a team high 11, Aria with 8, and Natalie grabbed 6.
Coach Brian Legan has had 18 great years in Sundown at the helm for the Roughettes, while starting off at Spur for four years. Coach Legan reached a huge milestone on Thursday night, securing his 500th career win against Forsan. Congrats, Coach Legan. The Roughettes will look to add to that total playing against New Home Tuesday at 6pm @ LCU at the Rip Griffin Gym.
Roughette Basketball Ticket Info:
Tickets may be purchased online only through LCU. All tickets are $6. Below is the link and password that all Roughette fans may use to purchase tickets. We are allotted 400 tickets.
Password: CHAPROUGHETTES
Let's Go Roughettes!