Sundown Cross Country is in full swing! High School and Middle School Cross Country schedules are available. If you get a chance, please come out and support these amazing athletes!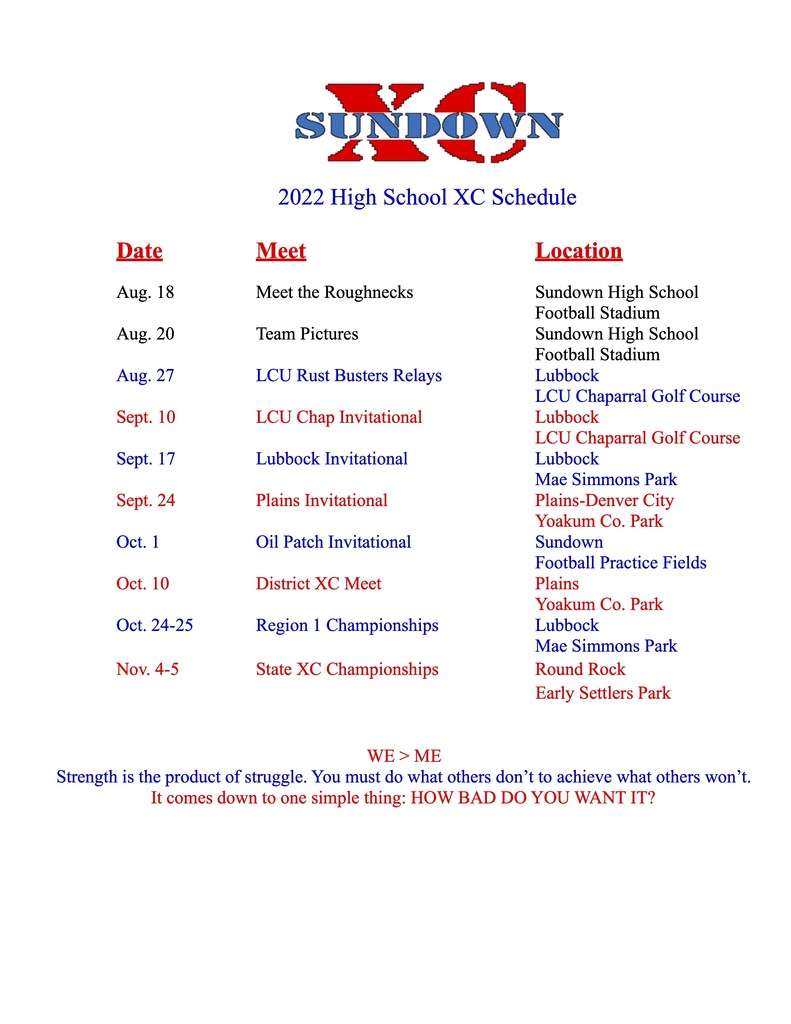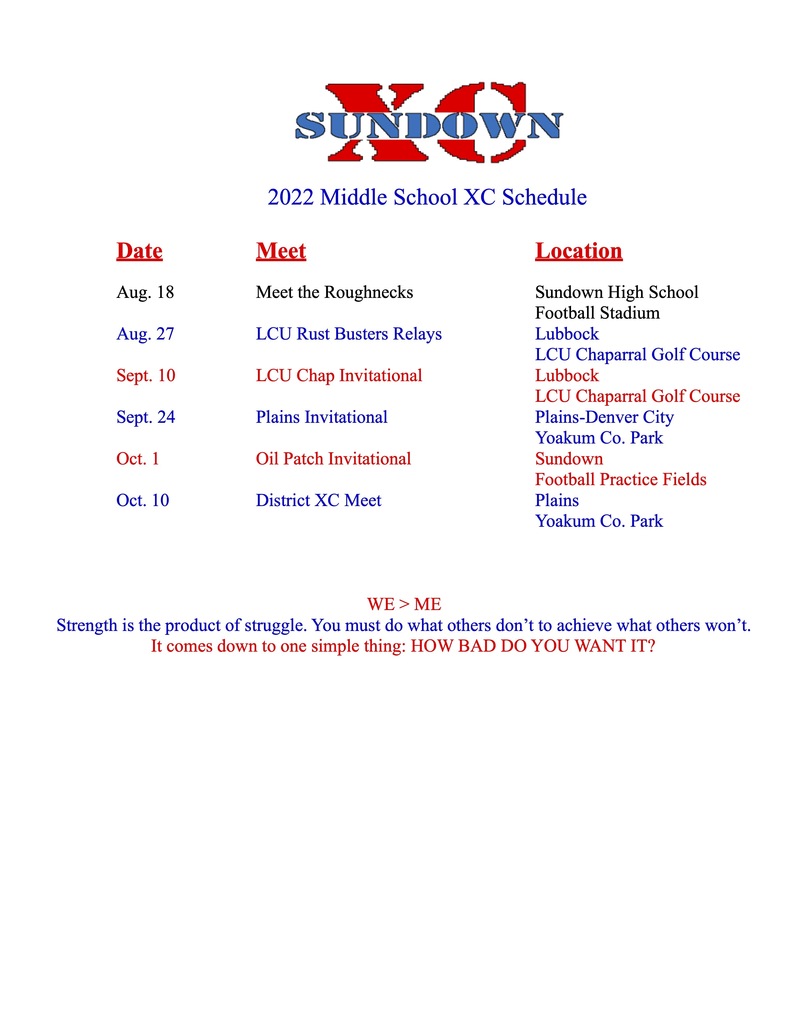 Cross Country Shirts!!! Order forms are included and can be returned, along with payment, to any of the 3 campuses! If you have any questions, contact Coach Abel Perez at
aperez@sundownisd.com
. ORDERS DUE MONDAY, AUGUST 22ND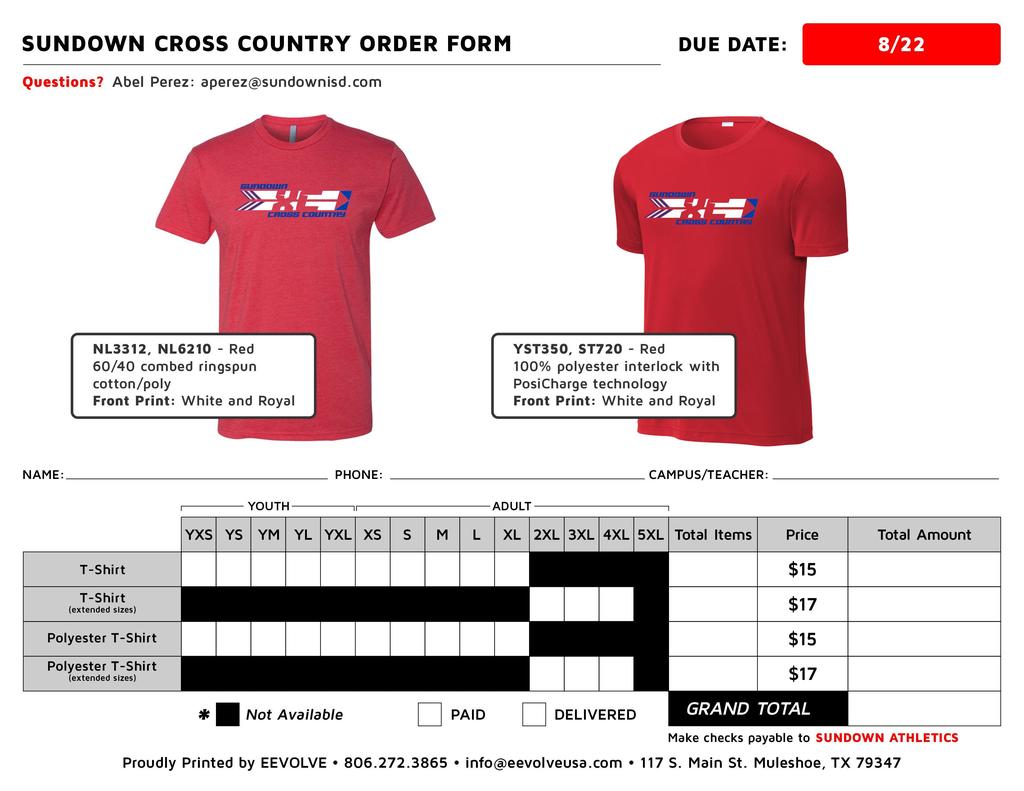 Football Scrimmage Today Sundown @ Friona Go Roughnecks!!!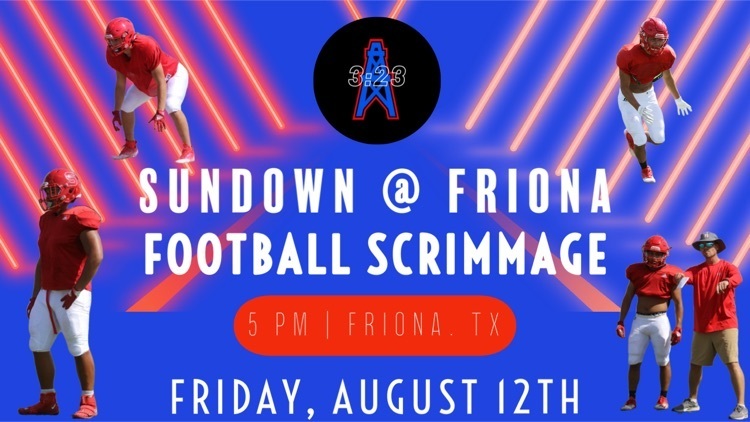 📣📣We will be set up near the cafeteria with old cheer uniforms on August 11th. You can purchase one of these for your mini cheerleader.📣📣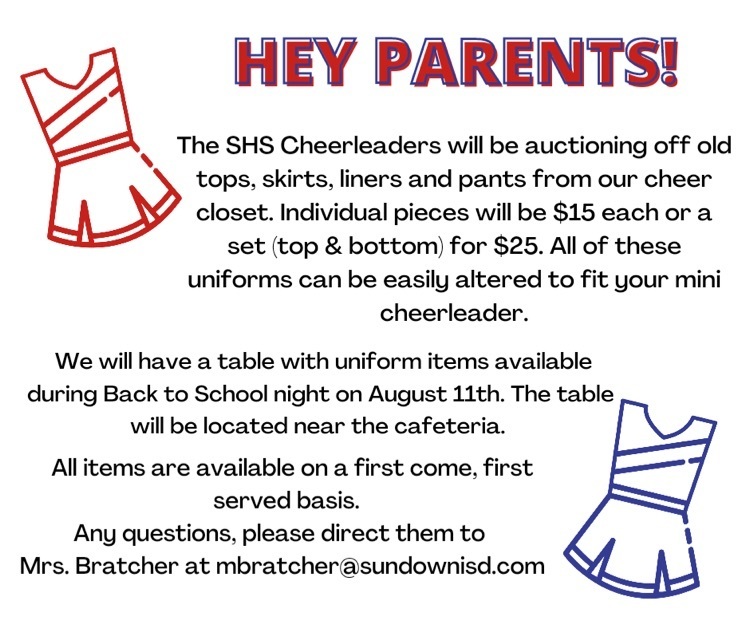 Reminder: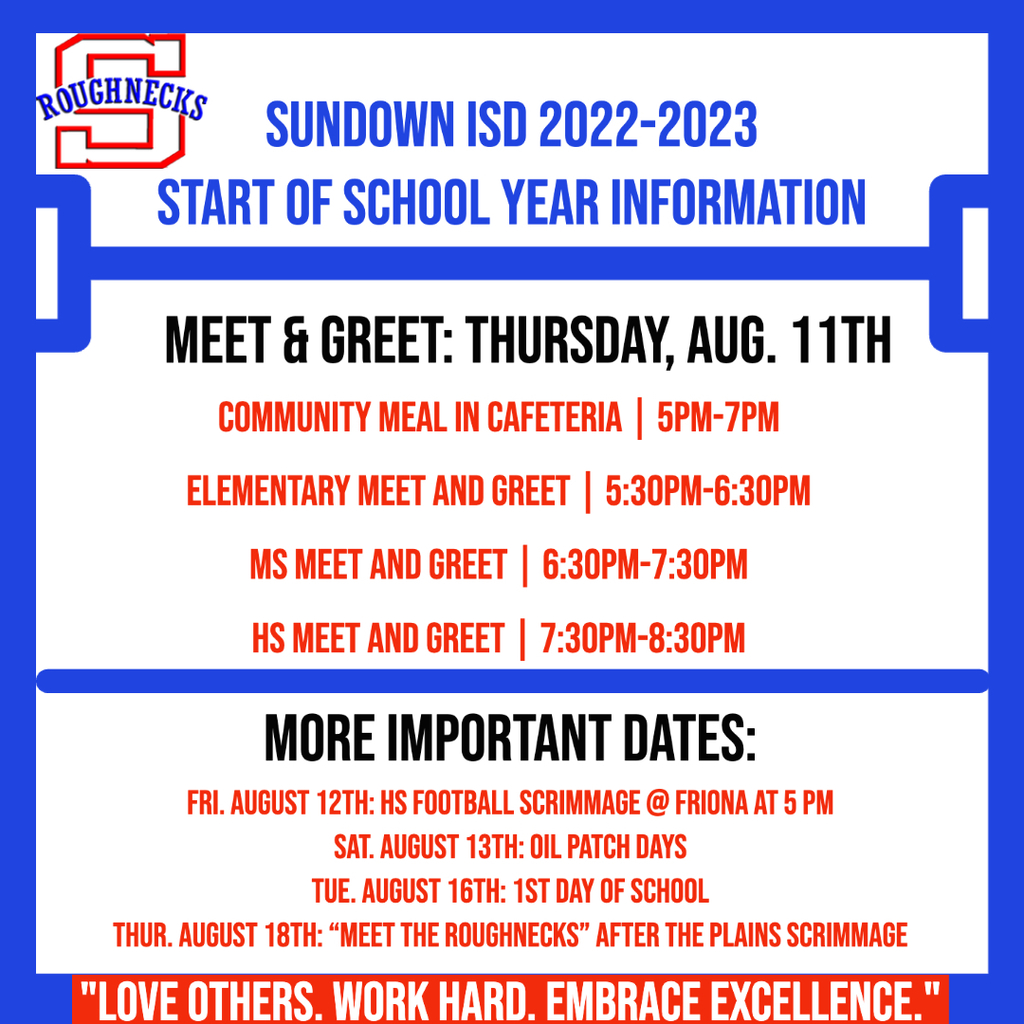 Believe it or not senior parents, your baby is a senior this year! You and your senior plan on joining the seniors sponsors after Meet the Teacher Night on August 11th at 8:45 in the auditorium to discuss senior trip. Seems a long ways away, but we will be headed to Florida before you know it!!

MS Cheer Showcase Today at 3 PM in the Game Gym (change of location due to A/C issues in the facility) Our Sundown MS Cheerleaders have been working very hard over the past 3 days preparing for this Showcase! They have made great strides from where they started on Thursday, to what they will perform today. Being a cheerleader is not an easy feat, and we want to show our love and support for the guts and courage it takes for these young ladies to perform in front of their peers and their community. Hope to see you today at 3!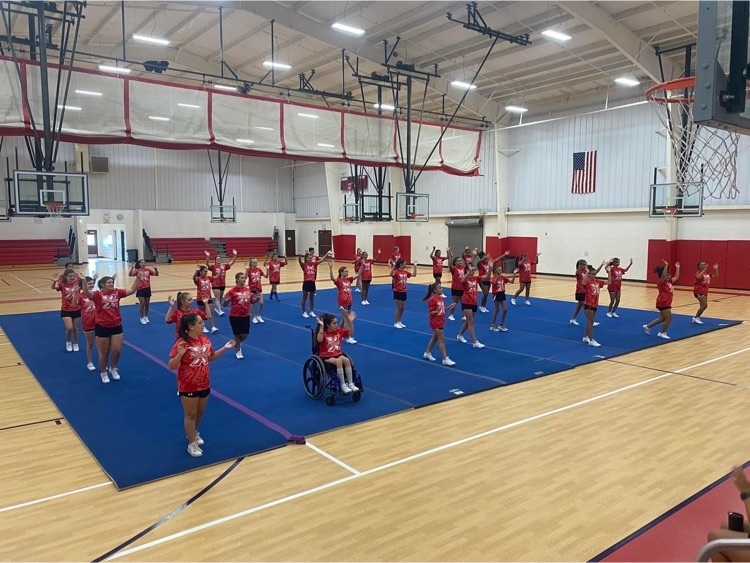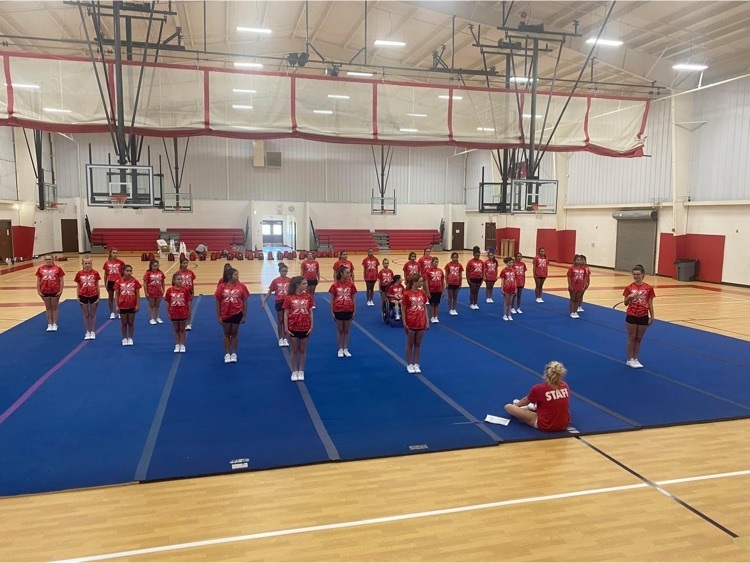 We will have the facility closed this Thursday, Friday and Saturday from 9 AM to 4:30 PM for MS Cheer Camp!.  The Facility will be available after the 4:30 PM time each of these days.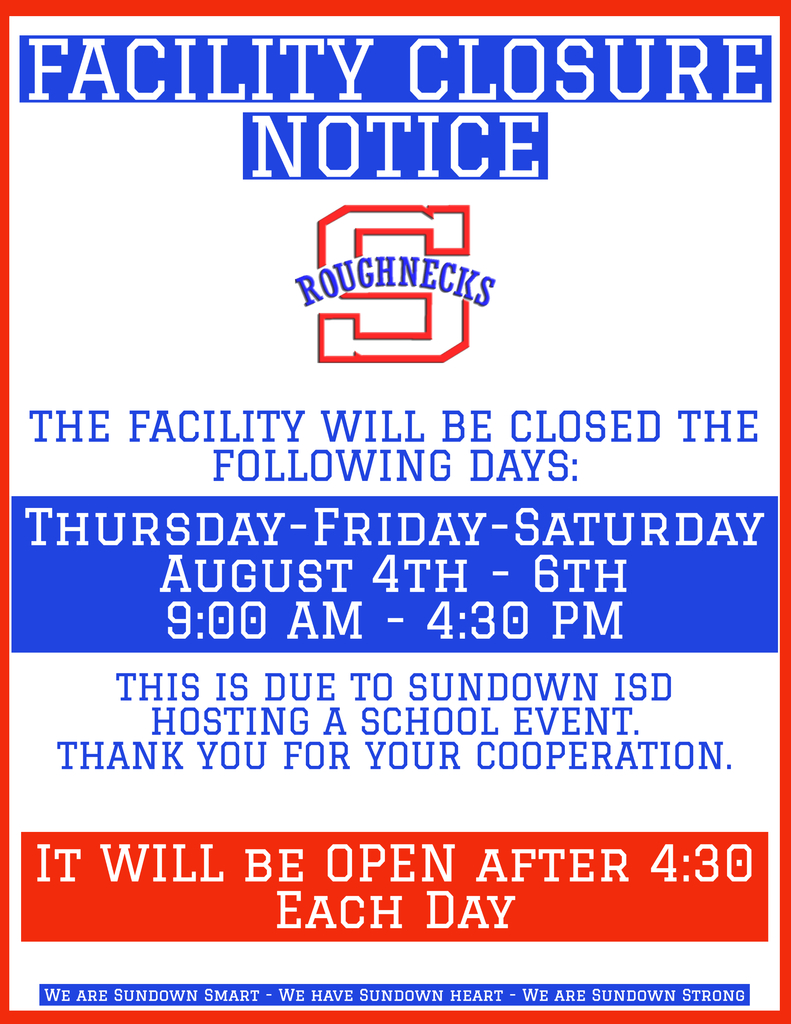 Message from HS Cheer: 📣Don't forget tomorrow, 8/4/2022 we will be selling authentic SHS cheer uniforms at registration for your mini cheerleader (s). 📣Mini cheer camp registration forms will also be available. 📣If you haven't purchased one of our raffle tickets, you'll also have an opportunity to buy one from one of our cheerleaders. 💵Bring your cash or checkbook!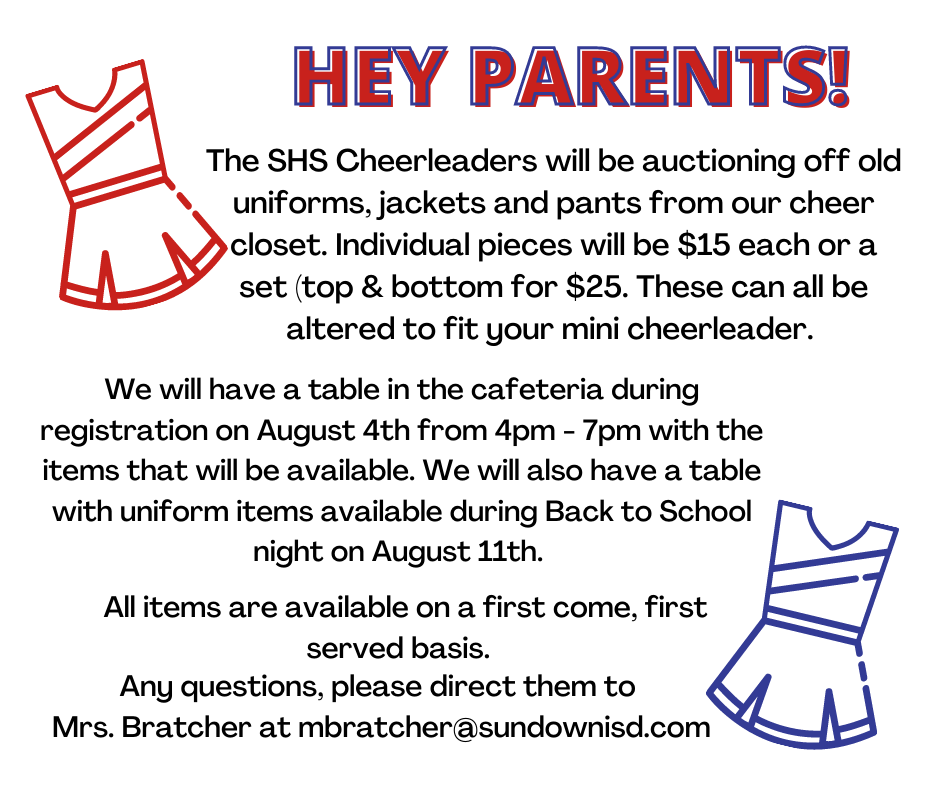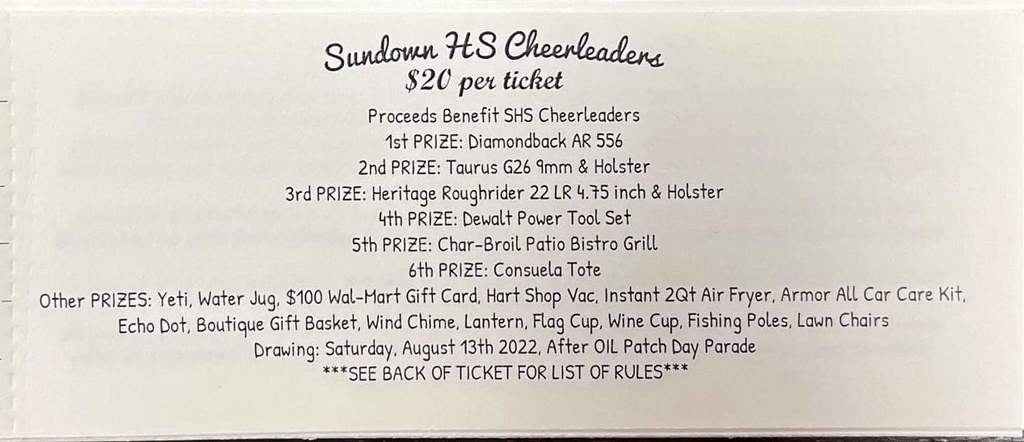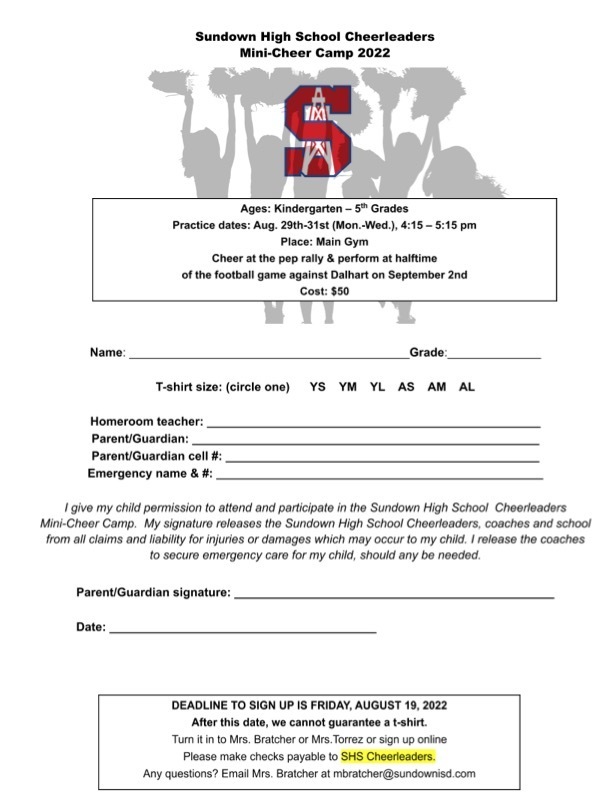 Local Oilfield Companies Raise $1,200 for Back to School Supplies for Sundown ISD Students On Saturday, July 30th, a group of "roughnecks" competed in a brisket and rib smoke off! Oilfield companies from Falcon Energy Services, Graco, Maxpsi, Sundown Tubing Testing, R7 Wireline, Key Energy, Valor and Oxy put their smoking skills to the test as they competed for the honor of the Inaugural brisket and rib smoke off! Competitors began smoking their ribs and brisket on Friday night, and turned in their best on Saturday morning at 11 AM. 3 members of Sundown ISD were asked to judge and rank the ribs and brisket. "We know how tough it can be for families to come up with money for school supplies, so we wanted to help out. Hopefully we can do this again next year, and make it bigger and better with more companies involved so that we can donate more money to the school" stated Ramon Rodriguez. Danny Randolph was the overall champion placing 1st in both ribs and brisket! His ribs and brisket were absolutely amazing, but even more amazing was his generosity as he unselfishly donated his $600 prize money back to the school to help with school supplies! What a great gesture from a very generous man. In total, the brisket & rib smoke off donations totaled $1,200 to Sundown ISD. Pictured from left to right: Cam Buchanan, Miguel Salazar, Jaime Salinas, DJ Snead, Johnny Hinojosa, Wayne Snead, Salomon Hernandez, Ramon Rodriguez, Martin Olivas, Billy Wallace, Danny Randolph, Rito Villegas, Kaden Franklin and Jeremy Griffith.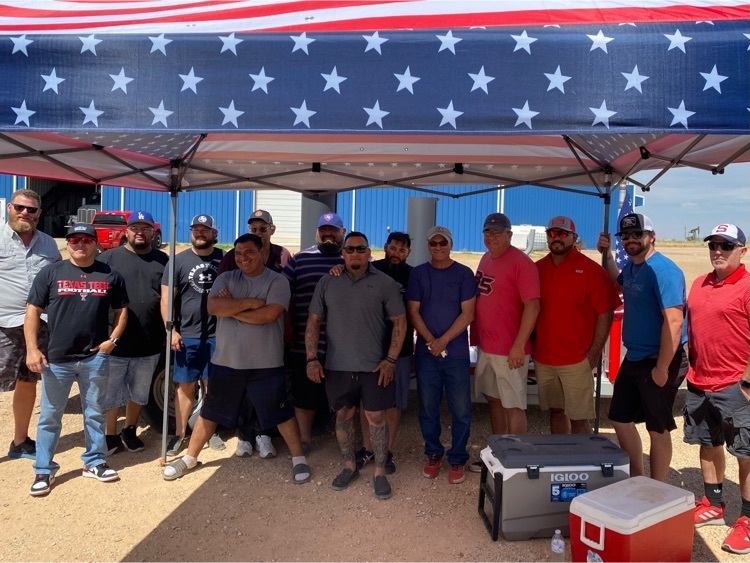 The Cast and Crew for The Lightning Thief: The Percy Jackson Musical has been announced! Congratulations to all!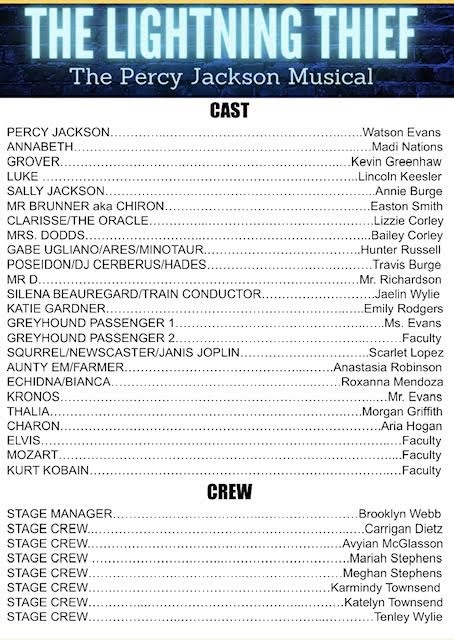 Good evening Sundown Middle School Family! Just a couple of reminders… Middle School Cheer Camp begins this Thursday, August 4th at 9am at the facility! Mrs. Garcia and Ms. Webb will be at the facility at 8:30 AM to begin handing out shoes and getting set up! Please make sure you come dressed in shorts and a tshirt or tank top and bring socks for your new shoes! Camp is this Thursday and will continue through Saturday from 9 AM to 4 PM everyday! Just a reminder, this will be a closed camp and parents will not be able to sit and watch. However, there will be a showcase on Saturday at 3 PM, and we hope that everyone comes out to see them perform! We are so excited for the upcoming cheer season! We also have 6th grade orientation starting at 10 AM on Thursday that will begin in the auditorium and will last until 11:30AM. Also, if you are new to Sundown Middle School, you're invited to join us! Sorry parents, but this is also an event that is for students only! Registration is now open online with the link recently posted to our sundown Facebook Page! So get online and complete your registration. This Thursday, August 4th we will also have in person registration from 5 to 7 PM in the Cafeteria. To our 8th grade students, I hope you had a great first day of Band! The weather was definitely cooperating this morning and I know Mr. Mauldin was excited for what this group brings to our band! I hope everyone continues to enjoy their summer and I look forward to seeing everyone soon!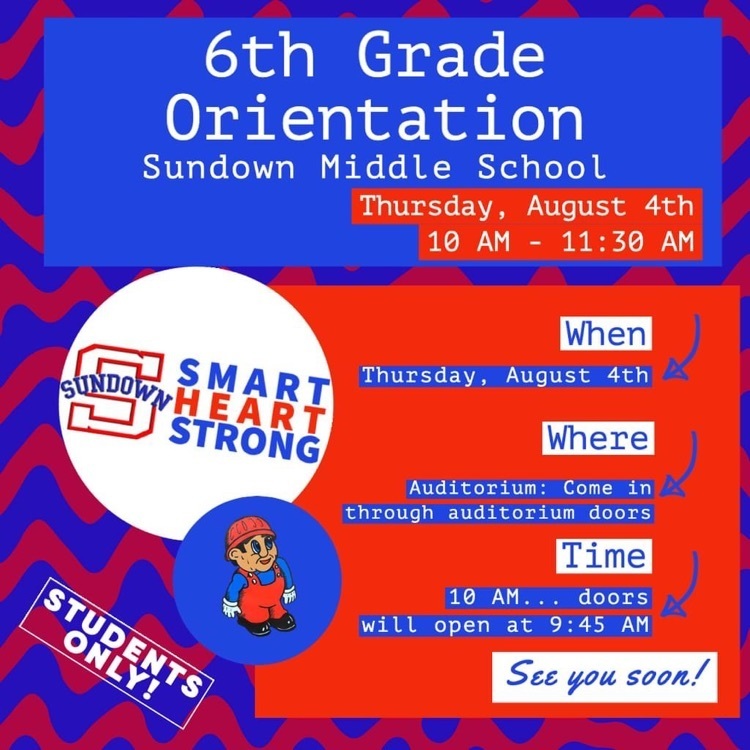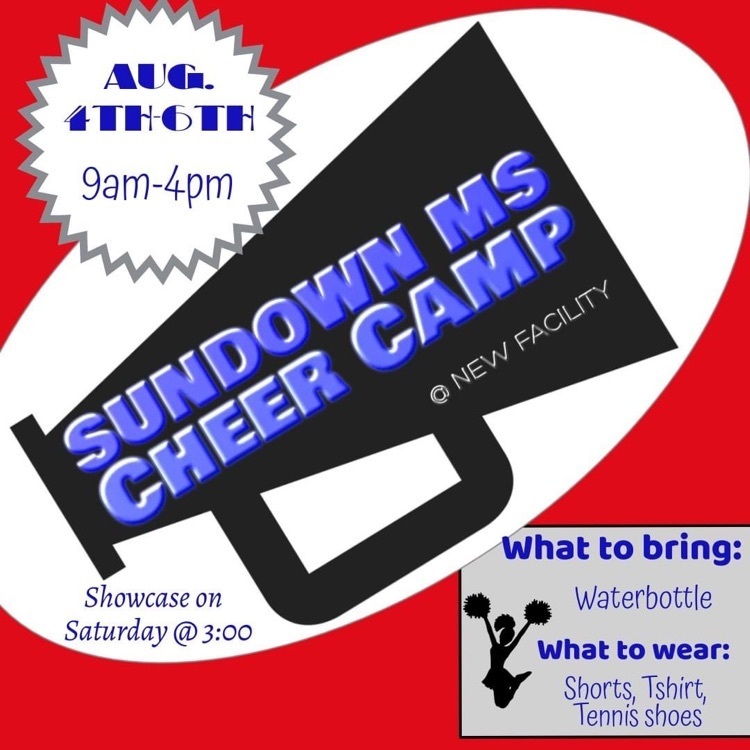 SHS is looking to hire an education aide for the 2022-2023 school year. Must be able to help kids in all core subjects. Please email Mr. Griffith if you are interested.

Reminder: 6th Grade Orientation held this Thursday from 10 AM - 11:30 AM! This orientation is for Students ONLY as we will provide them with an opportunity to learn about Sundown Middle School and get them familiar with knowing where their classrooms are, finding their lockers, and learning the norms of Sundown Middle School! We are looking forward to seeing your child at 6th Grade Orientation! We are also going to open this up to new students to Sundown Middle School, so come and join us!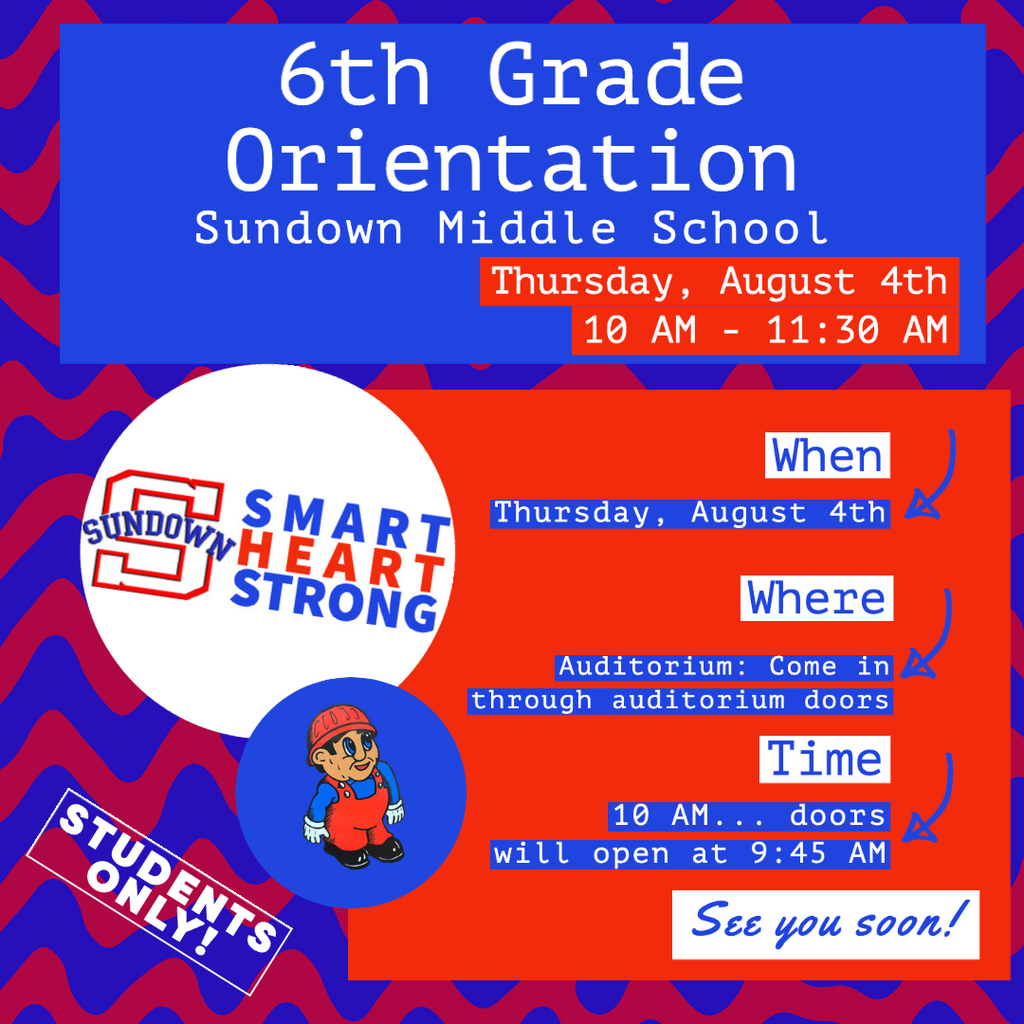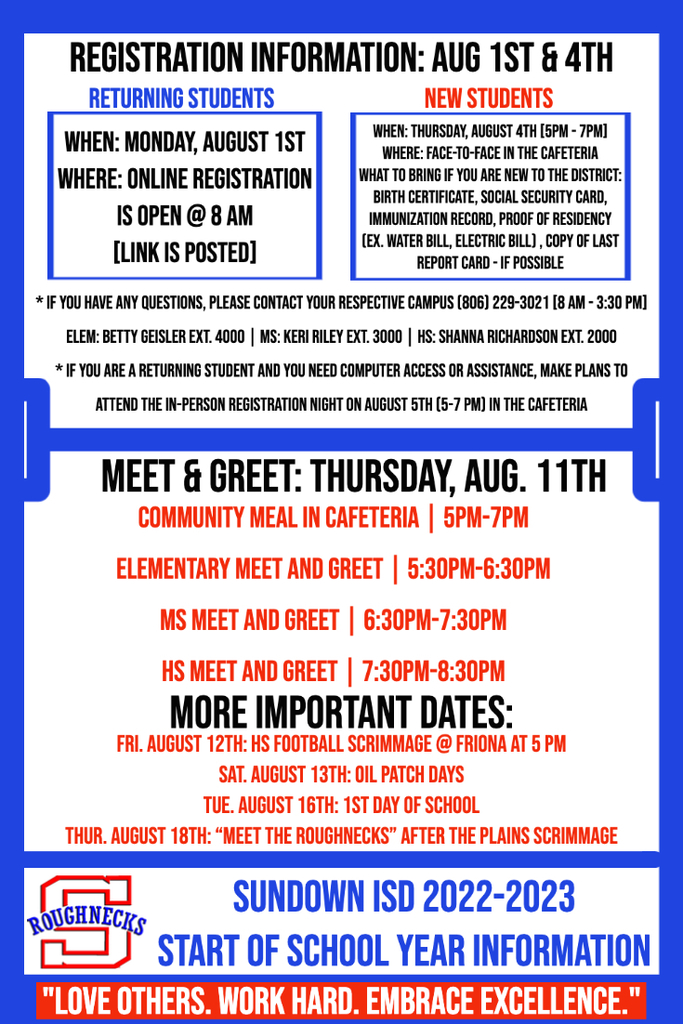 The SHS Cheerleaders are auctioning off old uniforms, jackets and pants. These can be altered to fit your mini cheerleader! Read below for all of the details!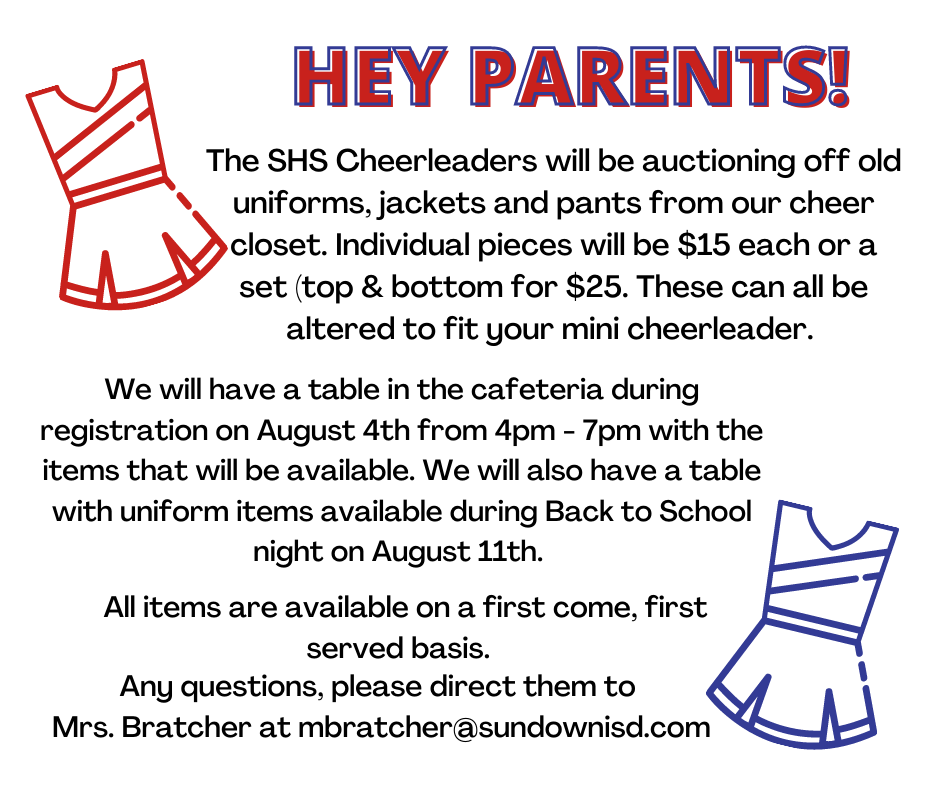 For those that missed our transfer day in early June, we are hosting one more prior to the start of school. Join us on Wednesday at 10 AM in the Auditorium for an opportunity to visit with administrators and tour the school at Sundown ISD! Doors will open at 9:45 AM!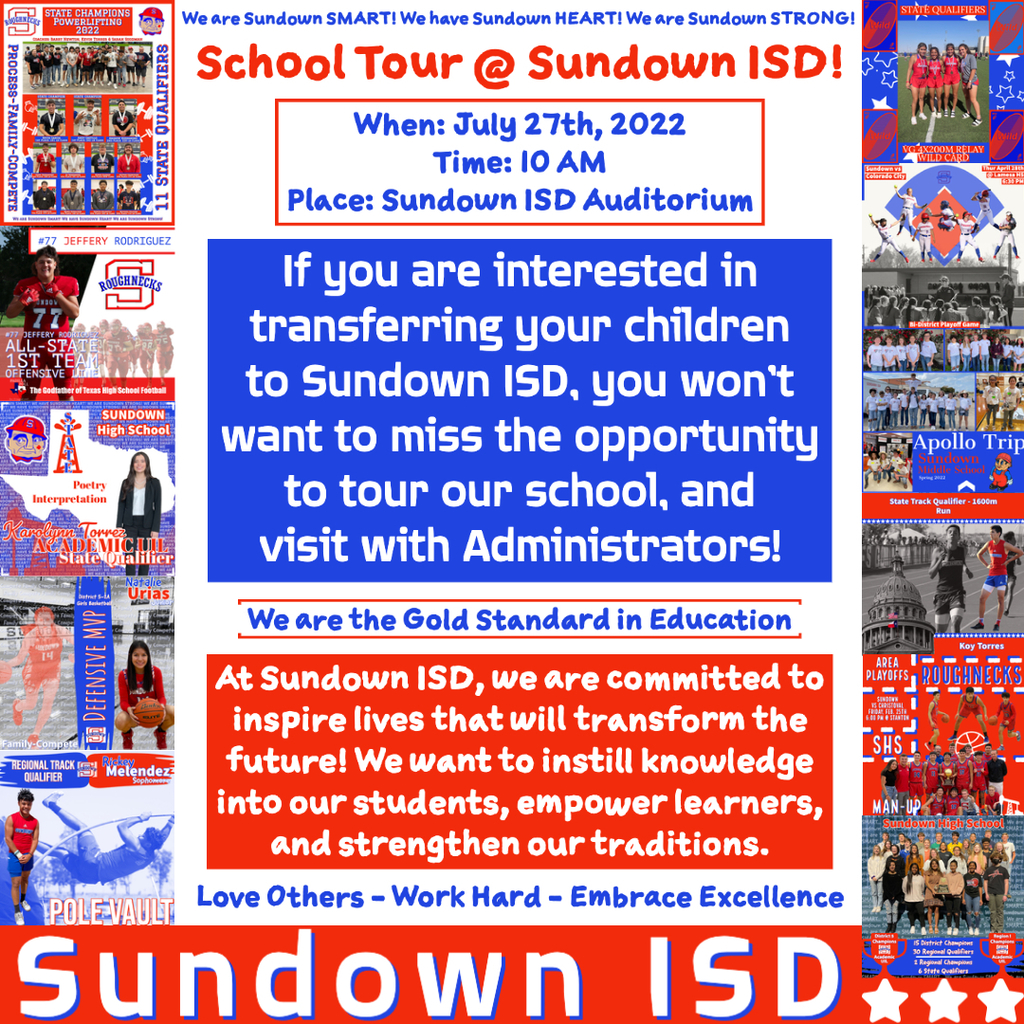 Mini cheer camp is scheduled for August 29th through August 31st. Your mini cheerleader will be the spotlight at the pep rally and perform at HALFTIME of the Dalhart game. Mini cheer camp is open to Kindergarten through 5th grade students. Because it is so close to the beginning of the school year, here's your opportunity to sign up early. The LAST DAY to sign up for mini cheer camp is Friday, August 19th in order to guarantee your mini cheerleader a t-shirt. You can print off this form and turn it in or you can sign up online at
https://sundownisd.revtrak.net/shs-cheer/#/v/mini-cheer-camp1
If you have any questions, please direct them to Mrs. Bratcher at
mbratcher@sundownisd.com
.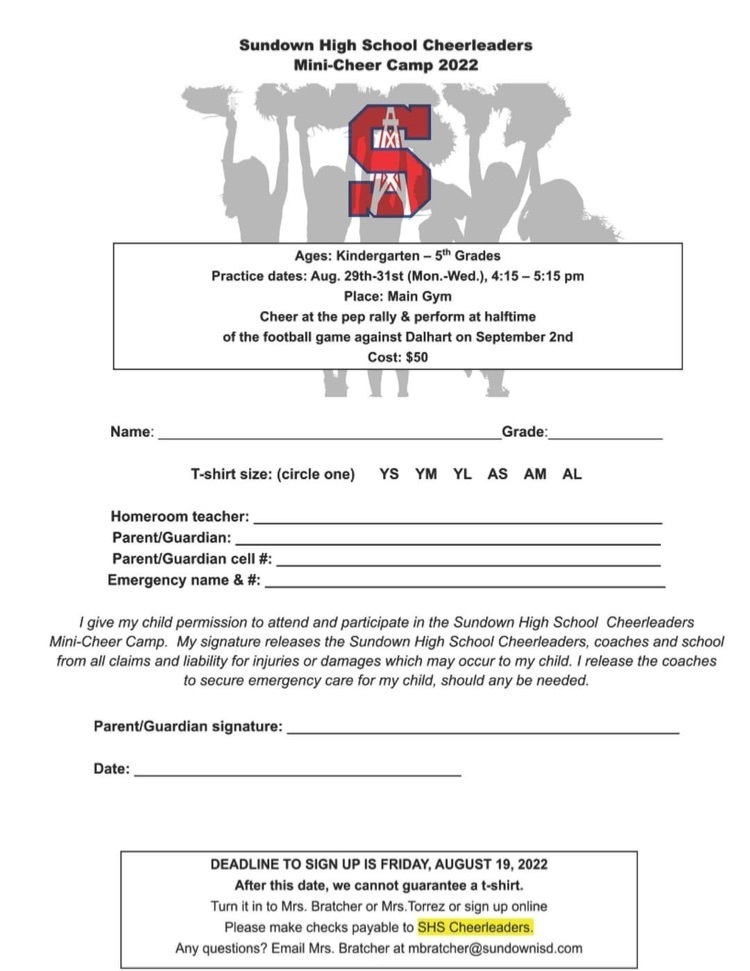 Auditions for the Sundown Theatre Fall Musical "The Lightning Thief: The Percy Jackson Musical" will be held in Mr. R's classroom on August 1st from 1-4 pm. Any MS or HS Student may audition for the show. Performance dates will be December 16th-18th. Please prepare a 30 second song selection. You may bring in the music on your phone or mp3 player. An aux cord and sound system will be provided for you. Please contact Mr. Ramirez (
rramirez@sundownisd.com
) if you have any questions.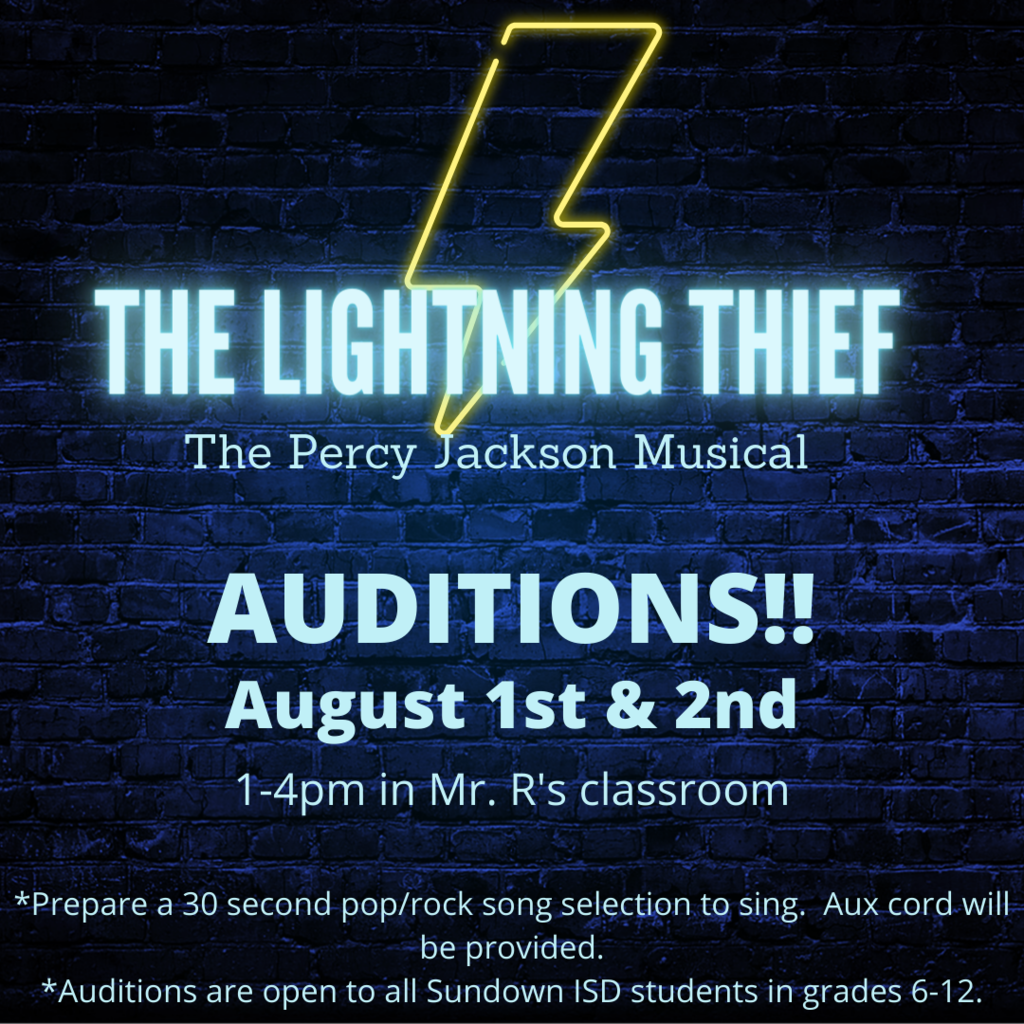 Sundown Middle School 6th Grade Orientation! Thursday, August 4th @ 10 AM in the Auditorium If you have any questions, contact Mr. Salazar at
msalazar@sundownisd.com