New Home MS Basketball Tournament Saturday, Feb 4th Round Robin Tournament. Games are scheduled.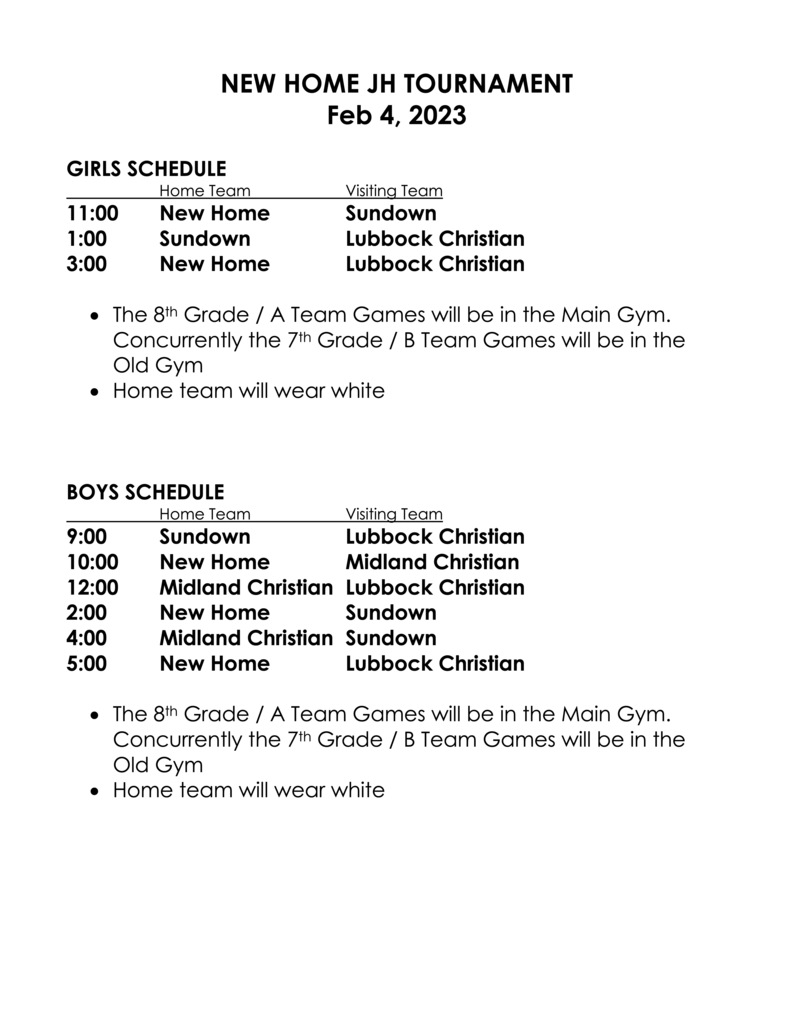 Jostens ring ceremony is at 2:30 today in the auditorium for those who ordered rings or other jewelry. Parents and friends are welcome to attend.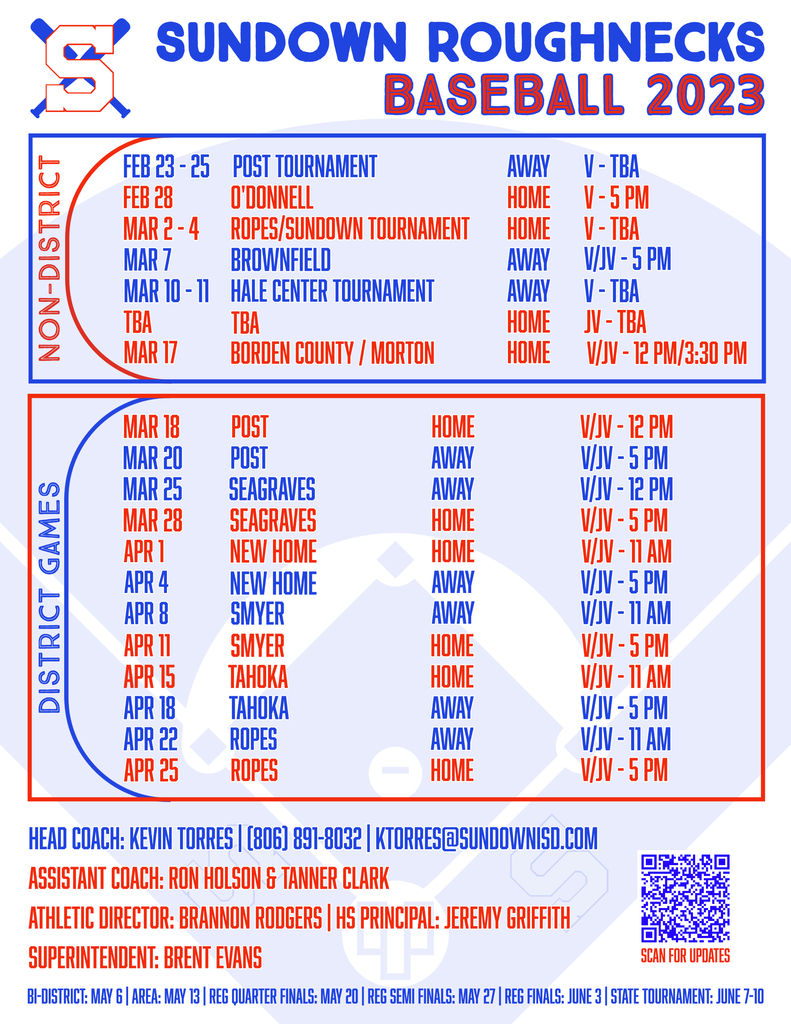 Congratulations to our students recognized at the 3rd 6-Weeks Assembly! We are so proud of their efforts! All A's 8th Grade: Laci Belew, Brock Bufe, Rylan Carr, Addie Hord, Isaiah Igo, Riley Martin, Silver Pando, Kassady Rodgers, Lillie Rodriguez, Kyndal Taggart, Tristan Wisdom All A's 7th Grade: Maddy Medrano, Sophia Rodriguez All A's 6th Grade: Camden Bufe, Ryder Bufe, Cross Federico, Drew Igo, Zane Perez, Emily Ramos-Casas 7A's & 1B 8th Grade: Jlyssa Aleman, Destiny Garza, Lincoln Keesler, Isabel Marchan, A'Bree Olivas, Ollen Pearson, Ryder Stanley 7A's & 1B 7th Grade: Alexis Brinklow, Avy McGlasson, Blevin Petrick, Riley Scifres, Tenley Wylie 7A's & 1B 6th Grade: Braxie Albus, Jose Aleman, Cooper Day, Karter Hord, Eli Jacinto, Connor Joseph, Eli Keen, Elena Lujan, Brennan Sanders 6A's & 2B's 8th Grade: Kolt McDaniel 6A's & 2B's 7th Grade: Stacey Britton, Racheal Rivera 6A's & 2B's 6th Grade: Morgan Campbell, Francisco Foster, Elizah Lopez, Ivan Maldonado, Kelbie Powell, Lilly Reaves 8th Perfect Attendance: Julius Contreras, Janessa Cruz, Adelyn Franklin, Destiny Garza, Lincoln Keesler, Andrew Ladd, Slater Little, Gordon Mata, Serenity Mulloy, A'Bree Olivas, Alyssa Paiz, Silver Pando, Corey Pormanes, Dave Pormanes, Kyrah Puryear, Elexis Robinson, Kassady Rodgers, Roman Trevino 7th Perfect Attendance Alexis Brinklow, Stacey Britton, Madison Hinojosa, Natalie Hinojosa, Paul Muniz, Katie Puryear, Sophia Rodriguez, Kale Strickland 6th Perfect Attendance: Ryland Baldwin, Camden Bufe, Ryder Bufe, Morgan Campbell, Cooper Day, Cross Federico, Delilah Gonzalez, Karter Hord, Leandra Ibarra, Eli Jacinto, Angel Landa, Elizah Lopez, Mallorie Paiz, Lilly Reaves, Carlos Rodriguez, Madalyn Rodriguez, MJ Sanchez, Brennan Sanders Students of the 3rd 6-Weeks: Coach Jeff Barker & Kyndal Taggart Coach April Berry & Michaela Brattain Mrs. Ashley Blount & Kale Strickland Mrs. Ashley Bufe & Braxie Albus Coach Tanner Clark & Alexis Brinklow Mrs. LaDonna Click-Maynard Click & Ollen Pearson Mrs. Toni Garcia & Alexis Brinklow Coach Kyle Igo & Hailee Jeffcoat Ms. Kaitlyn Jones & MJ Sanchez Mrs. Cara Marek & Zane Perez Coach Barry Newton & Kelbie Powell Mrs. Keri Riley & Katie Puryear Mrs. Kari Rodgers & Racheal Rivera Mr. Miguel Salazar & Cross Federico Mrs. Bobbie Terry & A'Bree Olivas Coach Kevin Torres & Blevin Petrick Coach Dakotah Watson & Maddy Medrano Mrs. Brandi Webb & Sarah Reyna Mrs. Tiffany Wylie & Dave Pormanes

Middle School Basketball on Monday: Sundown @ Ropes Schedule: (Different than most games) 6 PM | 8th Girls (Main Gym) & 7th Boys (Old Gym) 7 PM | 8th Boys (Main Gym) & 7th Girls (Old Gym)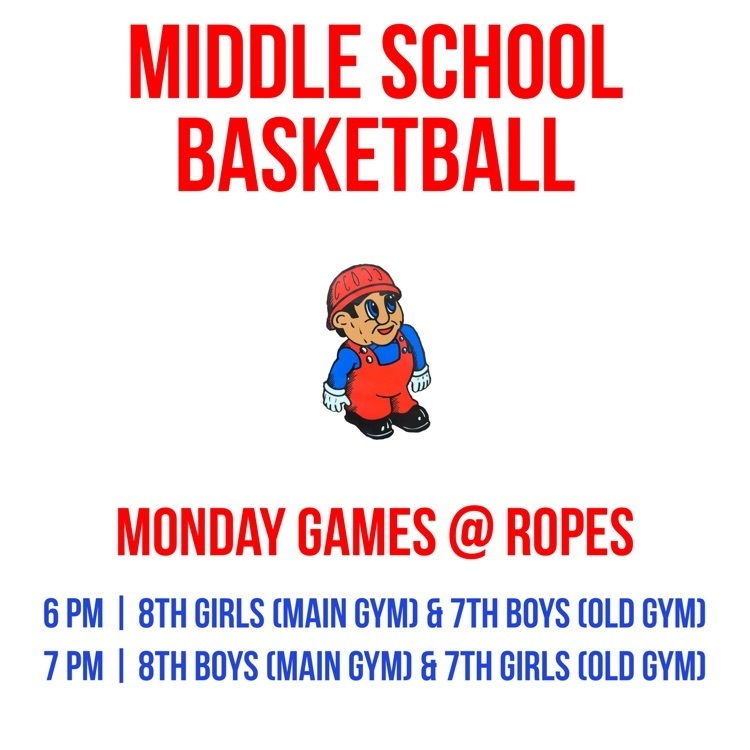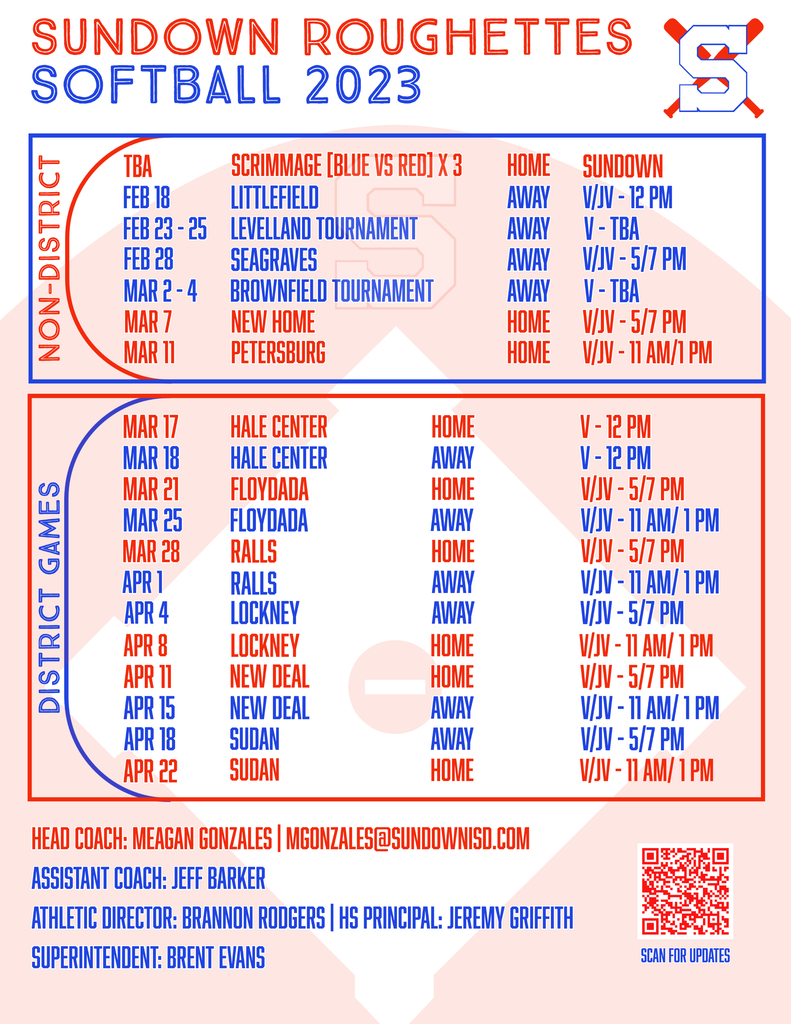 A handful of Sundown band students (mentioned in a previous post) are on stage at the Civic Center under the direction of clinician Mike Glaze!!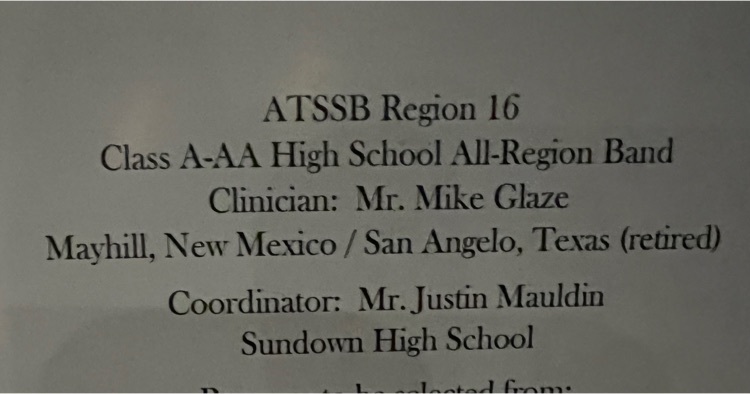 We are so proud of our All-Region Band Students that have qualified to participate in the All-Region Band Concert that will be held this weekend at the Lubbock Civic Center. Here are the Sundown Middle School Students that will represent us: Sophia Rodriguez, 7th grade Flute: 8th chair Symphonic Band Avy McGlasson, 7th grade Flute:16th chair over-all, 4th chair Concert Band Stacey Britton, 7th grade Flute: 20th chair over-all, 8th chair Concert Band EJ Moody, 7th grade Flute: 25th chair over-all, 1st Alternate Shaun Lopez, 8th grade Clarinet: 10th chair Symphonic Band Lilly Reaves, 6th grade Bass Clarinet: 1st chair Symphonic Band Ryder Stanley, 8th grade Cornet: 3th chair Symphonic Band Kale Strickland, 7th grade Cornet: 25th chair over-all, 11th chair Concert Band Bailey Corley, 7th grade French Horn: 9th chair over-all, 3rd chair Concert Band Maddy Medrano, 7th grade French Horn: 12th chair over-all, 6th chair Concert Band Lincoln Keesler, 8th grade Trombone: 7th chair Symphonic Band Clay Holdman, 7th grade Trombone: 26th chair over-all, 12th chair Concert Band Karmindy Townsend, 7th grade Euphonium: 5th chair Symphonic Band Alana Ledesma, 8th grade Tuba: 5th chair Symphonic Band Camden Bufe, 6th grade Tuba: 14th chair over-all, 6th chair Concert Band Here are the Sundown High School Students that will represent us: Makenzie Mulloy - 5th Chair Flute Anastasia Robinson - 21st Chair Clarinet Karizma Hoover - 1st Alternate, Bass Clarinet Easton Smith - 1st Chair Contrabass Clarinet Shea Beadles - 15th Chair Cornet Lizzie Corley - 4th Chair Horn Brayden Carr - 1st Chair Euphonium Noah Peralez - 1st Chair Tuba Watson Evans - 5th Chair Tuba Hunter Russell - 8th Chair Tuba Madison Nations - 5th Chair Percussion This is an amazing result of hard work; each putting in time and pushing each other to improve every day! Concert Info: Their concerts are at various times on Saturday in the Civic Center Auditorium. If you would like to attend, I know they'd love to see you there. Sundown has students performing in the following groups: MS Concert Band - 1:30 MS Symphonic Band - 2:00 HS Band - 3:30 HS Honor Band - 5:00

Roughneck final: Sundown 29 New Home 70

Roughnecks are down 54-19 after 3.

Roughnecks are down 32-14 at half.

After 1 quarter of Roughneck play: Sundown 11 New Home 13

Roughettes gave top ranked New Home all they wanted for 4 quarters but came up short. Sundown 54 New Home 67 Twice this season the Roughettes have battled the Leopards hard. Proud of their effort!!

After 3 quarters: Sundown 44 New Home 52

Roughettes are at the half: Sundown 30 New Home 34

The Roughneck crowd is awesome tonight! The gym is rocking! After 1 quarter of play: Roughettes 18 Nee Home 20

White OUT the GYM TONIGHT! Attention all parents and students attending the game, we are encouraging fans to wear white in support of our Roughnecks and Roughettes as they battle New Home tonight! Hope to see you there! Games start at 5.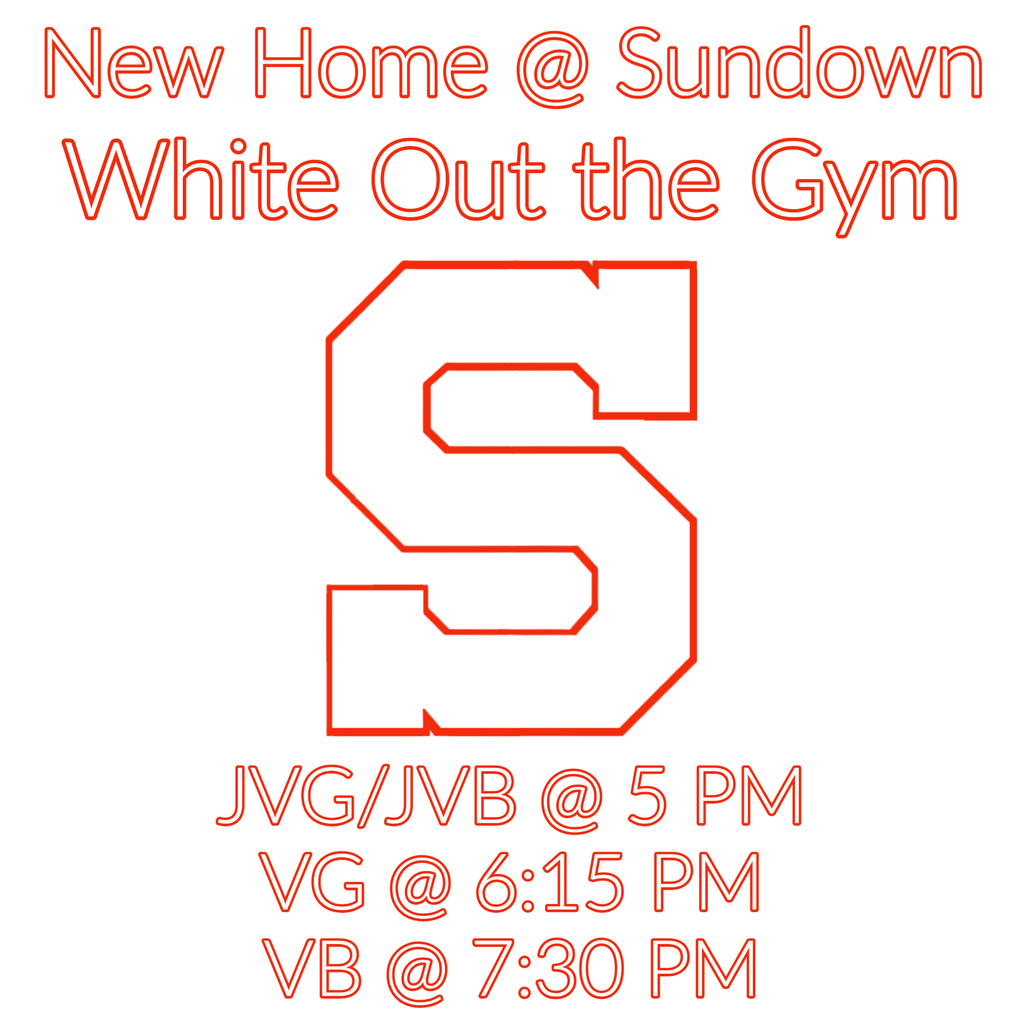 Come out and support our Sundown Powerlifting Team as they compete tomorrow at 9 AM in the Facility here in Sundown! We are excited about this season and are looking forward to watching our kids shine!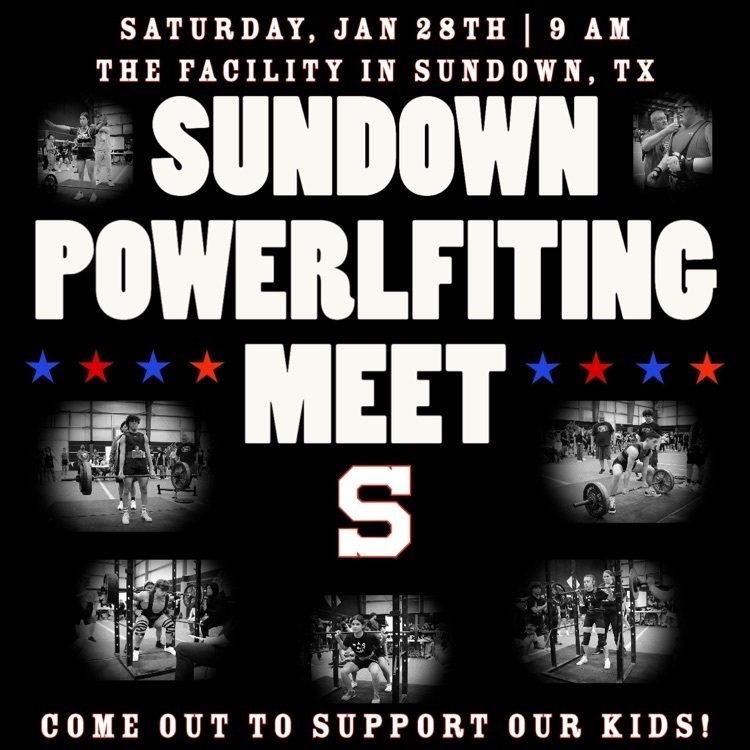 Roughnecks lead Post 37-7 at half.

Roughettes beat Post 75-16. Great job ladies!