JV girls were down 31-27 with 3:09 left when Maya Martinez made a 3 and got fouled. She tied it up with a FT, and then Sundown went on to win 37-31. Great job ladies!!!

Good game in Tulia. The JV Roughettes trail 27-25 after 3.

JV girls lead 20-16 at the half in Tulia.

Girls hoops action in Tulia today. After 1 quarter the JV Roughettes lead Tulia 13-8.

So proud of our Roughneck football team. Down 40-0 at half and came back out and played their guts out, never quit, and dominated the 2nd half scoring 22 unanswered points. The season came to an end with a 40-22 loss, but these kids and coaches are winners in our book!!

Hawley 20-0 with 3:11 left in the 1st.

8:40 left in the 1st and Hawley leads 14-0.

Hawley 7 Sundown 0 with 9:37 left in the 1st.
Good luck to our football team as they travel to Big Spring for the Area Playoff game against the Hawley Bearcats! We wish our team safe travels! Enjoy the video!
https://youtu.be/oHtoQADXH2g

SISD phones are now working correctly! Thank you for your patience while the system was down.
Game information for the Area Playoff on Friday Night! Send off at 2:30 at the Elementary playground.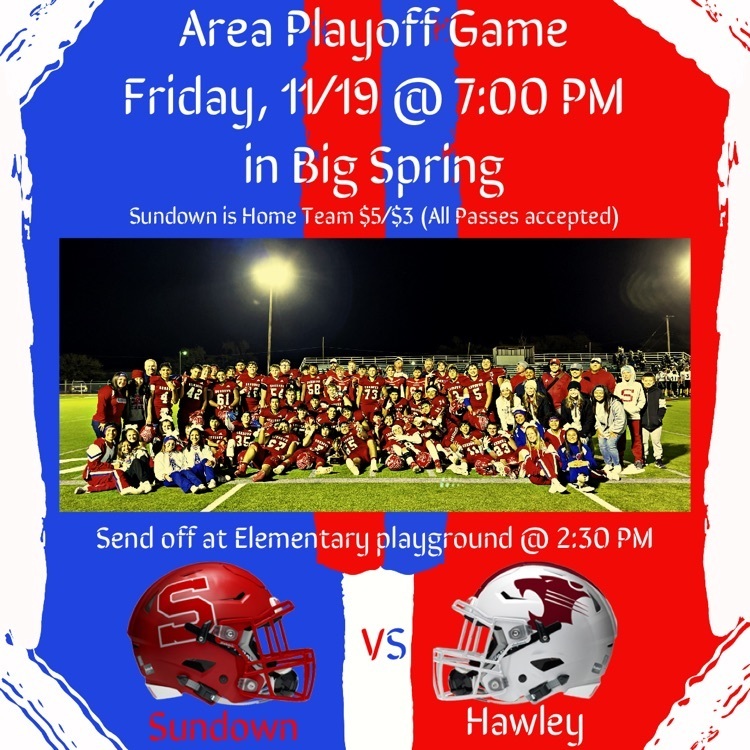 This mornings power outage has taken down our phone lines. We have been working all day trying to get them back up. At this time it seems they may be out until sometime tomorrow. We apologize for the inconvenience and will let everyone know as soon as they are back up. At this time we can use them to call out, but cannot receive incoming calls. If you need to contact us please email the campus secretaries.

"Don't Blink" or they will be all gone... Order your yearbook today through May 31, 2022 for only $45. Place your order early because we cannot guarantee that there will be any extras. Please return the attached order form with payment to your child's teacher or to High School Room V102 (Mrs. Bratcher). Please make checks payable to: Sundown Yearbook. Or go online to order your yearbook by visiting our online webstore:
https://sundownisd.revtrak.net/yearbook/#/v/2021-2022-Yearbook-Pre-Order
Any questions, contact Mrs. Bratcher at
mbratcher@sundownisd.com

Can't wait to see everyone in Big Spring on Friday!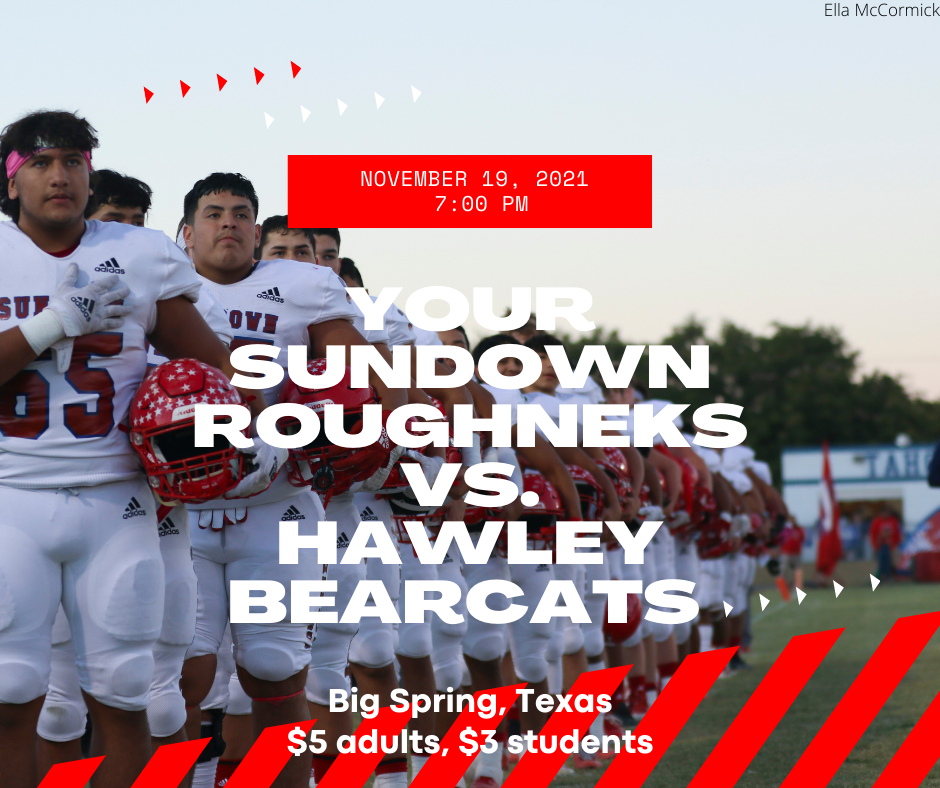 Being a Sundown Roughneck continued…. We play with class! We play with heart! We carry ourselves to the highest standard. We don't just talk about it… we are about it! Roughettes stuck around after the game and made a clean sweep of the trash in the stands (with the help of some of our parents). In Sundown we are more than the scoreboard. We teach our students to become contributing members of society! … another great day to be a Sundown Roughneck! We are Sundown Smart! We have Sundown Heart! We are Sundown Strong!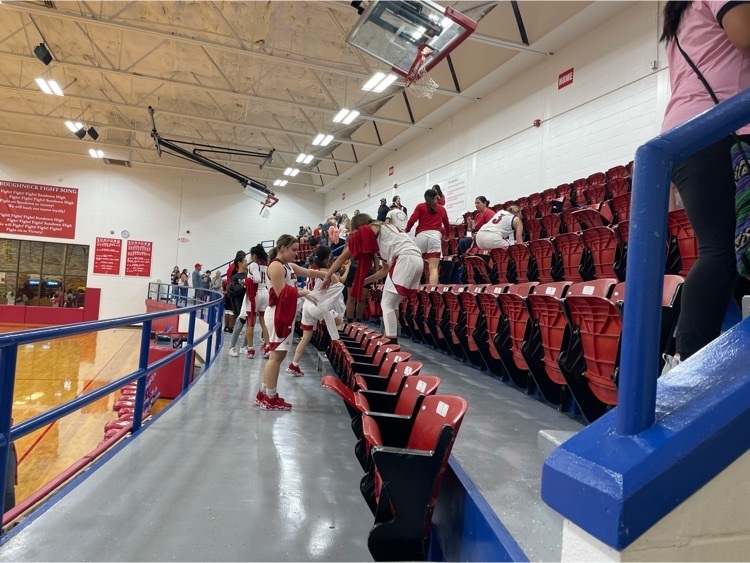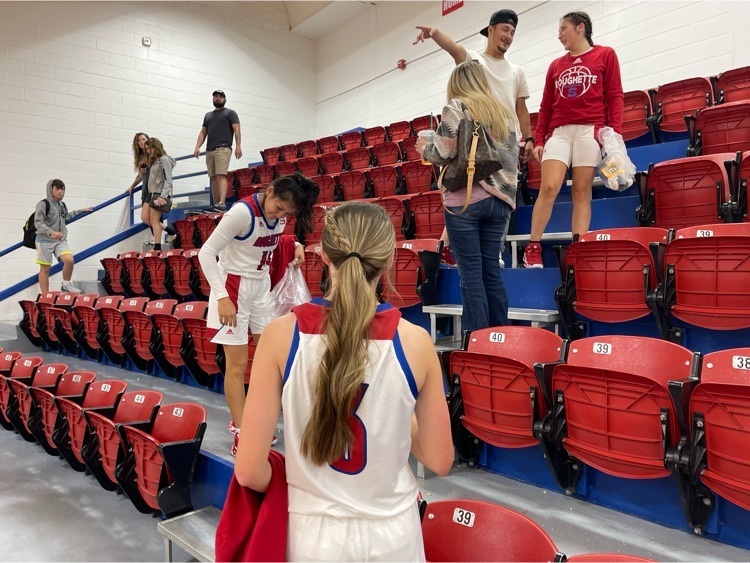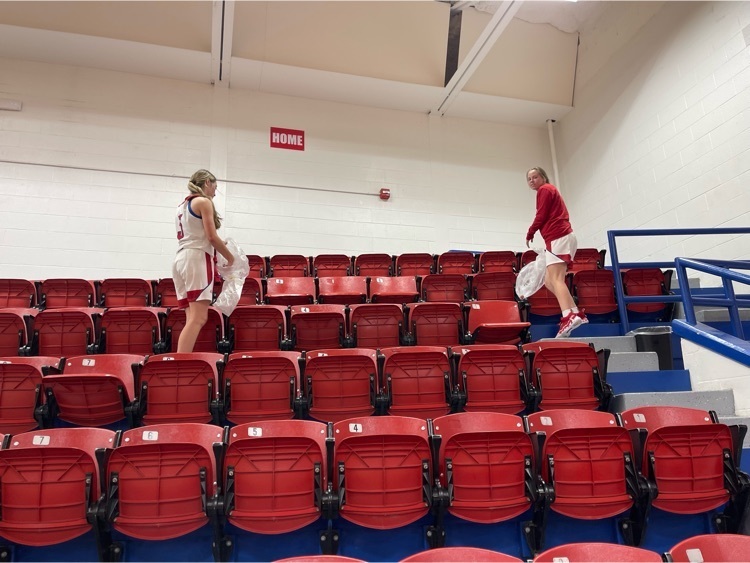 Great win by the varsity girls!! 63-28 over Denver City!!

Varsity girls lead 52-17 after 3.

Varsity Roughettes with a great first half. They lead DC 38-10 at the half.

Varsity Roughettes lead Denver City 16-2 after 1.

41-17 victory for the JV Roughettes!! Great job ladies!!