Softball leads 4-3 after 2 in Floydada.

Softball tied at 0 after 1 in Floydada.

Great start to the State Powerlifting Meet! Follow along to cheer on our Roughnecks! Rickey Melendez has set the State Record in the 165 on class! 580 lbs!!!
http://www.thspa.us/livemeets.aspx

Busy day for SHS student athletes: Boys powerlifting in Abilene Softball in Floydada 11:00 Baseball in Seagraves 1:00 Good luck to all!!

Sundown High School and Brownfield High School Theatre Companies are proud to present "An Evening of One-Acts" this Sunday in the Sundown High School Auditorium. Both shows have advanced to the area competition, and we are thrilled to share our shows with you! Shows begin at 6:00, and doors will open at 5:30. **ADMISSION IS FREE**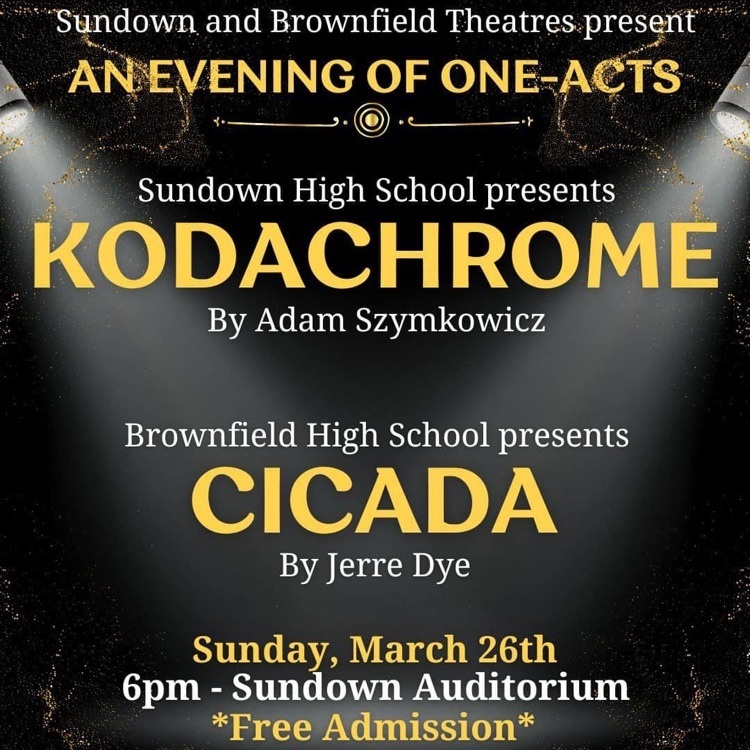 Sundown HS OAP Advances to Area The Sundown High School One-Act Play has advanced from the Bi-District contest held in Sundown on Tuesday, March 21st and will be moving on to the Area contest next Friday in Denver City. Special honors were given to Watson Evans and Lizzie Corley for All-Star Cast, and Madi Nations and Shea Beadles were awarded Honorable Mention All-Star Cast Awards for their roles in Kodachrome by Adam Szymkowicz. Our Director Mr. Randal Ramirez has done a great job of prepping our students for a great show, and has had great help all season long in his assistants Mrs. Jonna Evans and Mrs. Martha Buchanan. We have some of the best in the business! All three advancing schools came from our District as the advancing plays were New Home, Ropes and Sundown! Please help us in congratulating all of our OAP students!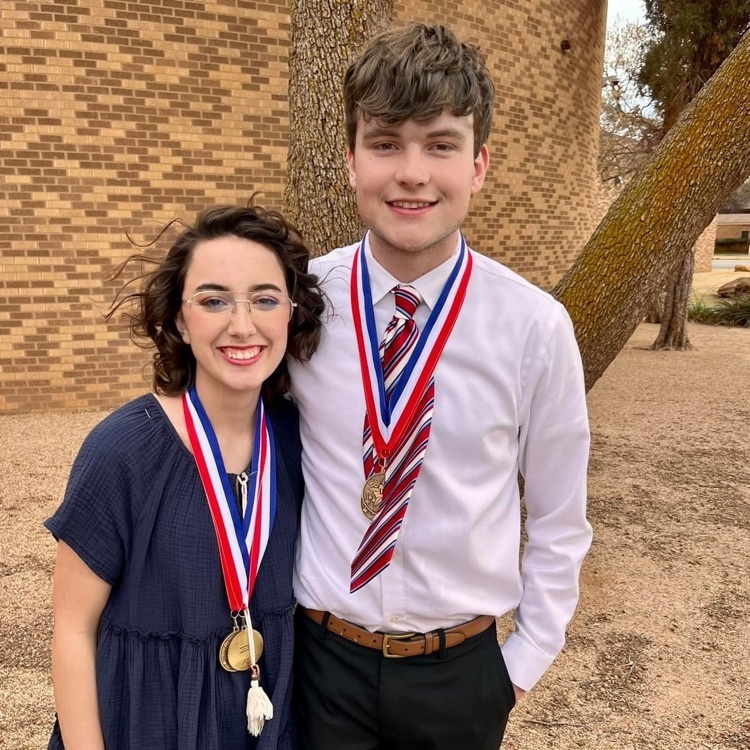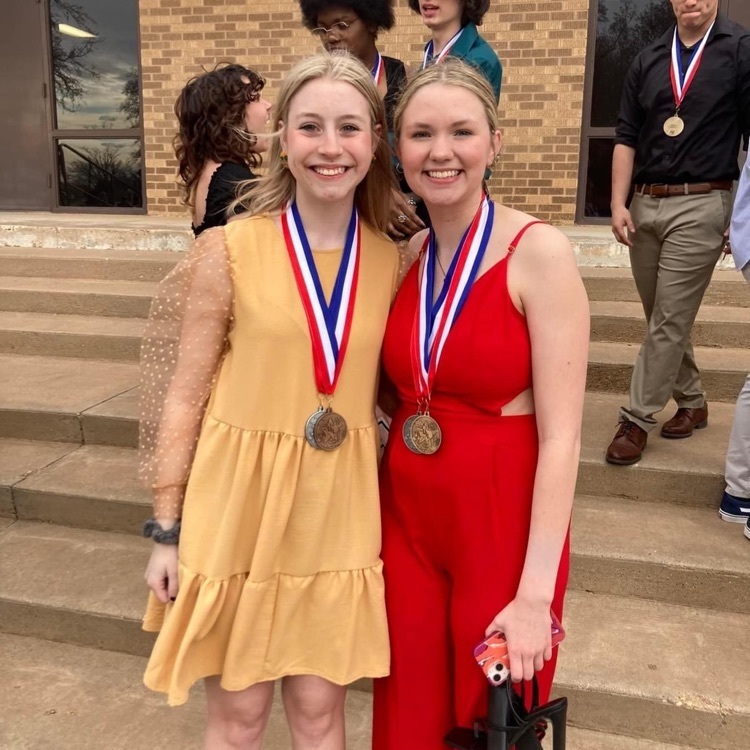 5 Sundown Powerlifters Heading to State! Coach Newton is back doing what he does best... he is headed back to the State Powerlifting Meet with 5 quality lifters from Sundown, TX!  The Sundown Roughneck Powerlifting Team are the reigning 2021 & 2022 State Champions and are headed back for another opportunity to show the state of Texas just how strong we are in Sundown!  We pray for safe travels as Michael Salazar (123 lb Class), Rickey Melendez (165 lb Class), Dekota Golighltly (242 lb Class), Jeffery Rodriguez (308 lb Class) and Konar Alaman (SHW Class) head to Abilene to compete at the THSPA State Powerlifting Meet to be held at 8 AM this Saturday in Abilene, TX!  They have had a great season thus far, and are looking to finish their season with some hardware!  We have 3 Seniors that we hope to send off with a bang, and 2 Juniors that are looking to solidify their place in their respective weight classes!  There ain't nothing better than being a Sundown Roughneck!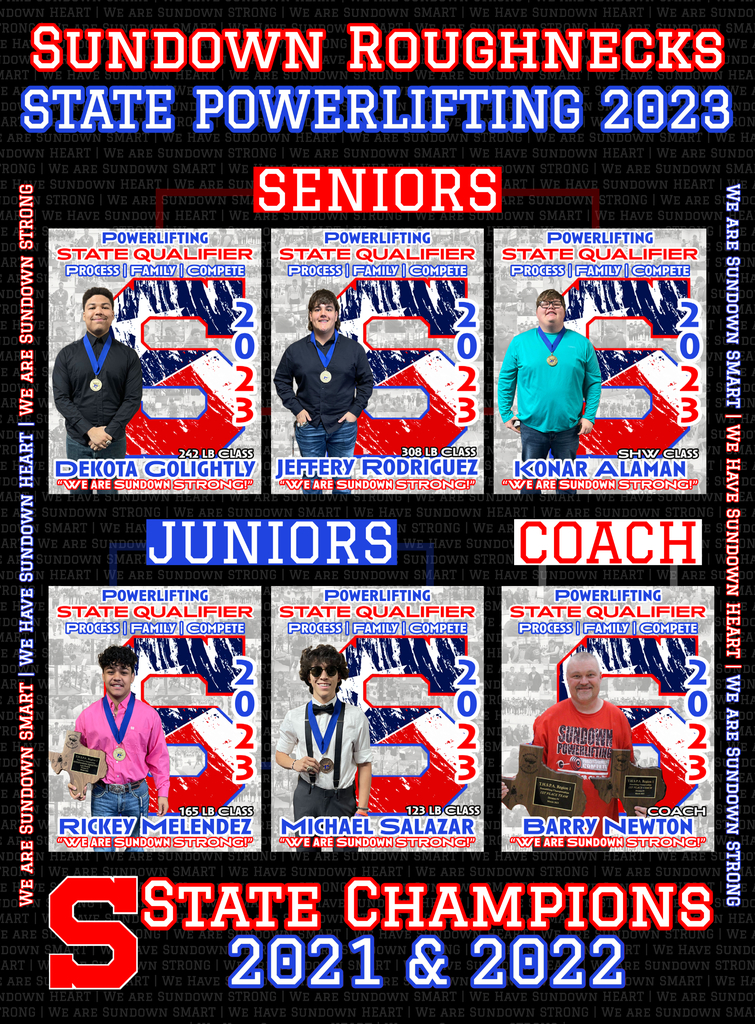 We want to wish the best of luck to all H.S. Academic U.I.L competitors tomorrow. Both buses will leave the ramp at 7:00 AM. 1 bus will return home early, the other will be the late bus. Get some rest tonight and let's go have a great day tomorrow! See you all in the morning.

Congrats to Sundown O.A.P on advancing to the area contest next Friday! A more detailed post will come later with award winners and pictures But we wanted to let them now how proud of them we are for advancing once again!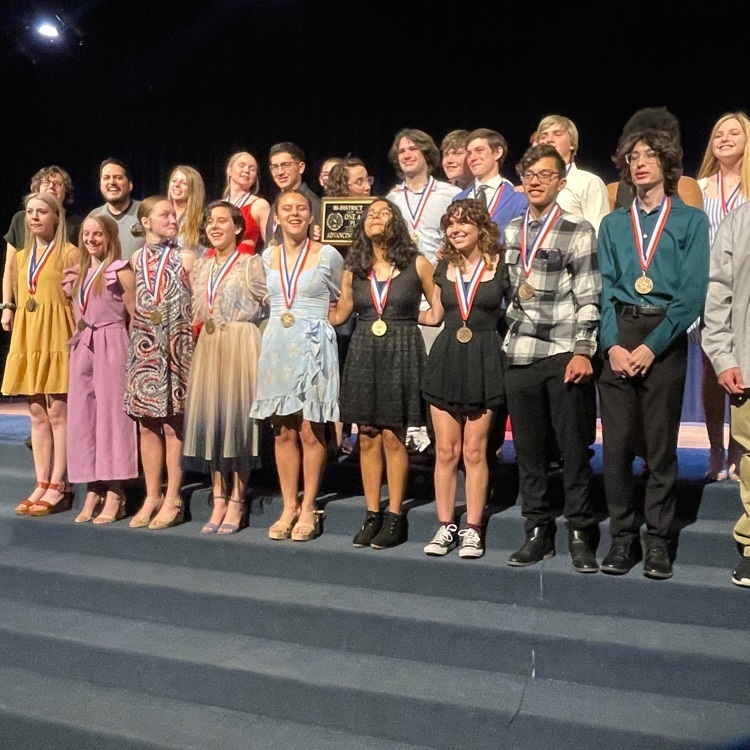 Sundown JV - 8 Floydada JV - 0 FINAL!!!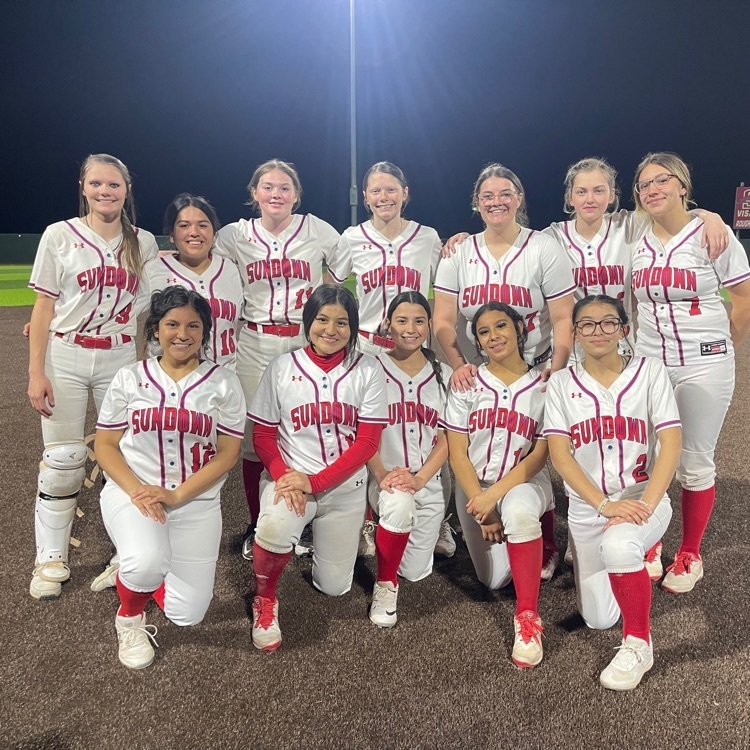 Here are the results of the Boys Golf Teams from Monday. These guys competed at a high level in adverse conditions on Monday at the Pump Jack Invitational here in Sundown. We posted our best team score in the last 13 years! This is the last tune up before the District Tournament to be held next Monday at Meadow Brook Golf Course in Lubbock. If you see these student athletes please tell them congrats and good luck next week. Exciting times in Roughneck Golf! Results of the tournament are posted below. We had two of our Teams take 1st and 2nd place team!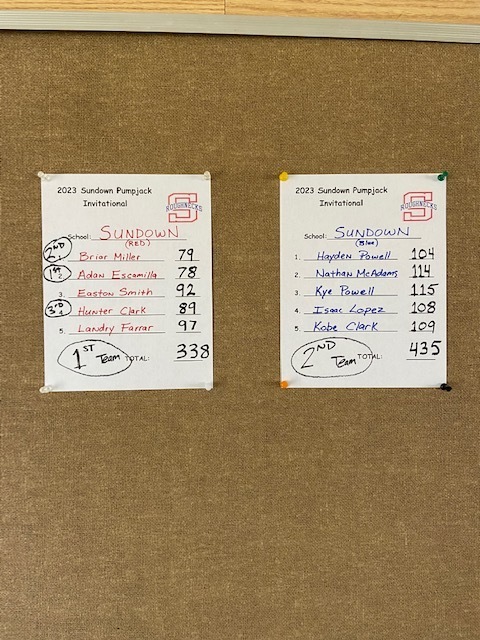 Bi-District OAP at Sundown, Tuesday March 21st. Sundown will perform at Noon tomorrow as they will be the first play to perform. Come on out and enjoy the show! Break a leg Sundown!

2 Roughettes Named to the TABC All-Region Basketball Team Congratulations to our Sundown Roughette Basketball team as we continue to receive post-season honors. Natalie Urias (Senior) and Aria Hogan (Junior) have earned a spot on the TABC All-Region Team for Region I by the Texas Association of Basketball Coaches. What a great honor for our Coaches and Athletes!
https://tabchoops.org/uil-all-region-girls/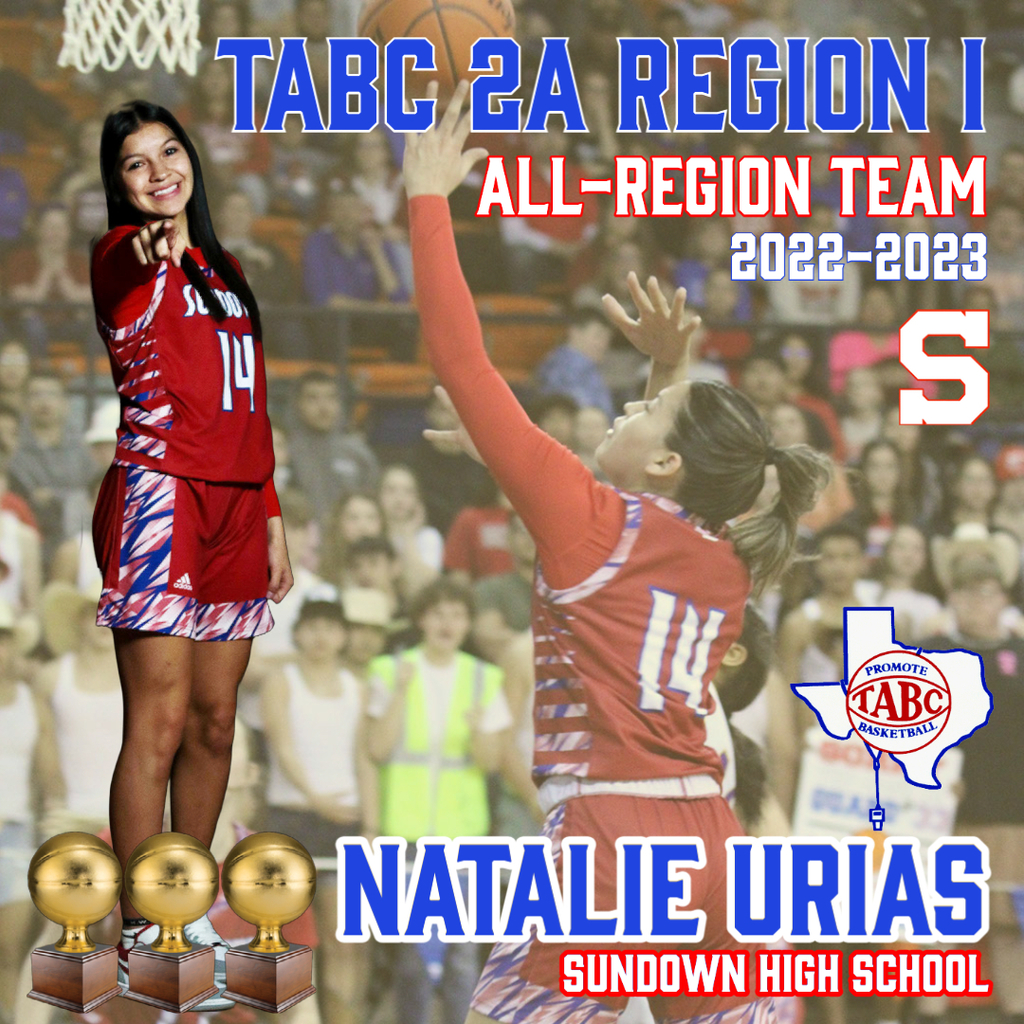 Sundown ISD is in search of: Cafeteria Worker We are looking to fill the position of cafeteria worker. If you are interested in joining our Sundown ISD Family, please go by the Superintendent's office for an application. Deadline to complete the application is Monday, April 3rd 2023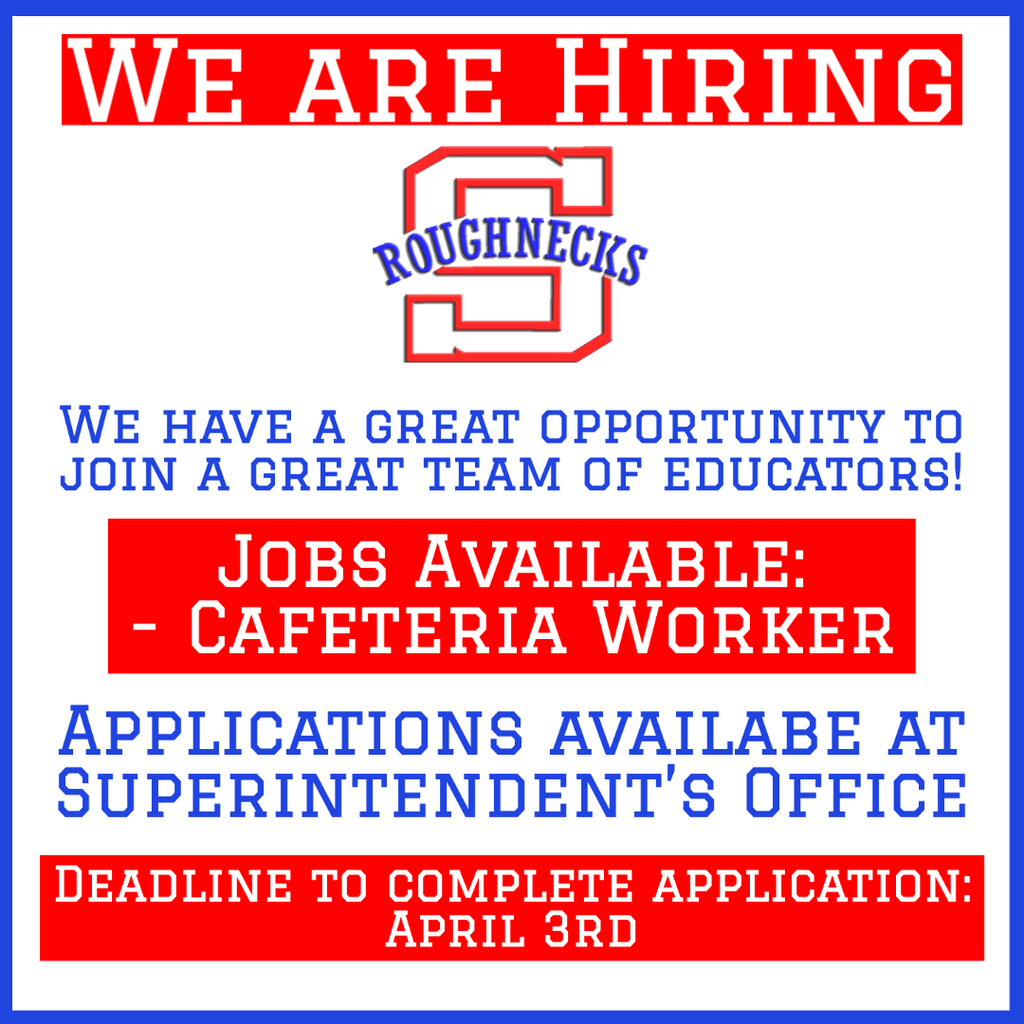 Track Meet Schedule for the Sundown Roughneck Relays to be held this Thursday (Middle School) & Friday (High School)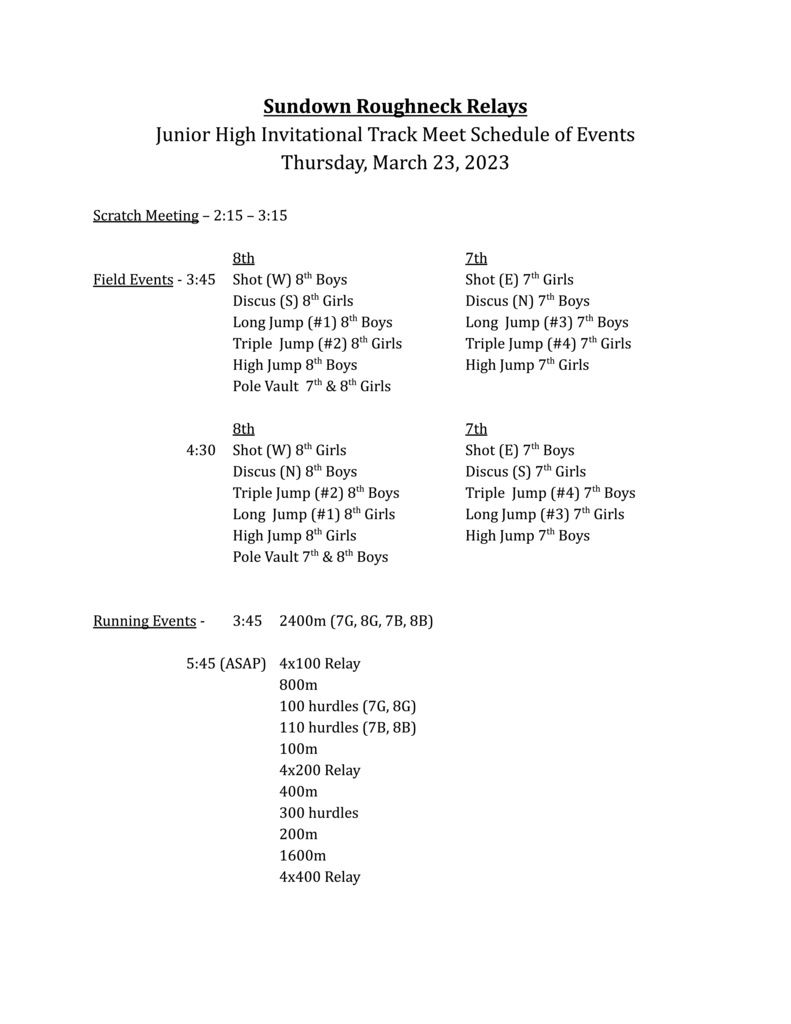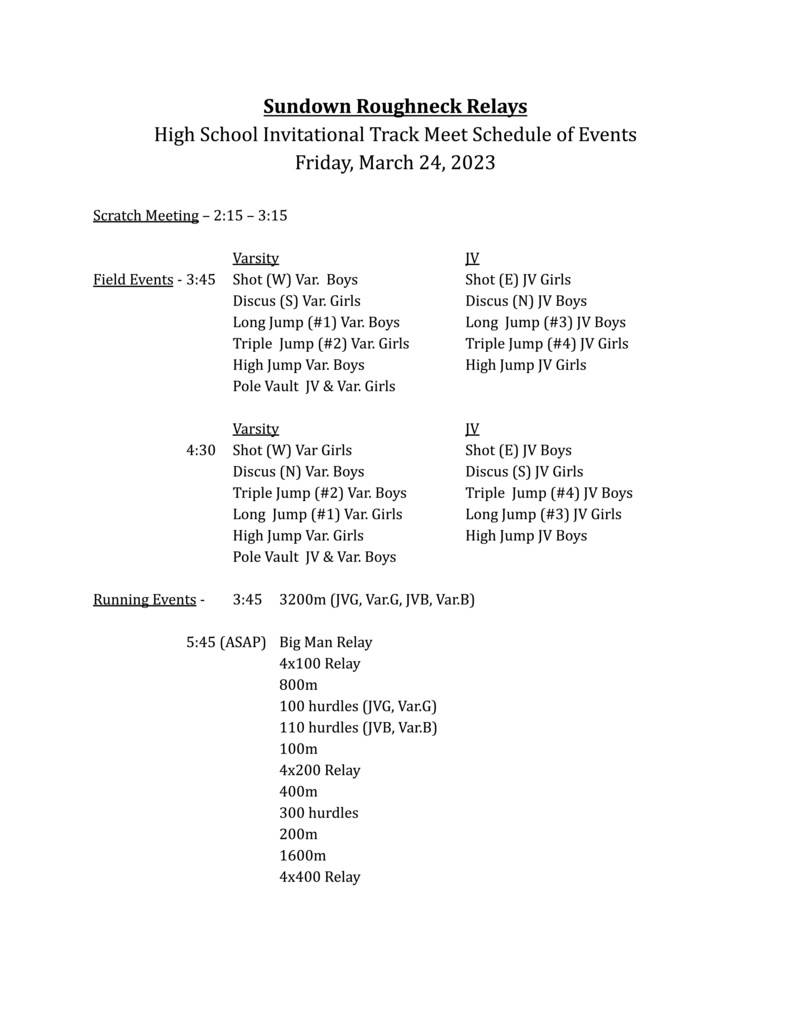 Sundown Middle School 4th 6-Weeks Recognition!!! All A's 8th Grade Brock Bufe, Rylan Carr, Addie Hord, Isaiah Igo, Riley Martin, Ollen Pearson, Kassady Rodgers, Kyndal Taggart, Tristan Wisdom All A's 7th Grade Avy McGlasson, Maddy Medrano, Blevin Petrick, Sophia Rodriguez, Tenley Wylie All A's 6th Grade Braxie Albus, Jose Aleman, Camden Bufe, Ryder Bufe, Cooper Day, Francisco Foster, Karter Hord, Drew Igo, Elena Lujan, Zane Perez, Lilly Reaves 7A's & 1B 8th Grade Jlyssa Aleman, Laci Belew, Destiny Garza, Lincoln Keesler, Kolt McDaniel, A'Bree Olivas, Silver Pando, Lillie Rodriguez, Ryder Stanley 7A's & 1B 7th Grade Alexis Brinklow 7A's & 1B 6th Grade Jocelynn Eakin, Eli Jacinto, Elijah Keen, Ivan Maldonado, Kelbie Powell, Brennan Sanders 6A's & 2B's 7th Grade Riley Scifres 6A's & 2B's 6th Grade Ryland Baldwin, Morgan Campbell, Connor Joseph, Elizah Lopez, Emily Ramos-Casas, Luke Rowand, Russell Salazar 8th Perfect Attendance Laci Belew, Michaela Brattain, Rylan Carr, Julius Contreras, Janessa Cruz, Addie Hord, Isaiah Igo, Lincoln Keesler, Isabel Marchan, Dhaya Marinelarena, Gordon Mata, Kolt McDaniel, Joseph O'Canas, A'Bree Olivas, Silver Pando, Ryan Pope, Corey Pormanes, Dave Pormanes, Luis Posadas, Sarah Reyna, Lillie Rodriguez, Brayson Salazar-Frey, Kyndal Taggart 7th Perfect Attendance Stacey Britton, Jaelyn Dominguez, John Foster, Madison Hinojosa, Natalie Hinojosa, Bella Marett, Maddy Medrano, Sophia Rodriguez, Kale Strickland, Karmindy Townsend, Tenley Wylie 6th Perfect Attendance Jose Aleman, Ryland Baldwin, Camden Bufe, Ryder Bufe, Cooper Day, Jocelynn Eakin, Francisco Foster, Ethan Garcia, Karter Hord, Drew Igo, Hailee Jeffcoat, Connor Joseph, Elijah Keen, Elizah Lopez, Elena Lujan, Lyndee Mears, Justice Newman, Ethan Olivas, Zane Perez, Emily Ramos Casas, Lilly Reaves, Jaxon Reynolds, Luke Rowand, Russell Salazar, Brennan Sanders Student of the 6-Weeks: Coach Jeff Barker & Kassady Rodgers Student of the 6-Weeks: Coach April Berry & Elexis Robinson Student of the 6-Weeks: Mrs. Ashley Blount & Camden Bufe Student of the 6-Weeks: Mrs. Ashley Bufe & JC Jenkins Student of the 6-Weeks: Coach Tanner Clark & Rylan Carr Student of the 6-Weeks: Mrs. Ladonna Click & Hayden Dukes Student of the 6-Weeks: Mrs. Toni Garcia & Adelyn Franklin Student of the 6-Weeks: Coach Kyle Igo & Jocelynn Eakin Student of the 6-Weeks: Ms. Kaitlyn Jones & Elizah Lopez Student of the 6-Weeks: Mrs. Cara Marek & Ryder Bufe Student of the 6-Weeks: Coach Barry Newton & Camden Bufe Student of the 6-Weeks: Mrs. Keri Riley & Lincoln Keesler Student of the 6-Weeks: Mrs Kari Rodgers & John Foster Student of the 6-Weeks: Mr. Miguel Salazar & Andrew Rodriguez Student of the 6-Weeks: Mrs. Bobbie Terry & Rylan Carr Student of the 6-Weeks: Coach Kevin Torres & Sophia Rodriguez Student of the 6-Weeks: Coach Dakotah Watson & Tenley Wylie Student of the 6-Weeks: Ms. Brandi Webb & Brayson Salazar-Frey Student of the 6-Weeks: Mrs. Tiffany Wylie & Elizah Lopez

Roughettes sweep HC with a 12-2 victory in 5.

In H.C. it's 9-0 Roughettes after 3

Roughettes lead 3-0 after 2 in Hale Center.

Baseball Update: no JV Games today or Monday with Post as they don't have enough players for a JV Game. Varsity still set to play at Noon.