MEET & GREET for SISD Thursday, August 15th 5:00-7:00pm Meal in the Cafeteria 5:30-6:30pm Elementary Meet & Greet 6:30-7:30pm Middle School Meet & Greet 7:30-8:30pm High School Meet & Greet *Senior Class Meeting 8:20pm in the Auditorium (Seniors & Parents are BOTH encouraged to attend)

MEET THE ROUGHNECKS & ROUGHETTES FRIDAY, AUGUST 16TH *THE ROUGHNECK VARSITY & JV FOOTBALL TEAM WILL SCRIMMAGE HERE VS. FRIONA ON FRIDAY, AUGUST 16TH STARTING AT 6:00PM. *ALL HS & JH ATHLETES, BOYS & GIRLS, WILL BE INTRODUCED AFTER THE SCRIMMAGE. *ATHLETES NEED TO REPORT TO THE NORTH END OF THE FOOTBALL STADIUM ABOUT 7:30-7:45PM. COACHES WILL LINE YOU UP TO BE INTRODUCED. *JH & HS Athletes are encouraged to attend! This is not mandatory, but we want to announce everyone possible. *PARENTS, FAMILY, & COMMUNITY ARE ALL INVITED TO ATTEND! *Order of announcing: 7/8 Cheerleaders 7/8 Girls athletics 7/8 Boys athletics 7/8 Football HS Cheerleaders HS Cross Country HS Girls athletics HS Boys athletics HS Football

Sundown Senior, Alyzah McGlasson, represented her school, community and country playing for Team USA in an International Softball Tournament held in Australia. The USA Team finished 5th place overall!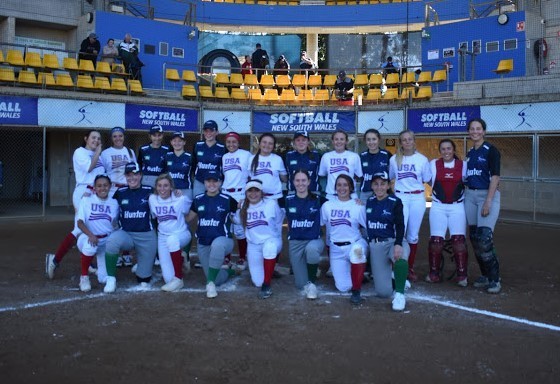 Online registration opens Aug 8 at 4pm. Computers will be available in the cafeteria from 4 to 7pm. If you use Skyward Family Access to make payments to your child's cafeteria account, use the same login for online registration. If you need access, contact
kthoms@sundownisd.com
.

The Sundown Booster Club is hosting a Ragball Tournament July 19th & 20th the same time as the SHS All Reunion weekend. It is limited to 12 teams. Read info below & contact John Russell or Carrie Day if you have questions.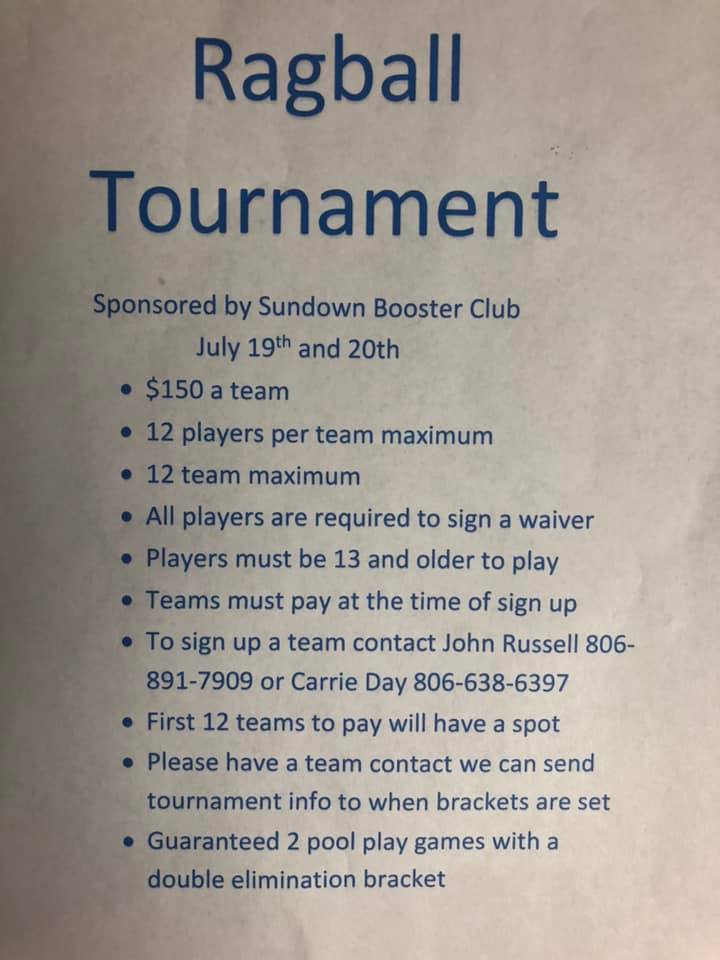 Ashlyn Peralta, SHS Senior, was honored as a XC all star at the Texas Girls Coach's Association Clinic last night. Pictured with her is head XC Coach Paul Darden. Congrats, Ashlyn!