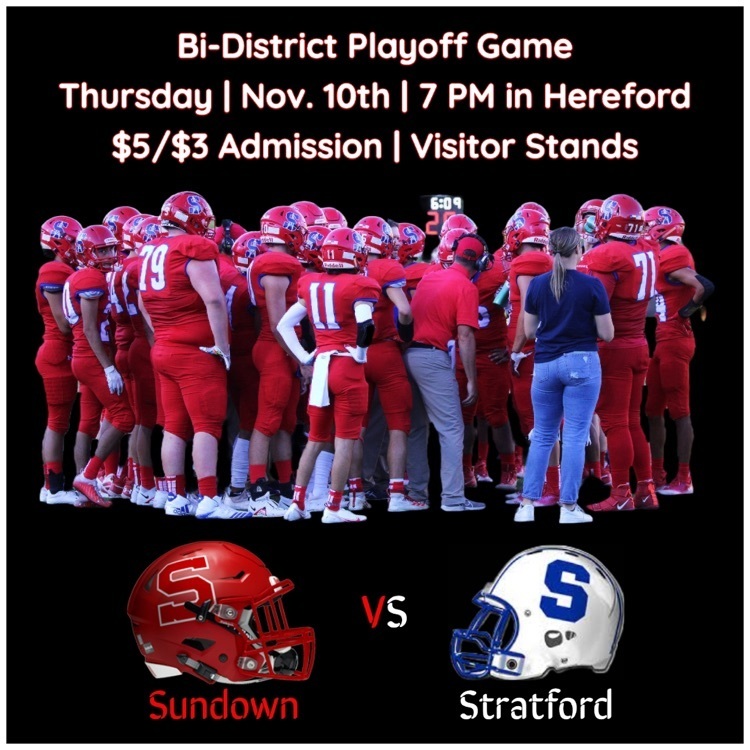 State XC and Band Qualifier Recognition at 8 PM in the Facility! At 8 PM we will recognize our Band and our XC boys in the facility! Qualifying for State takes time, effort, dedication, sacrifice and so much more…. We want to show them our love tonight! Join us tonight at the Facility at 8 PM!

We wanted to take this opportunity to present to you the 7th Place, Sundown Roughneck Marching Band, State Finalists!!! The Pride of the Oil Patch performed with all their might and effort today, and have continued to make us very proud! Mr. Justin Mauldin, Mrs. Ashley Blount, Mr. Mack Bibb, Tricia Nevarez, Amber Mauldin, John Rodgers, and Tristan Nock did an amazing job working with our precious children. We had an amazing ride this year, capped off with 2 wonderful performances today! We especially want to thank our Seniors for their guidance, talent and leadership! They brought us to the State UIL Marching Competition 4 of their 5 years, so we are forever grateful to the Class of 2023. This trip would not have been a success had it not been for our Band Sponsors who have dedicated time and sleep to keep us clean, fed, motivated and helping us to arrive to all the places in one piece! A special thanks to our bus drivers Rene Rivera, Dakotah Watson and Randall Carr who have kept us safe on the busy roads of downtown San Antonio!

6A ran late so the 2A finals will start 15 minutes late. The Pride of the Oil Patch will take the field at 8:00.

Finals will be live-streamed in the auditorium.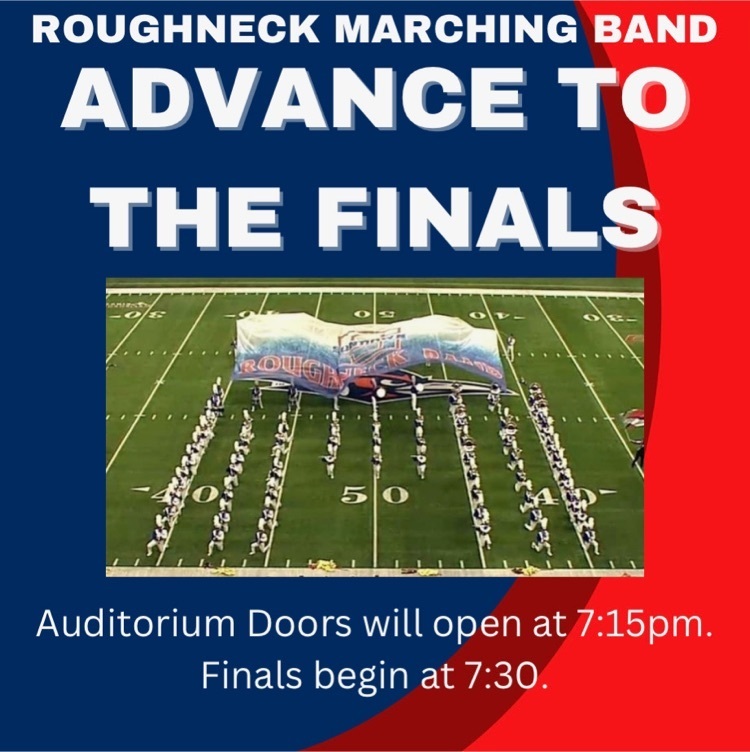 State FINALISTS! The Pride of the Oil Patch The Sundown Roughneck Marching Band Finals Performance at 7:45 PM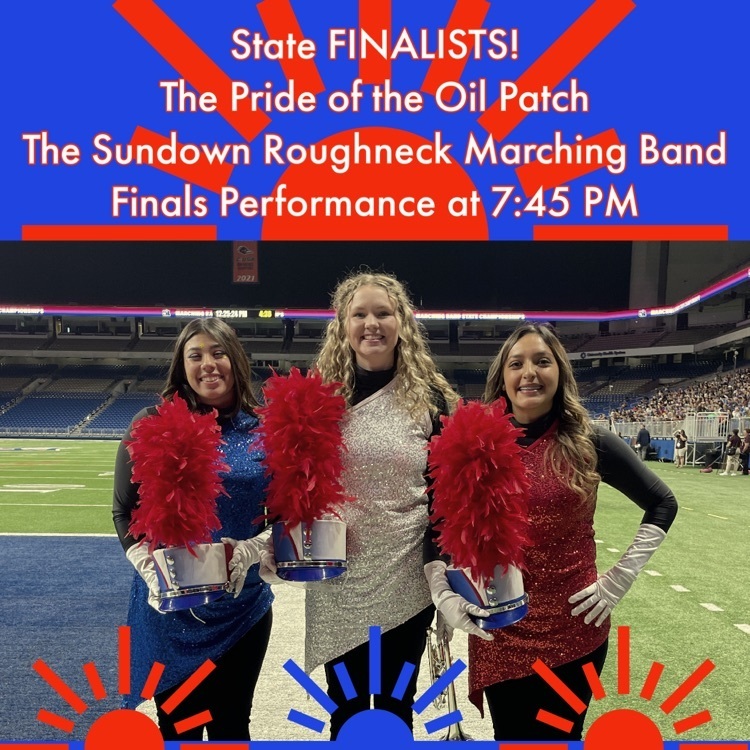 Varsity Girls Basketball game against Roosevelt today has been moved to 5 PM at Roosevelt. The JV game was canceled due to band qualifying for state.

If you want to watch the band tomorrow here are the details!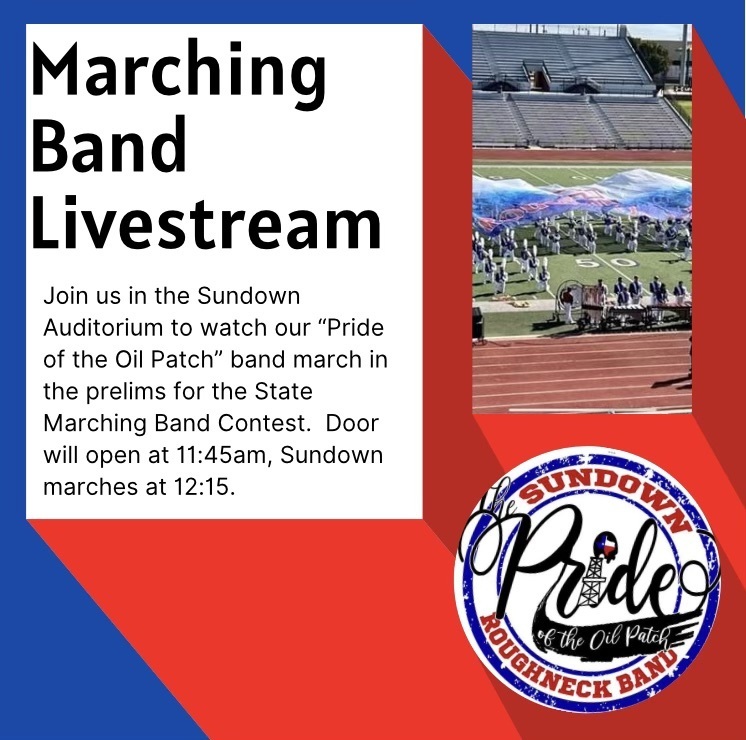 The band buses have landed in San Antonio. Kids grabbing a quick dinner on the River and then we are headed to perform our show "Legends Never Die" outside of the AT&T center, and then going in to watch the Spurs play the Denver Nuggets.

The Pride of the Oil Patch is set to compete at the UIL State Marching Band Championship, for the 27th time! We want to send prayers and positive vibes for safe travels, and for our students to muster up their best performance of the year for the prelims at 12:15 on Tuesday, only to surprise us again with their pinnacle performance in what hopes to be a Finals Performance later on Tuesday evening! BE LEGENDARY! Each band member is an essential part of the overall success of our program! Each student is an important part of our Band! Each student is special and brings something unique and special to the overall sound. Each student has sacrificed for the greater good of the band, and together, we will continue to experience success to finish this season! We love our students and we love how they represent this community with such a willingness to achieve success! 27 Appearance for the Sundown Roughneck Band doesn't happen by chance, it comes with years of hard work, years of sacrifice, years of community support, and years of dedicated Band Members! Success breeds success, and this is a long standing tradition within our community, one that is held in highest regards! Sundown is synonymous with being an elite band, and this year is no different! We have a number of Facebook followers that are Sundown Roughneck alumni and we are so grateful for the positive support that has been sent through comments throughout this marching season! We have so many people that have come together in support of our students as was evident on Saturday night when we held a 7 PM community performance! Mr. Mauldin, Mrs. Blount, and Mr. Bibb have prepared our Band for what is sure to be an exciting trip in San Antonio! Our students are blessed with so many people in their lives that have invested in their success. Our maintenance crew have prepped the buses coming up on Sunday to wash and clean the buses so that we are rolling with Sundown Pride! Our Band sponsors have spent countless hours decorating the band hall, and planning a successful trip! Mrs. Mauldin, and Mrs. Evans have painted our bus windows to travel into battle! Our Administrators came up last night to help with a surprise for the students on Monday morning! Our Volunteer Fire Dept. graciously cooked hotdogs during our Community Performance! Our parents and community members have shown up for our students at Football games, at our marching festivals, our regional competition, area competition and the upcoming state competition! Our Band Directors have spent countless hours preparing our students to give it their best! And last, and definitely not least, our students have sacrificed many hours in preparation for these last performances of the season! Our students are held to a high academic standard, and take that same work ethic onto the marching field! Many of our band students have spent time competing at the Regional and State Cross country meets, are part of our playoff football team, and are beginning basketball season! We have well rounded students that continue to make us proud each step of the way. #ItsAGreatDayToBeASundownRoughneck #BeLegendary #WeAreSundownSmart #WeHaveSundownHeart #WeAreSundownStrong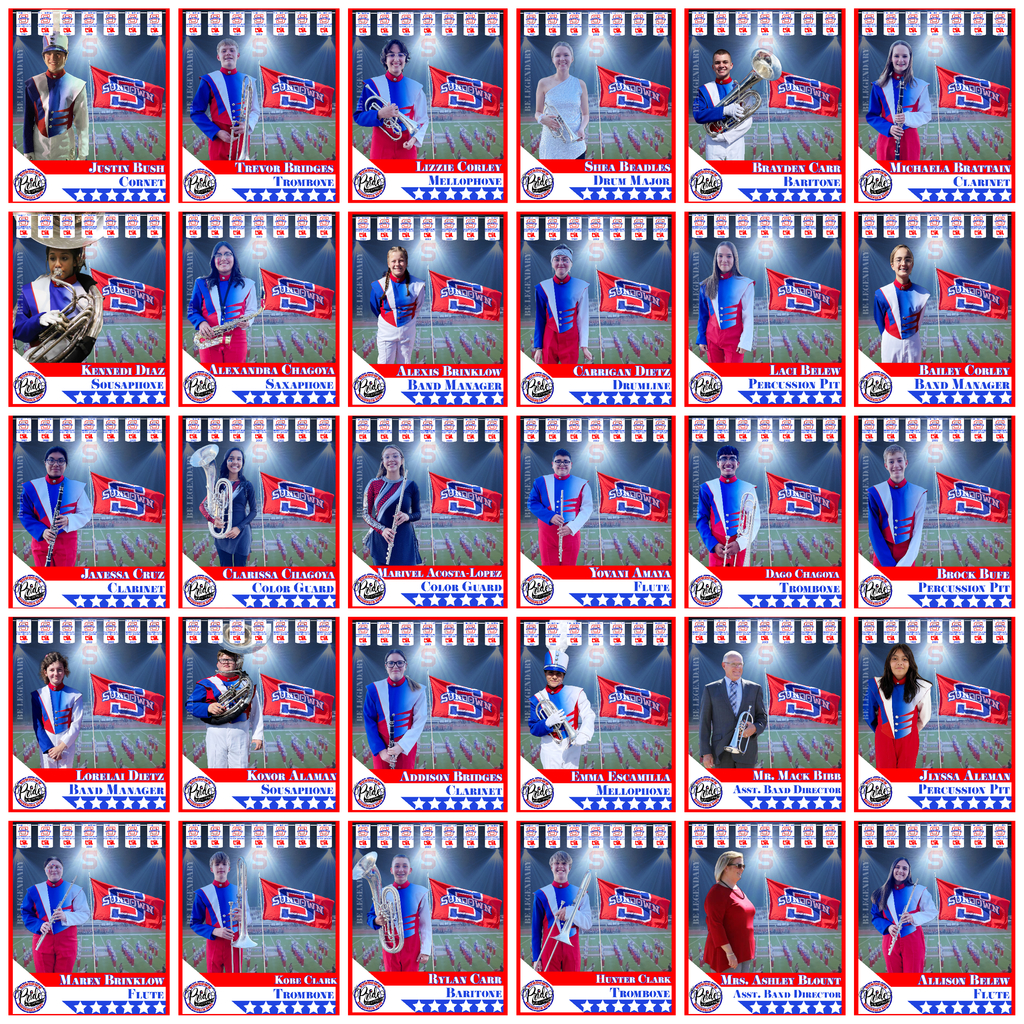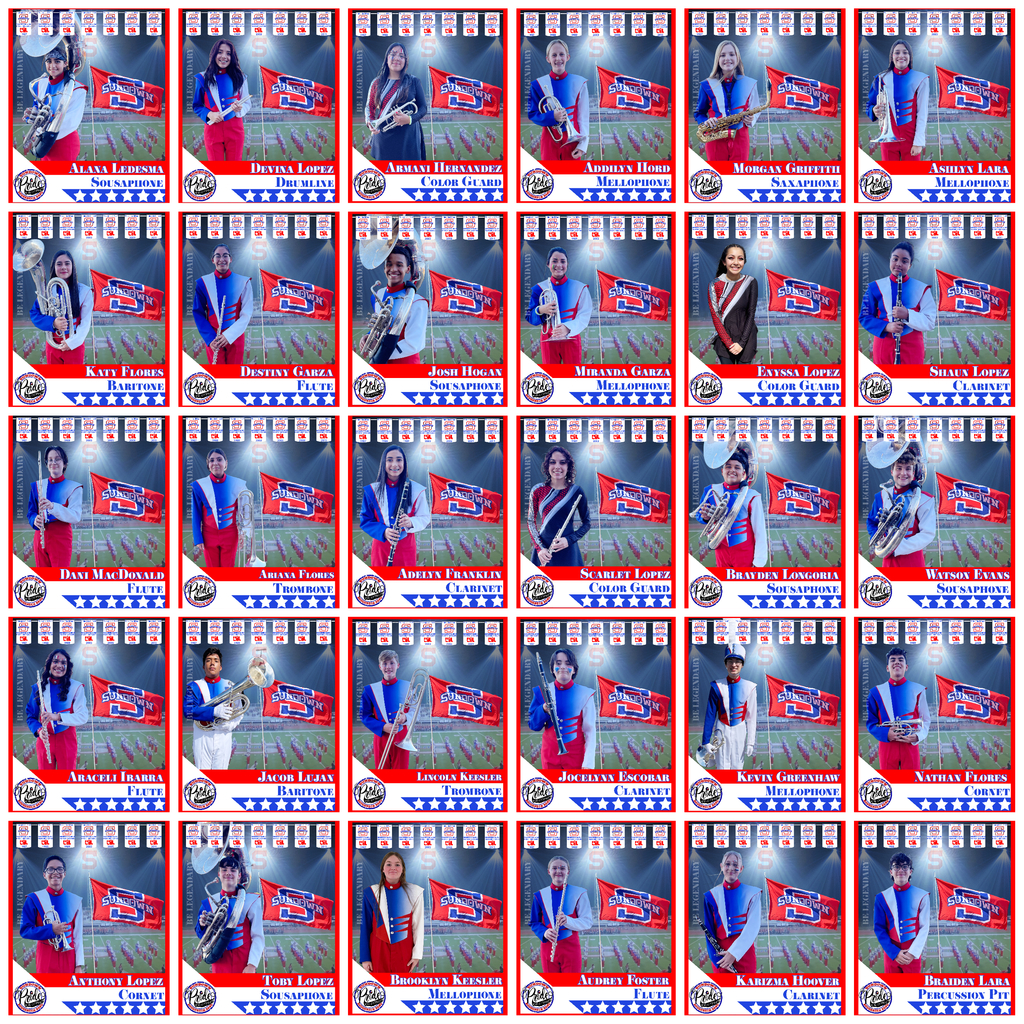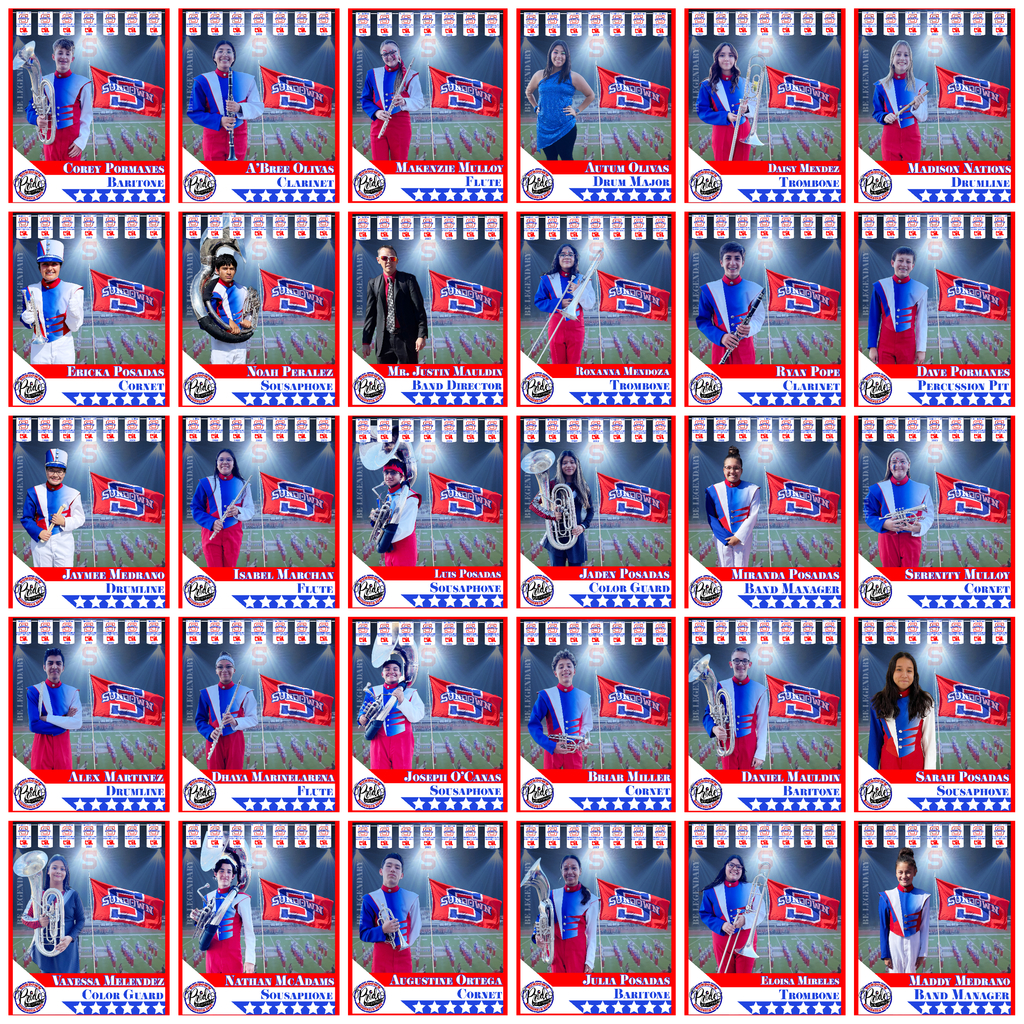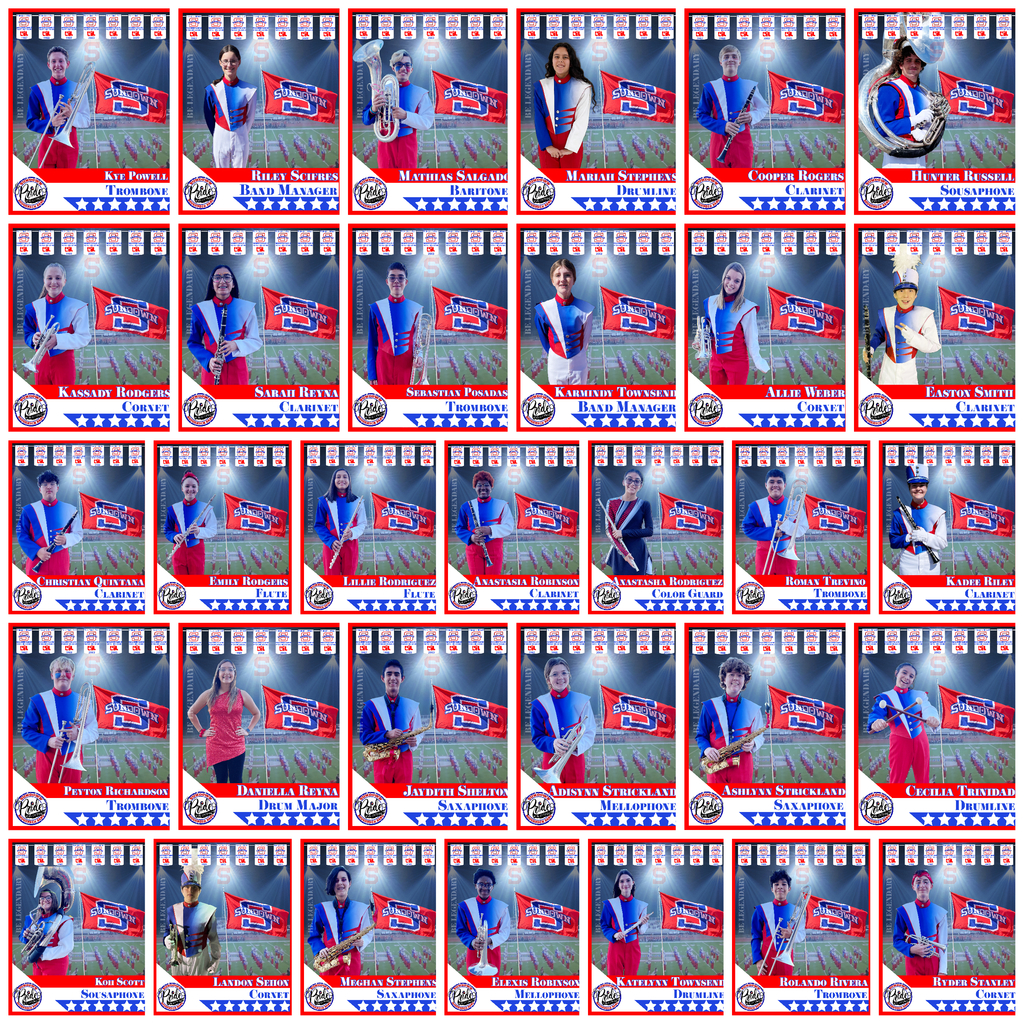 The buses are loaded with kids, they look awesome with the decorations and it's time to head to San Antonio!!!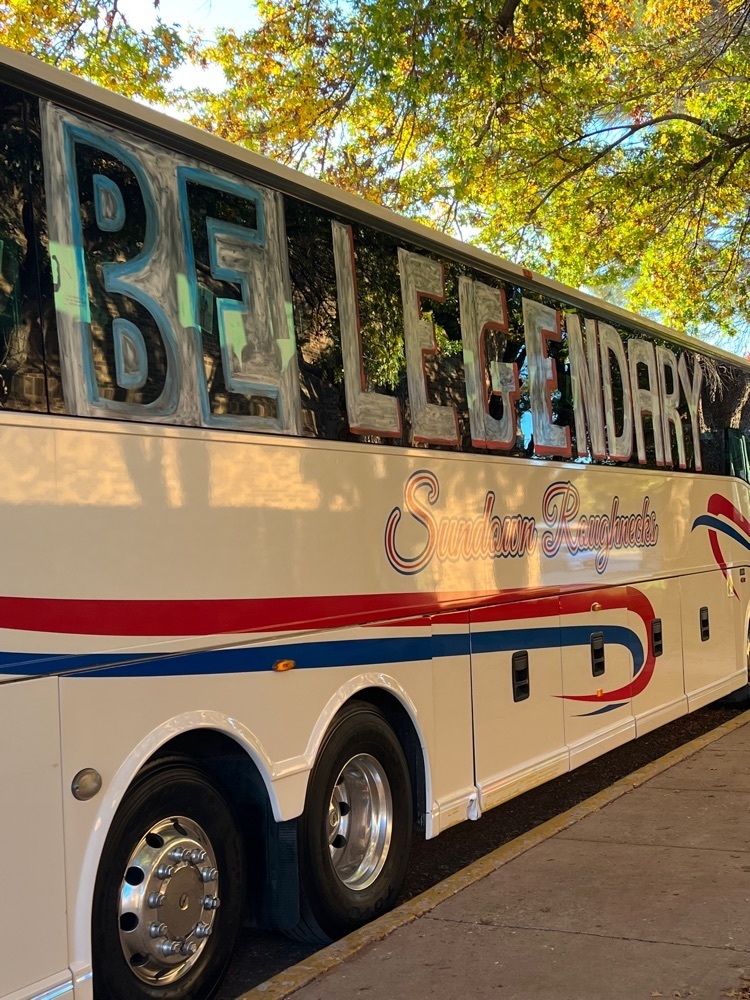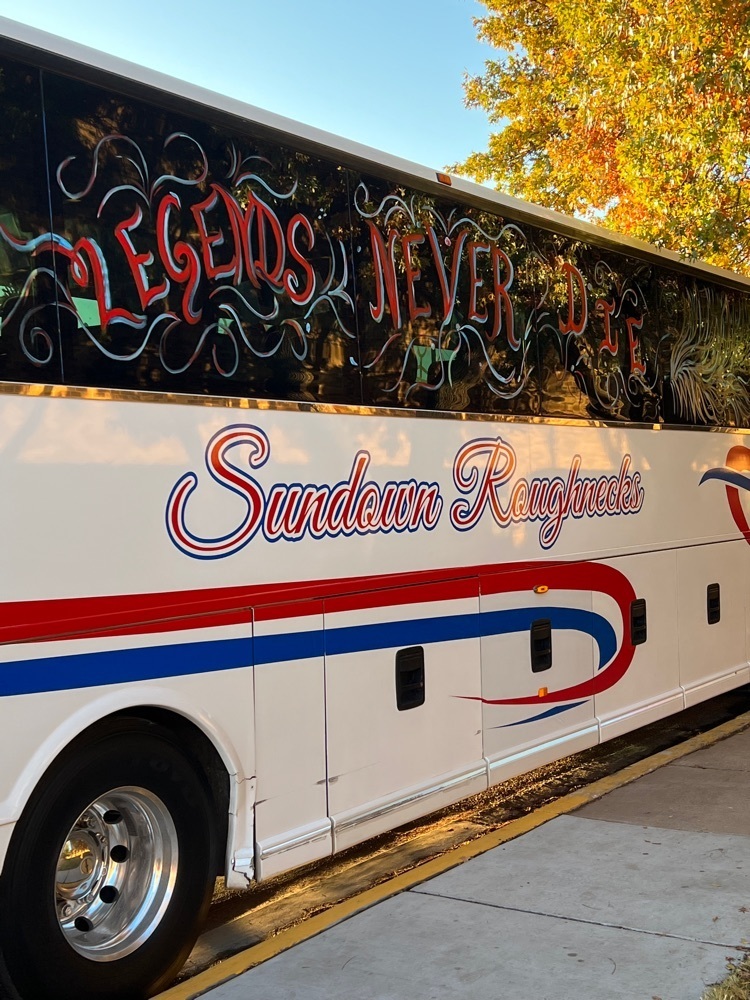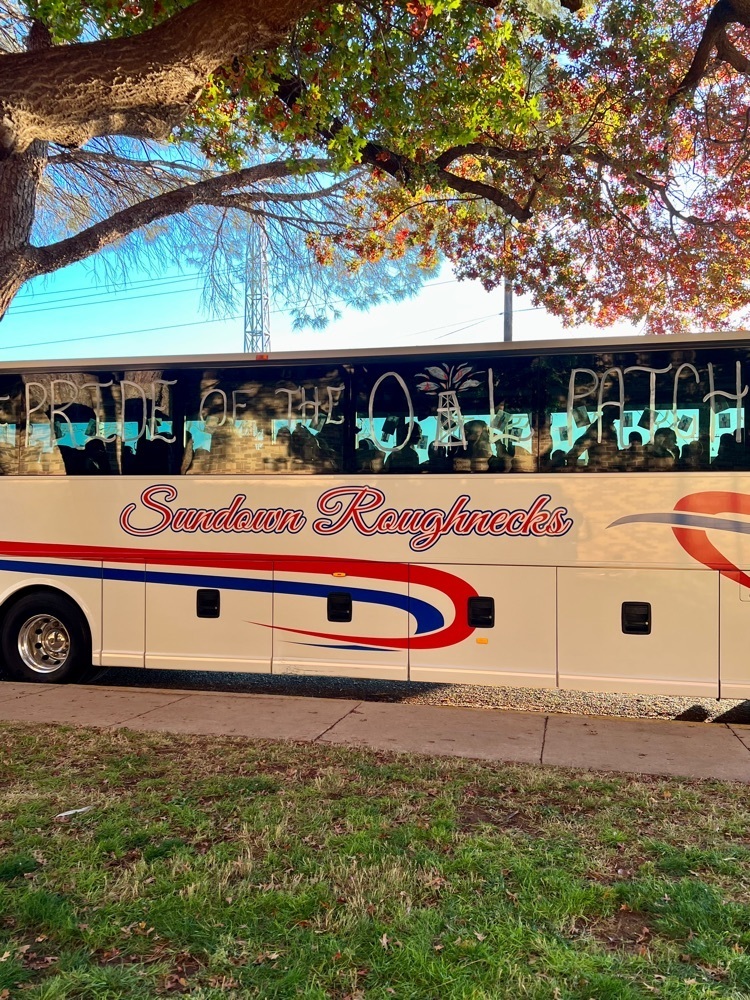 Bi-District Football Playoff Information Sundown vs Stratford Location: Hereford, TX Date: Thursday, Nov. 10th Time: 7 PM $5/$3 Visitor Stands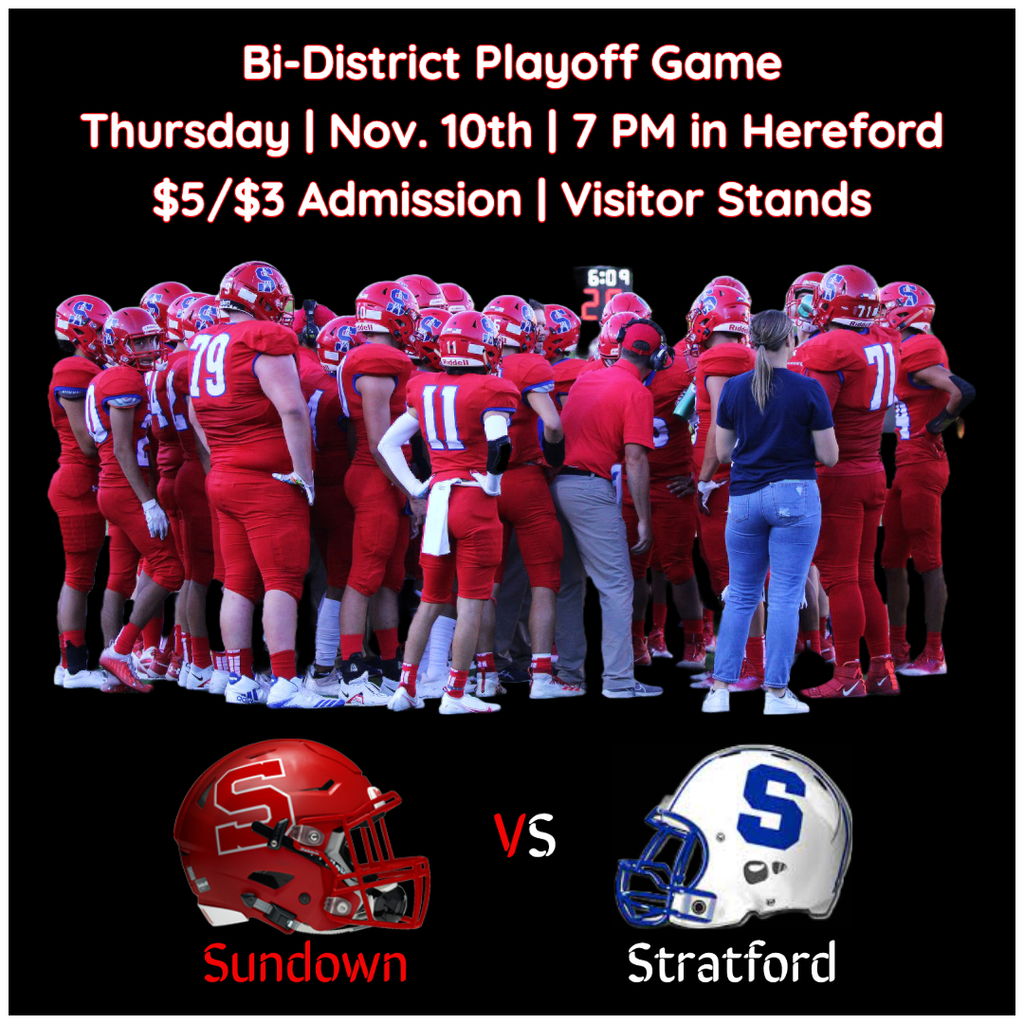 Reminder! Today is the last day to preorder your Sundown tees! Don't miss out!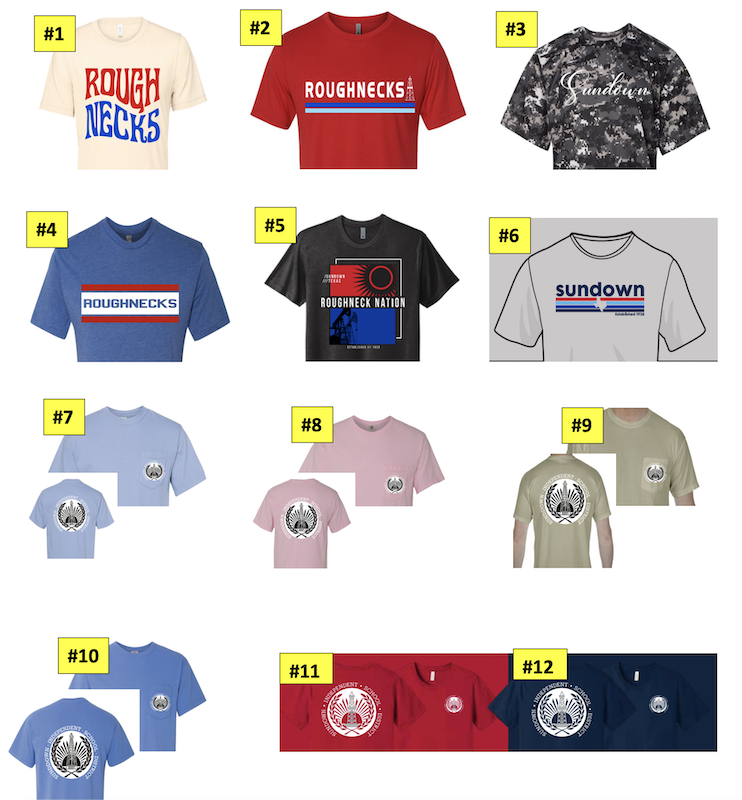 Friday Nights Lights is under way at Slaughter Field! Tahoka @ Sundown

Parent Night Tonight for Varsity Football (Players and Managers), Varsity Cheer and Senior Band! We will begin at 6:30, and are asking for Parents to arrive no later than 6:15 to line up at the tunnel on the North End. The order will be Varsity Football Players (by number), (Alphabetical and Seniority order for the rest) Mgrs, Varsity Cheer and SENIOR Band. See Mr. Salazar at the game if you have any questions.

The members of the cross country team who are in Round Rock are beginning their pre race day walk of the course.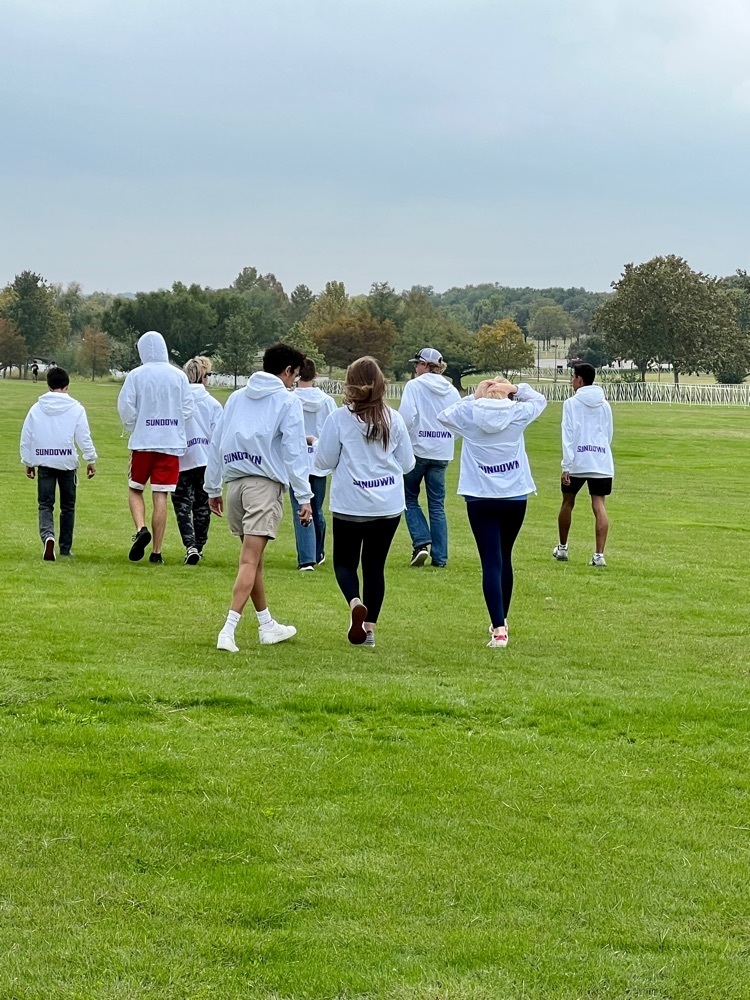 Varsity Football Sundown vs Tahoka Thursday, November 3rd 2022 Senior Pep-Rally at 3:00 Parent Night @ 6:30 PM Kickoff at 7 PM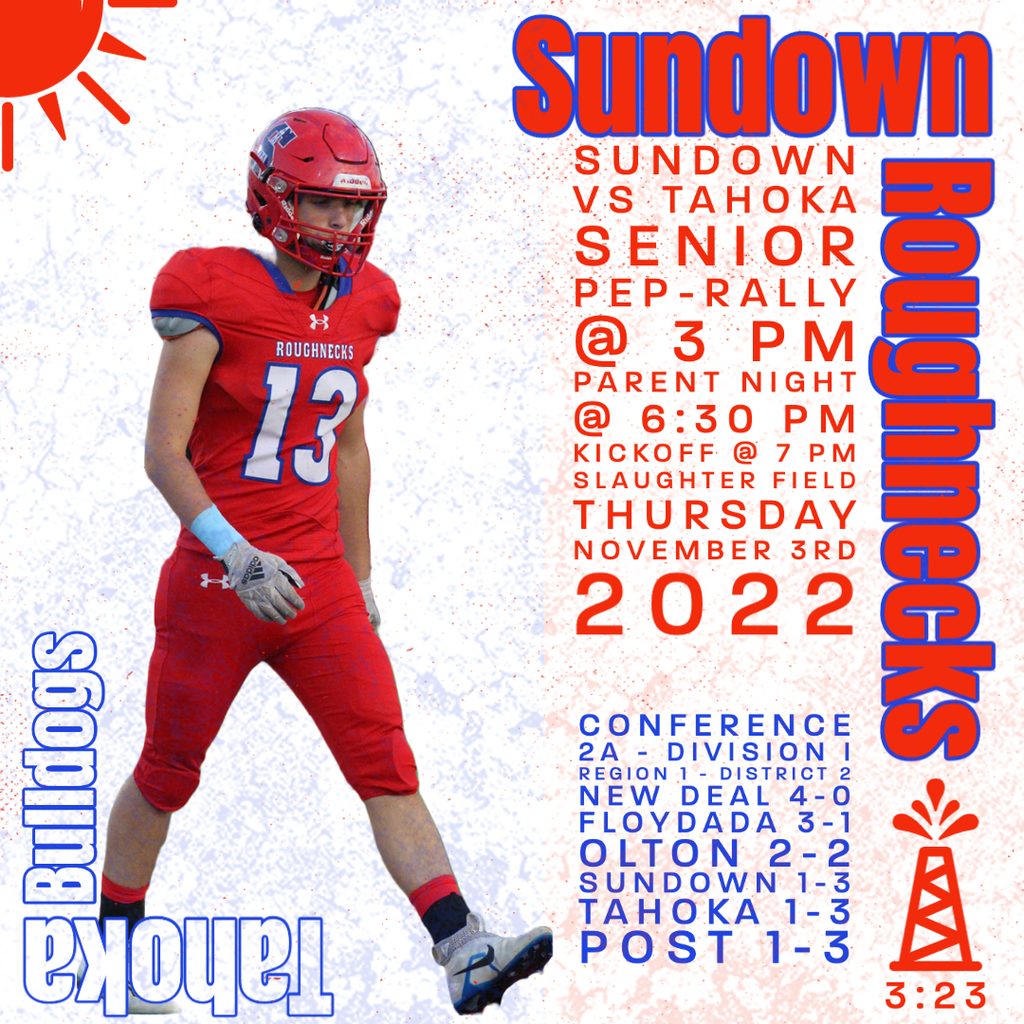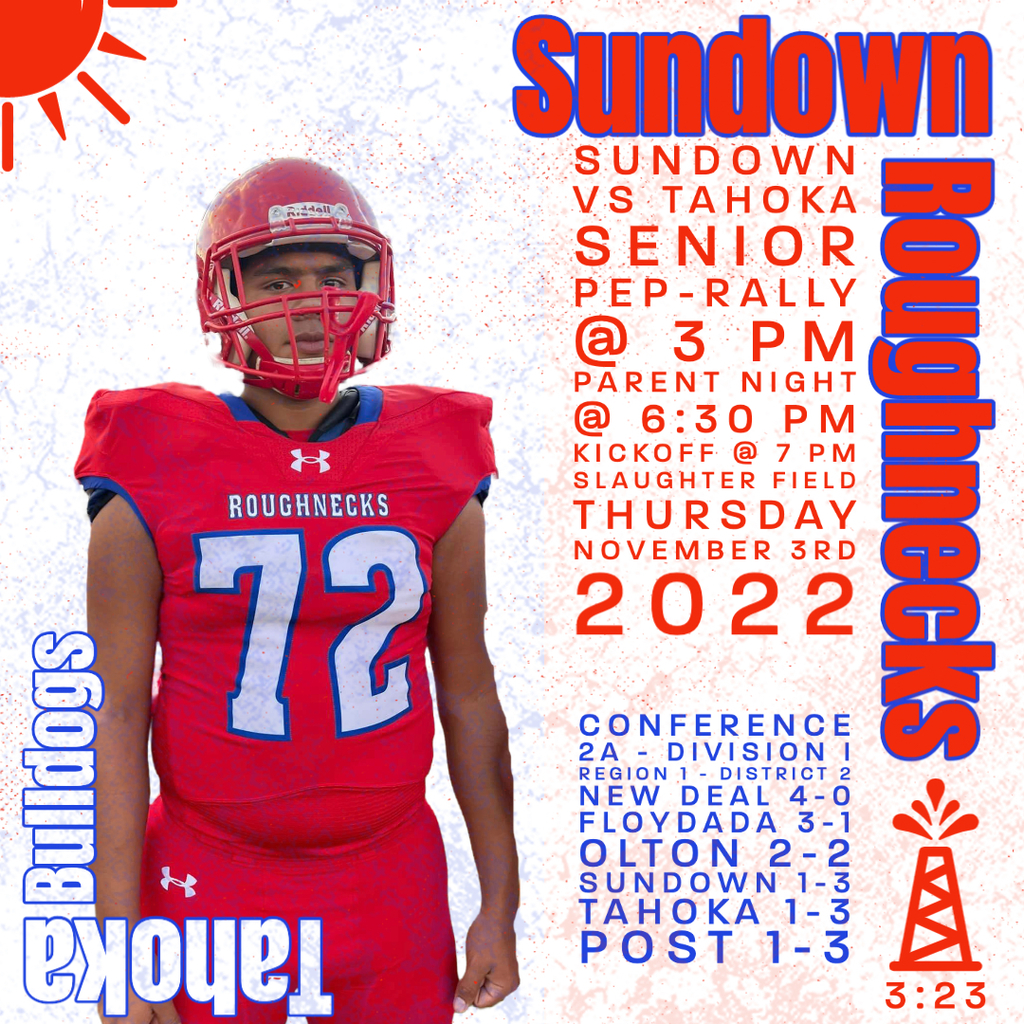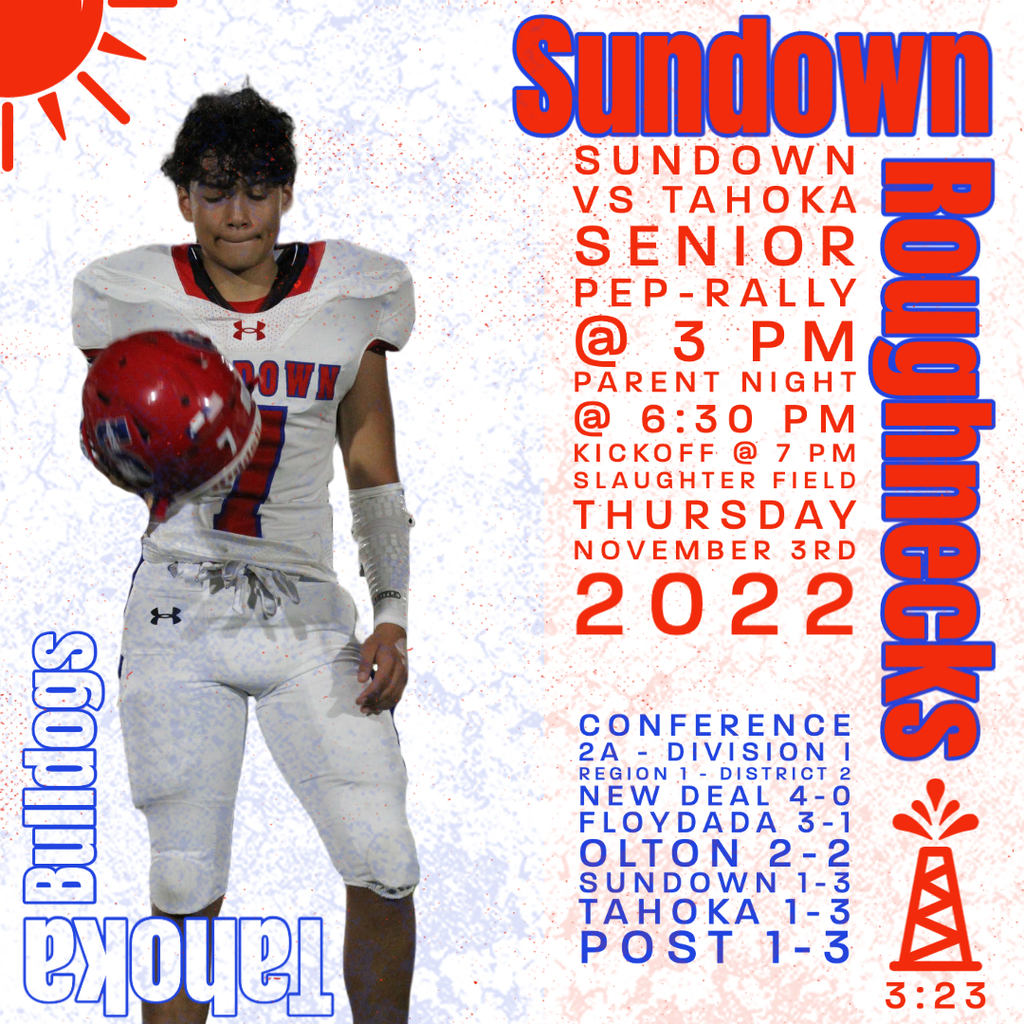 Don't forget to order your Roughette basketball shirt! Show your love and support for our girls program! It's going to be a great season for our Roughettes❤️🏀🤍🏀💙 *Forms are due THIS FRIDAY!* WAR We are Relentless❤️🤍💙

Let's take this moment to pray for safe travels for our State Cross Country athletes as they make their way down to Round Rock in preparation for the upcoming State Cross Country Meet! We are so proud of them for a great season, and we wish them luck as they compete on Friday! They have worked toward this moment since August, and all of their hard work is coming to a close. Congratulations to Coach Dakotah Watson as he has led his team to a State Meet in his 1st year as the Head Cross Country Coach! He has been blessed with a great assistant Coach in Coach Abel Perez! These two men have pushed our athletes, and loved our athletes throughout this season! We are fortunate to have these men leading our young men! Prayers for safe travels.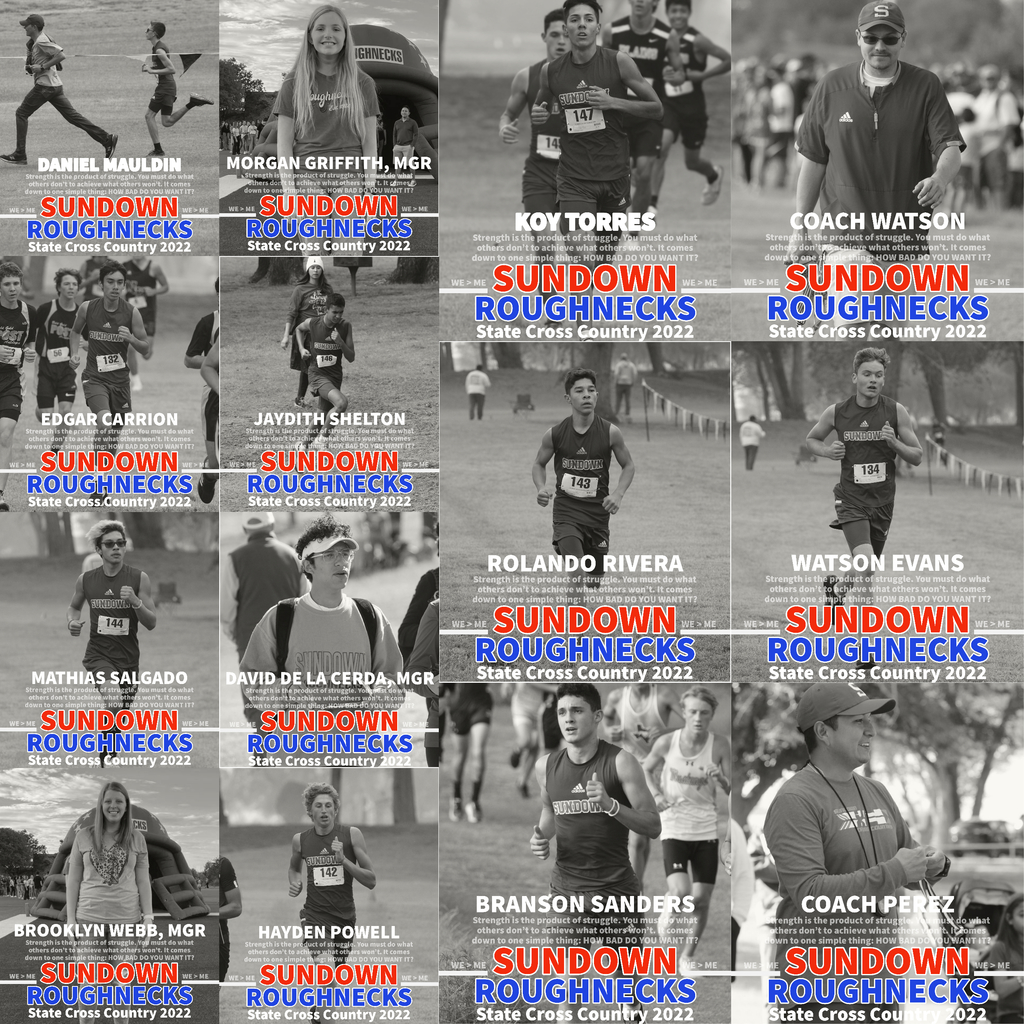 JV Roughnecks finished their season tonight with a 9-6 loss to New Home. The boys played tough all game and just came up short. Congrats to them on a successful season, can't wait to see some of these young men on the field on Friday night next year.